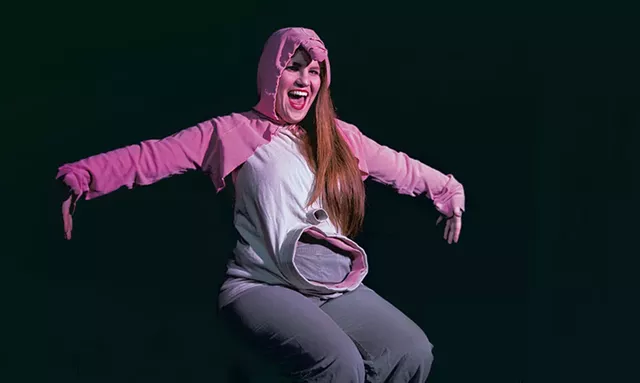 James Buck
Jenna Emerson
Some students at the University of Vermont might know Jenna Emerson as "the condom lady." True, one of the 30-year-old health and sexuality educator's responsibilities is to distribute prophylactics to dormitory resident advisers like a sex-positive Santa Claus. But her duties extend far beyond passing out protection.
Along with peer-to-peer training, event planning and cultivating programming for the school's Center for Health & Wellbeing, Emerson's most crucial contributions might be her open office hours.
"I talk with students one-on-one," she explains in a secluded corner of a Burlington cocktail bar. "I mostly give information, reassurance and validation. There's an element that can feel therapeutic, but it isn't therapy."
In late 2018, Emerson's zeal for sex education merged with another one of her passions: comedy. An experienced improviser and burgeoning standup comic, she began producing the monthly variety show "Sex w/Jenna" at Burlington's Revelry Theater. Equal parts standup showcase, improv session and sex ed class, "Sex w/Jenna" — staged on the fourth Saturday of the month — simultaneously stimulates the intellect, funny bone and erogenous zones.
"Every show really is different," Emerson says. "I'm not holding myself to a formula, because I like the full freedom of doing whatever the fuck I want to do."
This includes ending her shows with ribald song parodies. She's penned lavish lampoons such as "Straight to Queer," a send-up of threesomes set to Sia's "Chandelier"; "Groin on Fire," an STI-inspired takeoff of Alicia Keys' "Girl on Fire"; and "Under the Sheets," a lube-centric spoof of "Under the Sea" from Disney's The Little Mermaid. Clearly, nothing is sacred if it can be reworked into a lascivious ditty.
Born in California and educated in Seattle and Philadelphia, Emerson came to her position at UVM in 2017 after attaining a master's degree in human sexuality from Widener University. The cornerstone of her message to students is positive sexuality.
"I think that a lot of people from universities focus on sexual violence prevention, consent, domestic violence — which is very important to understand," she says. "But often what's missing is, before we talk about consent and how to do it, what do you even want? Like, before we get there, who are you?"
In other words, before she'll plow into a conversation about having anal sex for the first time, she wants to make sure students take into account all of the other factors that led to the moment of uncertainty regarding backdoor hanky-panky: What is your gender? What is your sexuality? Do you know how to make yourself feel good?
"She's really able to relate and be honest and nonjudgmental and have these conversations with students that allows them to be their most open, vulnerable selves without fear of judgment or stigma or shame," says Emerson's colleague, Sarah Mell, education and outreach coordinator at the UVM Women's Center. "[She] does it with a great deal of kindness and realness that the students really appreciate."
Emerson seamlessly transplants her work ethos into her comedy act.
"I usually have too many ideas and don't get them done in time," she says, chuckling.
Indeed, "Sex w/Jenna" is packed with various segments and changes from month to month. Though it's educational, the show primarily aims to entertain. During January's installment, standup comedians delivered bawdy material, and then a troupe of long-form improvisers created scenes rooted in the raunchy concepts and scenarios mentioned earlier in the show.
But even the strictly educational portions of the show are funny and easily digestible. Backed by R&B powerhouse Ginuwine's platinum-selling grind "Pony," Emerson introduces a recurring segment called "JennaTalia," a deep dive into the oft-ignored internal clitoris.
"I didn't know that the clitoris had an internal structure until I was in grad school for sex ed," Emerson admits. As she learned, many people were in the same boat regarding "the little man in the boat."
The bit, which she includes in every "Sex w/Jenna" show, involves a custom-made clitoris costume. Made out of an old shirt, cardboard and hot glue, the piece originally served as a Halloween costume when Emerson was still in grad school. Now it helps her teach.
As she points out and describes the mechanical structure of the clitoris on her anatomically correct garment, Revelry founder, artistic director and board member Anthony Apodaca, who works sound and lights for "Sex w/Jenna," periodically drops "Pony" and switches to intense stripper lighting. In near-Pavlovian response, Emerson pauses her lecture to dance, twerk and mount nearby set pieces in scandalous positions, completely blurring the line between sex educator and exotic dancer.
Another informational segment involves interviewing a member of a local nonprofit whose mission intersects with the theme of sexuality. Emerson donates a portion of each show's proceeds to the featured organization. January's guest was the Pride Center of Vermont's Anne Moyerbrailean, the org's SafeSpace anti-violence coordinator and head of Glow, its social program for LGBTQ+ women.
"I think [Emerson] has exposed me to different issues that people are facing in the community," says Apodaca. "I didn't know any of these groups existed."
Recently, Emerson has taken to playing games with her nonprofit guests. To promote a queer birding club, Moyerbrailean brought in pictures of various birds and a list of famous queer women and nonbinary celebrities. The audience collectively matched up names such as Janelle Monae and Jane Lynch with their most similar-looking feathery counterparts.
Emerson also serves on Revelry's board of directors and recently starred in an improvised musical comedy called Abortion, The Musical. The collaboratively written show, which is being revamped, restaged and partially recast this spring, stars Emerson as Rosemary, a young devout woman who's been immaculately impregnated by God — or so she thinks. Horror aficionados should detect a clue in the name "Rosemary" as to how the story unfolds.
"At first, I really struggled," says Emerson of finding her way to Rosemary. "I'm not religious, and I've never had an abortion. But, as I was getting into her, I realized how similar we actually were [in terms of] seeking external validation and looking for other people to define her self-worth."
Another issue she faced was keeping her professional persona intact after putting together and starring in a show that treats a serious topic so irreverently.
"I really had to grapple with taking off my sex educator hat," she says. "Because this is not how I would talk about abortion. The musical was probably one of the scariest things I've done in my comedy career."
This from a person who dons a graphic depiction of a woman's lady parts onstage on a regular basis.
Apodaca says he never imagined a show like "Sex w/Jenna" would grace Revelry's stage.
"I was hoping someone would produce a show like it, but I didn't know what it was," he confesses.
Emerson hopes her monthly presentation stimulates audiences — in more ways than one. Furthermore, she aims for her work at UVM to potentially inspire the next wave of sex educators.
"I want students to see that this is a valuable, viable option in terms of [a] career," Emerson says.