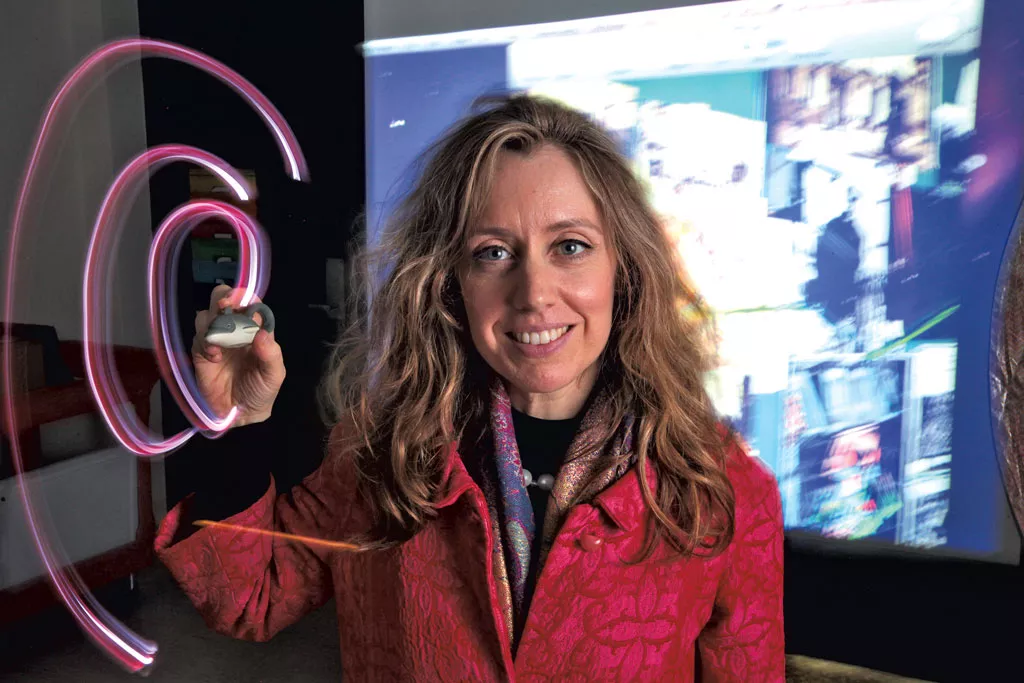 Matthew THorsen
Jenn Karson
Sound has always been Jenn Karson's medium. The 45-year-old first became known around Burlington in her twenties as the lead singer of the all-female alternative pop band Zola Turn, one of the best-known acts to come out of the Queen City in the 1990s. Now she's a lecturer at the University of Vermont's College of Engineering and Mathematical Science, a cofounder of Vermont Makers, and an installation artist. But Karson's current work bears little resemblance to the pop songs she composed and performed early in her career.
These days, she experiments with sound-capturing technologies to create ambient soundscapes that evoke specific places, such as Lake Champlain, the San Francisco Bay, a stone house in Barre or the streets of New Orleans. Two of her recent creations are part of the current Fleming Museum exhibit "Staring Back: The Creation and Legacy of Picasso's 'Les Demoiselles d'Avignon.'"
"Rock music, and music in general, is so much about the physical person," Karson says. "I wanted to take my body out of my work, because I felt like it was a distraction from what I was interested in — which was the background and the layering and the subtleties of it. I wanted to take the part of myself that wasn't part of the art out of it."
On Wednesday, April 15, and Saturday, April 18, Karson will teach others what she's learned in a unique, two-part soundscape workshop at the Fleming Museum titled Mapping Found Sounds. It's one part maker crash course, one part scavenger hunt and all conceptual art. The workshop will delve into a realm of sound art that Karson says takes its cue from avant-garde composers such as John Cage, who experimented with everyday ambient noises. (One of Cage's best-known pieces is "4'33"" — named for the four minutes and 33 seconds in which the musicians are instructed not to play their instruments; the piece is the sounds of the audience and their surrounding environment.)
The result of "Mapping Found Sounds" will be a sonic map of the Burlington area. What will that sound like? Karson has no idea — she's leaving that part up to the students. Certainly, though, participants shouldn't expect to stand on street corners and record traffic noises.
Part 1 of Karson's workshop will teach students how to repurpose the contact microphones in cellphones, computers, toys and other devices to make a simple listening instrument that can attach to headphones. The contact microphone changes the way a human ear hears a sound: The listener hears only the vibrational resonance of the sound waves, not the extra noise that might identify that resonance as, say, a door slamming or a car honking.
In Part 2, students will explore the Burlington area, placing their listening device on buildings, sidewalks, street lamps and elsewhere to "discover hidden sounds" in the area, as Karson puts it.
"I want to have a reflection on Burlington that's really new," she says.
Mapping Found Sounds is already sold out, but Karson encourages anyone with an interest in this work to get on her growing waiting list. "We'll keep track of those names and be in touch if there are more workshops in the future," she says, noting that another one is in the works for later this year.
Meantime, those who find their curiosity piqued can see — or rather, hear — Karson's sound maps at the Fleming Museum. In the absence of the actual painting "Les Demoiselles d'Avignon," which has been housed in New York's Museum of Modern Art since 1939, curator Janie Cohen unleashed an unconventional array of multimedia tools. To give viewers a sense of the turn-of-the-century social climate and art-world response to the provocative painting, for example, Karson recorded local non-actors reading outraged and critical quotations from the time period; the audio plays on a loop near the entrance of the exhibit.
Then, to give viewers a sense of the "everyday" place and environment that fueled Picasso's creative process, Karson created an audiovisual map that evokes the mundane sounds and views of the Montmartre neighborhood in Paris where the artist worked. One segment of the piece is an indoor setting; the second part is a streetscape. Karson did extensive research for the project, reading accounts of the setting from the Cubist master's lovers and contemporaries.
She then captured the actual sound effects from white noise in her studio and other locations, from clips pulled from YouTube, and from some she made on her own. "I was working with something that was more representative than recording something that was happening in the moment," she notes, "while still making it as alive and new as possible."