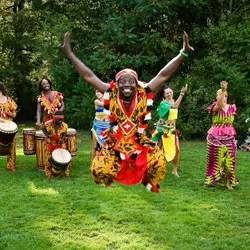 Jeh Kulu, Burlington's West African dance and drum theater, has had its collective eyes on Ismael "Bonfils" Kouyaté ever since the Guinean artist first made a splash in the West African dance scene several years ago.
"We've been talking for a couple years about bringing him here," says ensemble member Jamilah Vogel. The connection was there: Kouyaté has taught with Jeh Kulu artists in New York City. But his name wasn't quite big enough to bring in the kind of crowds Jeh Kulu was looking for.
That is, until the Broadway show he's in, Bill T. Jones' Fela!, won a trio of Tonys last spring. With those notches on his artistic belt, Kouyaté is finally coming to Burlington this weekend for Jeh Kulu's 16th annual Dance and Drum Festival.
"He's been one of my personal favorites for a long time," Vogel says.
Unlike some of Jeh Kulu's other dancers from Africa, who fought their parents to become musicians and dancers, Kouyaté was born into a griot family, essentially the musicians and dancers designated as cultural historians of the community, Vogel explains. Kouyaté has been dancing, singing and drumming his whole life, touring Guinea and the U.S. with the Guinean national company Les Ballets Africains before moving to New York City, where he teaches traditional djembe dance.
The Guinean dance form is energetic and rhythmic, accompanied by live drumming. Jeh Kulu performs primarily Guinean dance, though Vogel says they try to mix it up a bit. This year's festival will also feature Congolese artist Titos Sompa, who describes his region's dancing and singing style on his website as "earthly and fluid."
As guest teachers at the festival, Kouyaté and Sompa will lead dance and drum sessions throughout the weekend and perform with Jeh Kulu in their West African ballet Makhafinenyi Khiyee — Lover's Dream at Burlington City Hall on Saturday. An adaptation of Shakespeare's A Midsummer Night's Dream, the story is told through traditional West African song, dance and pantomime. In this version, the king and queen are battling over who gets to have a young drummer boy in his or her entourage.
Vogel says you never know what's going to happen during the fest's guest-artist performances. Sometimes you get "an added bonus," she says. Someone will bring a new instrument, or break into an unexpected song.
Jeh Kulu has held the festival, which drew about 400 participants last year, since the year after the ensemble began in 1993, when Burlington dancer Padma Gordon pulled together a bunch of enthusiastic drummers and began teaching the dance herself. She teamed up with Ismael Bangoura and Sidiki Sylla, now the musical and artistic directors, respectively, in 1997.
The performers have been dancing their hearts out — and shaking up Vermont — ever since.