Matthew Thorsen
The Family Table
A clear purpose drove trained chef John Raphael to leave Providence, R.I., for rural Lamoille County: He was ready for a slower-paced life, both in- and outside the kitchen. He purchased the former Jana's Cupboard on Route 15 in Jeffersonville two years ago and rebuilt the restaurant nail by nail with the help of family and friends. Once the kitchen was up and running, he brought the same personal touch to his cuisine.
4807 Route 15
Stowe/Smuggs
Jeffersonville, VT
802-644-8920
American (New)
Take the fried chicken. After years of experimentation, Raphael has the dish down to a science. Each order is composed of breast, leg and thigh pieces, all of which have been brined in buttermilk for three days. The meat's resulting juiciness doesn't compromise the crispness of the coating. Every piece of chicken is double breaded. The result is a shattering crunch to rival the Colonel's.
On the side, chive mashed potatoes whipped into silky submission taste more like cream and herbs than spuds. Coleslaw dotted with poppy seeds counts as roughage.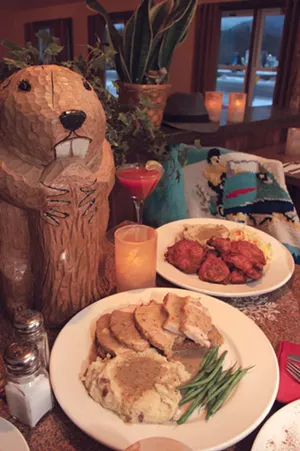 Matthew Thorsen
The Family Table
The open-faced hot turkey sandwich bears no resemblance to the constructions of dry, thinly sliced fowl normally served at diners. Once again, brine assures the towering slab of turkey is super-moist, even before it's smothered in salty, herbaceous sage gravy. The toast that soaks it up hails from Red Hen Baking Company. Whenever possible, Raphael uses local ingredients and suppliers.
And, while his fare is certainly comforting, it's not all "comfort food." Specials, such as oven-roasted mahi mahi with smoked-mussel-saffron cream, showcase the skills Raphael picked up while earning two degrees from the noted culinary program at Johnson & Wales University.
That training taught the chef an important lesson in hospitality: Give the people what they want. Raphael caters to individual tastes, and if a customer's favorite isn't on the menu, chances are he'll make it anyway. Breakfast, lunch or dinner, it's like having a chef in the family.