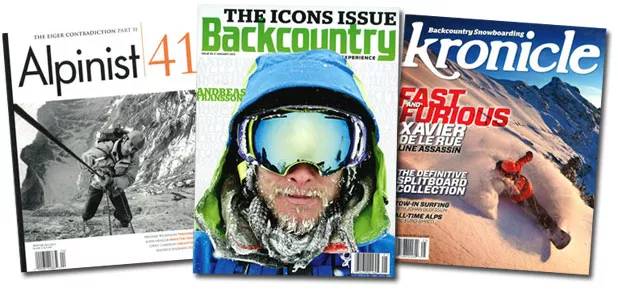 The Green Mountains surrounding the rural hamlet of Jeffersonville aren't exactly a global destination for elite backcountry skiers. The tallest summit in the neighborhood — 4396-foot Mt. Mansfield — is a mere goose bump compared with the powder-lush playgrounds of Wyoming's Grand Tetons or Mont Blanc in the Alps.
But from Jeffersonville's modest heights comes some of the world's best journalism on backcountry skiing, snowboarding and alpine climbing. The folks at Height of Land Publications publish Backcountry, a glossy monthly magazine dedicated to off-piste skiing; Alpinist, a literary quarterly about mountaineering; and kronicle, an annual backcountry snowboarding journal. And they're happy to call Vermont home.
"Most people in the industry think we're nuts for being in Vermont, because it's not the Rockies," says publisher Adam "Howie" Howard, one of five owners of Height of Land and a former state lawmaker. How does he answer the size-obsessed mountain snobs?
"I'm from Vermont. I do what I want," Howard quips. "At the end of the day, I don't care what people think. We speak with our products. They could be made in Tallahassee, Florida, as long as it's to this high standard."
Indeed, one would be hard-pressed to find other outdoor-adventure magazines with such high production values. Backcountry, which last fall marked its 10th anniversary in Vermont, caters to the small but growing number of expert skiers who eschew lift lines and groomed trails in favor of the "untracked experience." With its crisp writing and glossy action photos of stunning scenery, Backcountry is neither snobbish nor geekishly gear-obsessed, as some niche-sport publications tend to be.
Rather, the magazine embraces the passion for backcountry turns while promoting a responsible-use ethos. To that end, each issue includes what Howard calls its "service component": a column of cautionary tales called Mountain Account, which recounts skiers' mistakes and lessons learned. Backcountry also runs regular features on avalanche dangers, reviews of the latest safety gear and advice on choosing lines down the mountain that won't end with a ride on a med-evac helicopter.
Ultimately, Howard says, all three publications try to remain "vigilantly authentic" to their roots without slavishly chasing ad dollars. "We're all about the early adopter, someone who is out front in trends in sports and pushing the envelope," he explains.
In Backcountry, that means people who ski complex lines no one has ever skied. In the Alpinist, it's those who make first ascents or unearth previously untold stories about the world's great peaks.
"We're about talking about this sport that people are so passionate about, in their own language," Howard says. "And there are only so many people in the world who speak that language, and then can write in it."
Marc Sherman, owner of Outdoor Gear Exchange on Burlington's Church Street, calls Howard and his staff "local heroes" in the backcountry-adventure world. Sherman says he's been impressed by the company's maintaining a focus on the Northeast at a time when many outdoor publications and gear manufacturers have gone west.
Backcountry's February/March issue, for example, features a story called "Powder Paradox" about the challenges Jay Peak Resort faces as it tries to "keep its mojo" in the face of massive development.
Another story explores how Smugglers' Notch and Mad River Glen are coping with the trend of "uphilling," or the practice of hiking uphill with skins on, then skiing down, usually after the resort is closed. That same issue features a review of some of the country's top craft beers. Not surprisingly, three of the 19 brews included are Vermont made: the Alchemist's Heady Topper, the Shed Brewery's IPA and Rock Art Brewery's Vermonster.
Besides its attentiveness to regional issues, Sherman and others commend Backcountry for its commitment to responsible recreation.
"At a time when more and more people are getting lost in the backcountry and requiring services for rescue," Sherman says, "Backcountry continues to put safety at the forefront of a typically adrenaline-fueled sport."
Will Vinci, owner of the North Face store on Burlington's College Street, agrees. Vinci, who's been getting Backcountry since its first issue, calls it his "ski porn." But unlike glitzy, mainstream magazines such as SKI and Skiing, he says, Backcountry "captures the true essence of what this sport is all about — getting away from the crowds and skiing without a lift tower over your head."
Jason Duquette-Hoffman is co-owner of Worth Skis of Middlebury, an independent ski manufacturer that designs equipment specifically for the East Coast backcountry.
"We love what they produce," Duquette-Hoffman says of Height of Land. "The content is great, and we're always really impressed with the writing, the photography, the layouts. They're a great resource to have, and we're glad to have them here."
Height of Land Publications is headquartered in an old storefront on Jeffersonville's Main Street. A rusty yellow Schwinn bicycle sits in the front window, along with a hodgepodge of old furniture that looks left over from when the building housed a secondhand store.
Skateboards of various sizes are parked outside some of the offices; judging from the condition of the hardwood floors, they're ridden indoors. Several dogs greet this reporter on a recent weekday. One of them is a shaggy, three-legged mutt named TK — after the traditional editing mark that means info is "to come."
Howard is a stocky guy in a gray flannel shirt, with a full beard, tinted glasses and a meaty handshake. He looks slightly frazzled, having just returned from three weeks in Colorado's Rocky Mountains. The 39-year-old is a seventh-generation Vermonter whose family first settled Jeffersonville back in 1783.
Backcountry was actually founded in Arvada, Colo., in 1994. Howard, who studied journalism at Western State Colorado University, says he always wanted to be a ski writer so he could "travel on somebody else's nickel." For a time, he interned out west at Powder magazine — now Backcountry's chief competitor — before returning to Vermont with his wife, Holly, also a Green Mountain native.
In the 1990s, Howard worked as a carpenter and served on the local ski patrol while freelancing for various publications, including Colorado-based Backcountry. By August 2002, he was fed up with banging nails during the day and pounding the keyboard at night, so he quit his carpentry job. That same day, Howard got a call from Backcountry's then-publisher informing him the magazine was closing.
In one stroke, Howard lost more than 40 percent of his projected winter income. Nonetheless, he and Holly decided to go out and celebrate his departure from carpentry. At a restaurant, Howard ran into David Boyden, co-owner of Boyden Valley Winery in nearby Cambridge, who suggested that he buy Backcountry and run it himself.
Initially, the idea sounded ludicrous. Howard had neither money nor publishing experience. But, after a little thought, he contacted friends, lined up a few investors and convinced the magazine's former publishers to owner-finance it for his group for a year, essentially allowing them to buy it in installments. A month later, Howard and co. published their first issue. To date, the company has never had to borrow money from a bank, he says.
At the time, Backcountry's circulation was less than 10,000. Today it's 30,000 and growing slowly but steadily, as is the sport. With more than a dozen people on staff, Height of Land Publications puts out three publications, written mostly by freelancers around the globe. But Howard emphasizes that the magazines aren't just "white-guy world tours" — they delve into the soul of alpine travel.
To wit, on a recent trip to Europe, Howard struck up a conversation with a British citizen in a warming hut. The skier recounted getting lost in a whiteout on Russia's Mt. Elbrus; after seven days, he was presumed dead. That story, "The Crux Mistake," ran in Backcountry's October 2012 issue. There's also a web-only feature about recent acts of terrorism on Elbrus.
"So it's not about … ignoring the culture and just going to the mountains," Howard says. "It's about trying to have a deeper understanding of who we are, why we travel and who we're encountering along the way."
Perhaps no publication exemplifies that rarefied sense of place better than the Alpinist. Part literary journal, part historical archive, the Alpinist publishes sprawling, 20,000-word narratives — as well as poetry, cartoons and photos rivaling anything in National Geographic — that unfold their secrets as painstakingly as a climber undertaking a first ascent.
Editor Katie Ives is a Boston native who's been with the Alpinist since 2004, when the magazine was based in Jackson, Wyo. For Ives — an avid climber, graduate of the Iowa Writers' Workshop and lover of literature and languages — her dream job nearly ended in October 2008 when the Alpinist went bankrupt. In January 2009, Howard bought it over the phone, then interviewed Ives for her old job.
"As I told Howie at the time, I don't care if I have to spend the rest of my life living in a basement in New Jersey eating peanut butter sandwiches," Ives recalls. "I just want to work for Alpinist again."
What was it about the magazine that got under her skin?
"I think, for anyone who's involved in Alpinist, it's more than a magazine for us," Ives says. "It's an expression of ideals, of dreams, both about climbing and about literature. It's a chance to live your passion, and it's very rare to have that opportunity."
At a time when many producers of print publications are worried about the future — especially those catering to a young demographic that does most of its reading online — Howard is actually optimistic about his company's prospects. He sees it expanding, right here in Vermont.
Such forward thinking makes sense from people who are all about anticipating and managing risk.
"We know how to get blood from a stone. When you don't have any money, you just have to succeed," Howard says. "Hey, we're just a bunch of ski bums who decided we wanted to send our kids to college one day."
For more information on Backcountry, Alpinist, kronicle and Height of Land Publications, visit holpublications.com.
Correction: The original version of this article misidentified Adam "Howie" Howard as Jon.
The print version of this article was headlined "Ridge Writers".