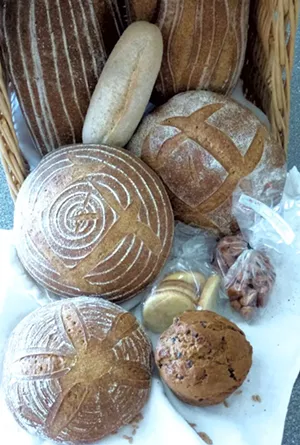 Courtesy Of The French Way Bakery
The culinary landscape is blooming in Jeffersonville, thanks to new additions highlighting international and local flavors. In the former category, the French Way Bakery opened in the last days of 2014 on the second floor of 158 Main Street, above 158 Main Restaurant & Bakery.
There, Niçois native Jean-Marie Rabot turns out breads and pastries Wednesday through Sunday — all on his own. "I am very, very busy and very, very tired," he says.
A later-in-life baker, Rabot went to pastry school in France at age 55. After years of living together in Paris, he and his American wife moved to Vermont last year for its artistic community and organic food, he says.
An agreement with 158 Main owner John Foley allows Rabot to sell his delicate treats in a corner of the second floor, also home to Foley's Jeffersonville Pizza Department. Perhaps the most ethereal of those offerings is Rabot's signature montécao, a puffy lemon-and-cinnamon-flavored cookie his grandmother taught him to make. He also turns out basic butter cookies and ones filled with seasonal ingredients such as chocolate, maple and fruit.
Breads are especially important at the French Way. Besides traditional baguettes, Rabot prepares rustic levain and loaves made from whole wheat and rye flours. He complements his basic croissants with pains au chocolat and pains aux raisins. And those are just the everyday treats — weekends bring specials such as cream puffs and pies.
Just across the street, continental fare gives way to ultra-local tastes at the Farm Store. Originally located at Waiora Valley Farm, the natural-food shop moved last spring to 143 Main Street. Last week, owner Jennifer Bishop launched her new Shop Share program, which works on a four-week-long community-supported-agriculture model.
Each week, Bishop boxes up the best the store has to offer, including veggies, eggs, meats, pantry staples and other value-added products. Unlike a single farm's CSA, her selections "highlight all the local farms in the area," she explains.
Some of the subscriptions feature weekly themes, such as a breakfast box with bacon, sausage, eggs, maple syrup and Nitty Gritty Grain Company of Vermont pancake mix. Each box contains relevant recipes.
Bishop says the next step in the Farm Store's expansion will be the addition of a kitchen. She hopes to sell prepared and value-added specialties there by spring.