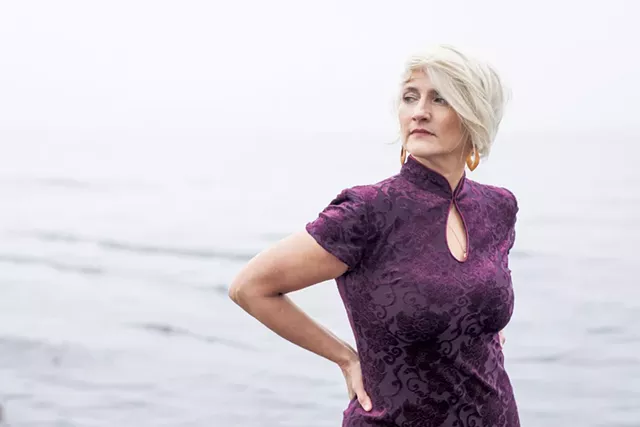 Cynthia Braren once worked as a singing telegram. She says she was "literally jumping out of cakes" at age 15, singing tailor-made ditties to "middle-aged men on their birthdays." If pressed, she can still sing some of the silly tunes she wrote back then. Current cultural standards aside, she looks back on those days fondly.
"That was such a release for me," she says in the conference room of a Burlington brand strategy company. Currently a small-business consultant, Braren studied music and dance all through her youth in Iowa. She got a professional start in both fields early on. Her home life left much to be desired, so she turned to the creative arts for validation and acceptance.
"It was all I wanted to do," she says.
The 54-year-old artist has brilliant, chin-length silver hair and a youthful aura. She laughs frequently with infectious charm.
Recently, she's found new zest for her musical craft. A Vermonter for 16 years, Braren is known mostly for fronting the Cynthia Braren Trio. But the tried-and-true jazz standards and similarly groovy originals for which the group is known just weren't satisfying her creative itch of late.
After garnering some new connections in the local rock scene, Braren says she's finally making music that's truly representative of her inner self. She uses the stage name Thea Wren, an abstraction of her own name (cyn-THEA bra-WREN). Her brand-new debut record, In Between, showcases what's on the other side of her transformation: a pop-soul powerhouse with an eloquent point of view. She and a full band celebrate the EP's release on Friday, December 27, at ArtsRiot in Burlington.
In 2003, Braren relocated to Vermont from the Midwest with her husband and two young sons. As many transplants do, they sought a life in a more "relaxed" locale. Now a divorced empty-nester, she's found room in her life to pursue a new creative direction with her music.
The road to In Between began when Braren met and began gigging with drummer Ezra Oklan. He's known for his work with Kat Wright and as the front person of pop-rock outfit Matthew Mercury.
"I really liked his sound," she recalls. "I said [to Oklan], 'I'm kinda done just standing behind the microphone. I want to move. I'm very familiar with using the whole stage, and I don't do that right now.'"
Braren felt psychologically and almost physically restricted by the safe music she played in the Cynthia Braren Trio.
"I started to think about what's missing in my music," she says. "What is it about that tune right there that makes me want to move and play it over and over again? How come I don't feel like that about my own music?"
Braren refers to Oklan as a "musical encyclopedia."
"He's been the articulator for me of the ideas I couldn't articulate myself," she says.
Thus began a process of working out the kinds of sounds, riffs, licks and tones — essentially all of the foundational building blocks — that define In Between.
"She brought [me] rough demos that kind of sounded like jazz tunes," Oklan says by phone.
After recording basic tracks, Braren and Oklan brought in sonic wizard Jeremy Mendicino, a Burlington native known for his work at Lane Gibson Recording and Mastering. Mendicino also plays with Oklan in Matthew Mercury.
"Ezra has a really great feel for overarching decision making," he says, noting that his own strengths lie in the project's fine details. "It's a lot of asking questions and seeing what comes back."
Most of Braren's closest musical associates appear throughout In Between's seven tracks: trumpeter and host of Vermont Public Radio's "Friday Night Jazz" program Ray Vega, saxophonist Bryan McNamara, keyboardist Peter Krag, and the Nth Power's Nick Cassarino, to name a few. Together, they provide a dynamic and robust foundation for Braren's songwriting.
Most indicative of Braren's headspace is the EP's title track. A bit of modern, blue-eyed soul in the vein of Amy Winehouse and other Mark Ronson-produced late-aughts pop, "In Between" frames Braren as a person strong enough to go with life's flow without being swept away by it.
"So what if I am afraid? / Life's gonna do its own thing anyway / I find comfort in the loss / Of me always trying to be the boss," she sings over saxophone crescendos and snappy snares.
"I think she picks interesting subject matter," says Krag. "Her lyrics are personal, [and] the subject matter is different from what you might hear on pop radio."
"Trees Standing Still," a dreamy, synth-driven number with shuffling beats and a wild, '80s hair-band guitar solo courtesy of Cassarino, hints at the bittersweetness of watching children grow into independence.
"Lyrically, her songwriting is really [based] in the present," Oklan posits. "She's singing about things that are really important right now."
"Anyway," a gently swung slow jam with a heart-wrenching Vega trumpet solo, hints at the indignities women experience on a daily basis. Though its theme is heavy, the song is one of the record's catchiest, transitioning from a 6/8 time signature to a peppy 4/4 in a spiraling R&B breakdown.
"I feel like there's an aspect of dark music that's really moving," Braren says.
If things had gone according to plan, In Between would have been completed nearly a year ago. But a car accident, which left Braren with a temporary neurological disorder called post-concussion syndrome as well as other health concerns, delayed the process.
"I think the record pulled me through," she says.
Braren's lyrical vulnerability only bolsters her real-life confidence.
"The liberating part is when she's able to share that with a group of musicians," says Krag. "It gets elevated to a new plane."
"She's got a star quality," says Mendicino. "She's a powerful human being. Though she's only starting out on this chapter as a professional musician, she has a confidence and ease about life because she's raised kids and [accomplished] a lot."
As part of In Between's rollout, Braren released a live in-studio video for "It's Just Me," a funk-lite jam with a sweeping hook. In one continuous shot, Braren emphatically leads her band with the mastery of someone who's been making this type of music for years. She exudes not just confidence but control as calculated body movements accentuate key lyrics. It's a tantalizing preview of what to expect live.
"I wrote this album feeling very in between," Braren admits. "By the time it was done, I was like, 'I'm not there anymore.'"