James Buck
Mike Martello playing at the Burlington Marriott
Mike Martello has a favorite story he likes to tell. It's about the most unusual gig the Vermont jazz guitarist ever played — in December 1945 at a navy hospital in Bainbridge, Md. It wasn't unique just because he was a patient at the hospital at the time, but because the person for whom he was playing never heard a single note.
Helen Keller, who famously went on to higher education after becoming blind and deaf at the age of 3, was visiting the hospital to raise the spirits of soldiers there. Many were recovering from wounds suffered in World War II, which had ended three months earlier. Martello was not one of them; he was in for a hernia. As part of a demonstration intended to inspire the soldiers to triumph over their own physical adversity, Martello was asked to play guitar for Keller.
The renowned educator placed her hand on the body of his Gibson electric and identified to the audience, through an interpreter, the type of rhythm he was playing. She could feel the vibrations of the guitar.
"It was remarkable," remembers Martello, 89, on the couch in his basement apartment in South Burlington. "I would play swing, and she would say, 'swing.' I'd play a Latin thing, and she'd get that right, too. Can you imagine?"
Martello sounds bewildered even now, almost 71 years later to the day. He pauses, narrowing his alert eyes in concentration. Then he raises his head and says with a thin smile, "That's a pretty good story, I guess." It's almost as though he's only just considered the notion.
Martello's understated guitar style matches his demeanor in conversation, which is modest almost to a fault. He is rail thin, almost frail. Yet he dresses well; his sharp sweater and slacks are as well-kept as his smart, thin goatee. Overall, Martello exudes a gentle, grandfatherly air — he is, in fact, a grandfather to three and great-grandfather to five.
But a playful sparkle in his eyes hints at a youthful, devilish streak. Martello is not reluctant to share stories from his nearly 75-year music career. He just requires some coaxing to get going. Once he does, he's full of tales that reveal a devoted family man and a hardworking, prodigiously talented musician — one who might well have become famous, if not for a few twists of fate.
That lack of fame doesn't seem to bother Martello. If anything, it's his relative anonymity that has won him the distinction of which he is most proud and of which he has no qualms about boasting.
"I think I've played more jobs than anyone in Vermont has, or ever will," he declares. "If you can find someone who's played more, I'd sure like to meet him."
If such a person exists, Martello would have almost certainly encountered him or her already. He's played professionally in Burlington for three-quarters of a century, on every stage and with virtually every notable local jazz player going back to the late 1940s — from Susan Squier to Big Joe Burrell to James Harvey. Martello is among the last living links to a bygone era of jazz in Vermont, and, in his quiet, unassuming way, he's helped to set the standard ever since. He might be slowing down a bit at 89, but this guitarist shows no signs of stopping.
Regrets, I've Had a Few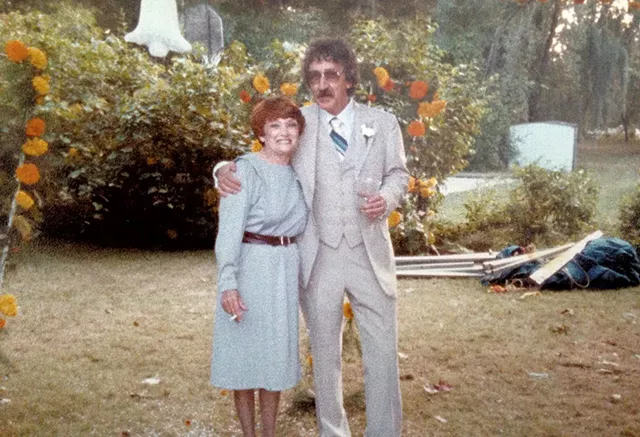 courtesy of Kelly Quenneville
Mike and Marion Martello at their son's wedding in 1983
Martello was born to Italian immigrants in Hoboken, N.J., on December 12, 1927. His family moved to Vermont 12 years later. At age 15, he took mandolin lessons before switching to guitar. Soon he had his first professional gig with a group called the Blue Rhythmaires.
"Everybody else was 25, 35 years old," Martello recalls, chuckling.
He played with that group for two years before enlisting in the navy at age 17. Martello stayed in the service, serving on a destroyer called the USS English until 1948. When he was honorably discharged, he applied to the University of Vermont, the New England Conservatory and the private Biviano School of Music in New York City. He was accepted to all three and could have attended any for free, thanks to the G.I. Bill. Instead, Martello returned to Vermont and took a job with a St. Albans country-western band called Bud Truax and the Playboys. They played all over Vermont and New York and in Canada.
"It was a very good band," says Martello of the Playboys. "But I do sometimes regret not going to school."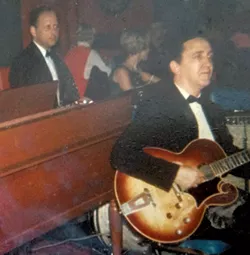 courtesy of Kelly Quenneville
Mike Martello playing, circa 1967
Though he enjoyed the group, Martello says, he was increasingly seduced by the swinging strains of jazz music, especially bebop guitarists Howard Roberts, Barney Kessel and Wes Montgomery — the last of whom he cites as his personal idol. So Martello left the Playboys and started playing in jazz bands alongside the likes of trumpeter Tempi Conner, who played in a number of New York City big bands, and vocalist Susan Squier.
Around that time, the early 1950s, Martello answered an ad in a local paper placed by a New York City duo. They had a Wednesday-through-Saturday gig at a Church Street club called the Open Door — now the location of Church & Main restaurant in Burlington. Martello played that gig for nine years. He was also a regular player at a bar around the corner on Main Street, owned by the same folks who ran the Open Door. It was called the Hi-Hat and featured a stage elevated behind a circular bar.
"That's not something you see much anymore," remarks Martello of the unusual setup. Readers under the age of 50 likely know the Hi-Hat only by the name of its successor, Nectar's. "Burlington was a different place back then," he says.
When Martello left the Open Door, he put together a new combo and spent another nine years playing a Wednesday-through-Saturday run at a club on Williston Road called the Rooster Tail — now Guild Tavern. After that stint finally ended, Martello formed yet another group and took a job at the Sheraton Burlington Hotel.
"You're not going to believe this," he says, leaning forward. "But I played that gig every Thursday, Friday and Saturday for another nine years."
Here's a funny story about the Sheraton gig. Originally, Martello had enlisted a larger-than-life saxophonist and vocalist from Michigan as part of the band. But the hotel would only pay for a trio, not a quartet. So Martello had to let Big Joe Burrell go.
Burrell, of course, went on to become the iconic leader of Burlington's Unknown Blues Band. The sax man passed away in 2005; two years later, he was immortalized with a bronze statue on the top block of the Church Street Marketplace.
"He ended up doing OK," says Martello with a wink, adding that the two remained close friends throughout Burrell's life.
Martello has another streak going: Next year he will mark 25 years of playing at the Basin Harbor Club in Vergennes, originally with the Herb Winner Band and for the past several years with the Tony Hall-led Hallmark Trio. That's one of many regular jobs Martello maintains around the state.
"I've played with practically every jazz musician in the city," he says. He's played with quite a few from elsewhere, too.
One could read Martello's life story as a series of brushes — or near misses — with fame. It started when he was very young. In New Jersey, Martello lived on the same street as another Hoboken export, some skinny kid named Frank Sinatra. Though Martello never met him, a young Ol' Blue Eyes walked past Martello's home every day to bring his father lunch.
Over the course of his career, Martello has performed with some impressive names. He was part of a pickup band that backed vocalist Dianne Reeves at a Flynn MainStage show. He's shared the stage with Art Blakey; Earth, Wind & Fire; Woody Herman; Stan Getz; and Zoot Sims. He's played frequently with Grammy-winning saxophonist Joe Lovano.
Then there was the time the famed bandleader and vibraphonist Lionel Hampton asked Martello to join his band.
Many years ago, Martello was playing in a big band based in Johnson that opened for Hampton's ensemble. The latter's piano player didn't show up for the gig. So Hampton asked Martello to take his place on guitar.
"All of his tunes were, like, a hundred miles an hour," remembers Martello with a chuckle. But the guitarist held his own.
"When it was all done," Martello recalls, "[Hampton] wanted to take me to New York."
Aside from not going to college, Martello doesn't have many regrets. But having to turn down Hampton is one of them. Coincidentally, Hampton gave Martello's hero, Wes Montgomery, one of his earliest touring gigs.
"I had a young family," Martello explains, and notes that his wife of 51 years, Marion, had just given birth to the first of their four children. "I just couldn't go."
Still, the guitarist says, he doesn't spend too much time wondering what might have been. "I'm pretty happy with the way my life has turned out," he says.
A Lifelong Path
On a recent Friday evening, Martello is playing one of his regular-ish gigs with a jazz quartet called Jeff and Gina at the bar of the Courtyard Burlington Harbor, aka the Marriott. Outside, a bone-chilling wind blows in off Lake Champlain. But inside, the scene is cozy. A fire crackles in the two-way hearth, warming a smattering of guests on either side who chat pleasantly on plush, oversize chaises. The room is dim, but a smartly trimmed Christmas tree offers a soft light. And on a chair in the corner, huddled over his prized Gibson ES-350, sits Martello.
The tones emanating from the large hollow-body guitar are warm and elegant, a perfect complement to the scene. Though Martello has a bit of an elderly shuffle when he walks, his fingers seem as youthful and lithe as ever. If you closed your eyes, you'd never guess the guitarist is approaching 90.
Between tunes, Martello often offers a quick smile to bandleader and bassist Jeff Wheel, with whom he's been playing in various outfits for 25 years. Occasionally he winks at the man behind the drum kit. That's Dominic "Zip" Aloi, with whom he's played for more than 50 years. If anyone might give Martello a run for playing the most gigs in Vermont, it's Aloi. Though, at a comparatively tender 82, the latter still has a way to go to catch up.
The reverence with which Martello's bandmates regard him is evident. When she's not singing, vocalist Gina Merlini watches him intently. The others appear to take his cues for changes, perhaps because there are precious few jazz tunes the man hasn't played over the years.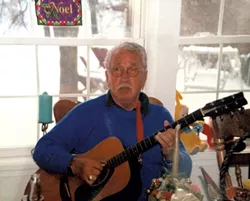 courtesy of Kelly Quenneville
Mike playing circa 2002
"He's probably forgotten more songs than any of us know," says bassist Anthony Santor in a phone conversation. "He'll show up at a gig and put a piece of paper on a music stand. But the paper isn't music. It's just the list of the hundreds of tunes that he knows."
Martello and Santor have been playing together frequently for the past five years. The guitarist calls Santor "one of the finest bassists I've ever played with." The respect is mutual.
"I've never played with anybody that plays with more joy," says Santor of Martello. "He comes from that old school of swing, which I love. He's really unique."
"He's got all these tunes in his head," echoes bassist and mandolinist Will Patton by phone. "If somebody calls out an obscure tune, he starts playing the chord melody on the guitar, which is something it takes most guitarists weeks to figure out. But he just knows music in a melody-driven way."
Patton has played with Martello since the early 1980s, when, as he puts it, "all of these older jazz guys started hiring me for gigs."
"He always knows the right changes," Patton continues. "If he does harmonic substitutions, they're always so musical. Some guys try to out-think the tune, be too clever. He always plays in the service of the tune."
Adds Patton, "He's also great at backing up singers."
"We have this unspoken communication," attests Tiffany Pfeiffer. "He is such an intuitive player and is so present in the moment — and has such an understanding of where these songs come from — that we can just look at each other and know what the other will do."
Pfeiffer, a jazz vocalist and songwriter, started playing with Martello in the local poetry-jazz act PoJazz. She has since performed with him in her own classic-jazz pursuits.
"I've learned so much about how jazz is supposed to feel from playing with Mike," Pfeiffer says. "He's so good at creating a swing that younger players like myself can learn a lot from. He's very minimal and laid-back, which makes him really good at leaving space. And that makes the listener sit up and pay attention."
The respect Martello garners in the local jazz community extends well beyond the numerous musicians with whom he's played. Paul Asbell is arguably Burlington's finest and best-known jazz guitarist — a veteran of Kilimanjaro and the Unknown Blues Band, he now gigs alone or in small combos. Asbell has known Martello for 40 years but has rarely performed with him. That's because they tend to be hired for the same gigs — if you need a classic-jazz guitarist in Burlington, you call one or the other, not both.
"I've followed Mike on gigs since I started playing in this town," says Asbell recently by phone. "I'm the guy who would take his place when he would move on to another gig."
That speaks well for the reputations of both guitarists.
"Mike is from the era of classic jazz," says Asbell. "And that's a path you take that is a lifelong pursuit. Mike has followed that path faithfully. He is unbowed by time."
That's true, though Martello admits he lacks the physical capacity to play as often as he used to. Rather than gigging nightly, he now plays a few times a month and turns down some offers. And he's cut his practice regimen in half.
"Oh, I only play an hour a day now," Martello says. But he has no intention of hanging up his guitar any time soon.
"I'll keep playing for as long as people keep giving me jobs," says Martello. "What else would I do?"