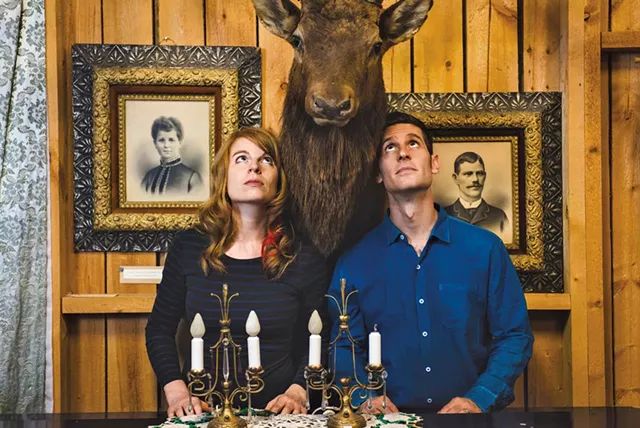 Courtesy of UVM Lane Series
Moira Smiley and Jayme Stone
The single most important and transformative figure in 20th-century American music is arguably not a musician at all. Sure, a case could be made for the likes of Bob Dylan, Hank Williams or James Brown. But without the work of the prodigious folklorist, ethnomusicologist and archivist Alan Lomax (1915-2002), we might never have known the work of such giants as Woody Guthrie, Lead Belly, Pete Seeger or Muddy Waters. These are among the performers of folk traditions that underpin American popular music.
This Friday, the Lane Series brings banjoist and roots-music champion Jayme Stone and his Lomax Project to the University of Vermont Recital Hall in Burlington. Joined onstage by violinist and singer Sumaia Jackson, bassist Andrew Ryan, and Vermont-born singer and accordionist Moira Smiley, Stone will present a lively musical excursion through Lomax's vast legacy.
Speaking by phone from his home near Boulder, Colo., Stone explained that the concert will not celebrate Lomax per se, but will use his work as a "portal" through which to enter the rich history of American folk music.
"Our focus is really on the songs, people and traditions that Alan Lomax preserved for us," Stone said. "We were really careful in the liner notes [to the 2015 album Jayme Stone's Lomax Project] to actually shine a light on the lives and the stories and the provenances of these amazing songs and these people, who I think are an incredibly significant part of our culture."
Born and raised in Toronto, Stone was not being disingenuous by saying "our" — he was referencing the American, African and European vernacular music traditions that inspired both him and Lomax. Stone spoke admiringly of the "emotion and personal authenticity" of, for instance, the Piedmont blues songs and Alabamian spirituals that Lomax recorded. But he was quick to point out that "authentic" does not mean "more correct ... It's just that people making music for their own enjoyment, whether then or now, speaks right to me — and through me," he said.
That spirit guides the group's performance of the Lomax Project songs. The repertoire includes such traditional tunes as the old Appalachian stomp-down "Lazy John"; "Sheep, Sheep, Don't You Know the Road," of which Lomax recorded a version by a Sea Islands singer named Bessie Jones; and even the quintessentially American song "Shenandoah." Stone said the group turned that last one into something "lush and epic."
The musicians, he noted, are not concerned with by-the-numbers authenticity but with finding melodies, ideas or emotions that allow the song to resonate from the past into the current day. Independently, Stone and Smiley each offered the same example to illustrate the group's commitment to creative reinterpretation: the old cowboy-style hootenanny "Hey, Lolly, Lolly." The musicians reimagine it as a smoldering, jazzy ballad.
Smiley grew up in New Haven and is now a professional singer based in Los Angeles. Though the lineup of the Lomax Project has changed, she's performed with it since its inception a few years ago.
The singer echoed Stone's sentiment about the special value of Lomax's field recordings of nonprofessional musicians, often conducted in kitchens and on front porches. "It's not just the words that these singers were using," Smiley said. "It's the grit and the ornament and the timbre. The stuff they make happen out of their voices is way beyond just singing words."
For Stone, the Lomax Project's mission is as much educational as musical: to inspire people to learn more about the roots of the music that these performers love. They often lead residencies on various scales, from the preshow conversation that will precede the Lane Series show to multiday conversations and master classes with college musicians. These exchanges have led Stone to dub the project a "collaboratory."
Lomax, too, was committed to using music as a tool for education and for awakening in listeners a sense of "cultural equity" — what we now call multiculturalism. Still, he has been accused of being an opportunist and, worse, of exploiting the musicians he recorded. Stone clearly has nothing but admiration for Lomax's achievements, yet he does not dismiss such accusations. In forging his own definition of "authenticity," Stone said, Lomax created a "complex" legacy.
UVM professor of music Alex Stewart also noted Lomax's complicated place in music history. A musician and ethnomusicologist, Stewart said that Lomax's theoretical work is overambitious and flawed, but his achievements in gathering and archiving folk music are unsurpassed.
"I think it's pretty obvious that, without his work, a lot of things would have been lost forever," said Stewart. "And he got it at a time when you could still find [this music]. If you wanted to look for these things today, you'd be really hard-pressed to find them at all, so that's of great importance."
Regardless of one's take on Alan Lomax, the value and power of the music he recorded are inarguable. Over the more than 60 years he spent capturing field recordings all over the world, he created an audio legacy second to none. The Lomax field recordings laid the foundation of what we now know as folk music, and that legacy, above all else, is what the Lomax Project celebrates.
Stone summarized it in words that Lomax would surely have appreciated: "You just have to look backwards sometimes to see where we can go."