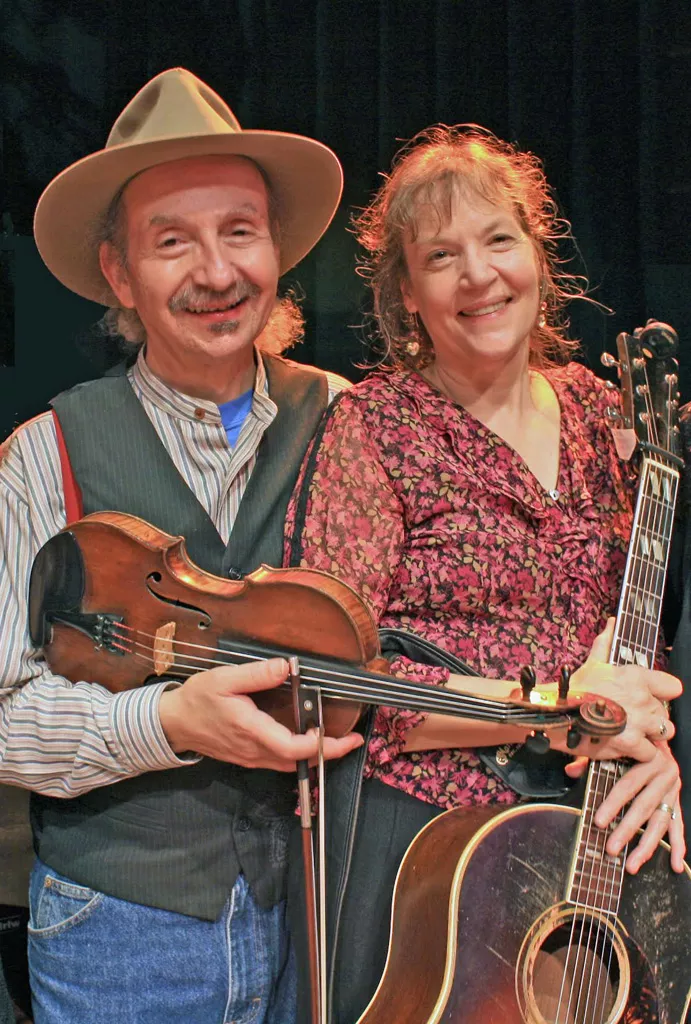 Courtesy of jay ungar and molly mason
Imagine all the work it takes for a small nonprofit to launch a successful music festival. Coordinating acts and venues. Dealing with marketing and PR. Putting up money and taking on risk. Now imagine launching a music festival in Vermont in the dead of winter. To get people to the shows, you have to overcome not only low-riding thermometers and sketchy road conditions but competition from couches everywhere.
But the Summit School of Traditional Music and Culture's Spice on Snow Winter Music Festival is not only surviving, it's thriving. Kicking off this Thursday, January 15, and running through Sunday, January 18, it's bigger than ever, as evidenced by the festival's marquee headliners, Jay Ungar and Molly Mason. That acclaimed duo knows a thing or two about fostering interest in traditional music and culture.
Now in its fifth year, Spice on Snow has focused from the start on traditional music. Last year, Bruce Molsky and Cajun band the Revelers headlined, and with help of Louisiana chef Toby Rodriguez and students at the New England Culinary Institute, the festival added a heapin' helpin' of traditional Cajun food. That combo of cultural and culinary curiosities brought record-setting crowds to Spice on Snow and helped raise awareness across the Montpelier community.
This year, local chef Bill Koucky and NECI students will cook up the gumbo, and the Revelers will once again throw a big Cajun dance party. But Ungar and Mason will anchor the festival. The pair cuts a swath through Americana from traditional folk of the 1800s to 1940s jazz and swing. They'll play the festival's centerpiece concert at Bethany Church on Saturday, January 17.
Other festival highlights include nearly a dozen local favorites throughout the weekend, from the Ollabelles and the Starline Rhythm Boys to Brett Hughes, Kat Wright, the Green Mountain Playboys, and Jeremiah McLane and Ariel Friedman. A number of those performers, including Ungar and Mason, will host music and dance workshops on Saturday and Sunday, also at Bethany Church.
Both musical and life partners, Ungar and Mason began to play together in the late 1970s, then briefly worked apart while Mason played in the house band for Garrison Keillor's radio program, "A Prairie Home Companion." Mason eventually came back east to play bass and record two records with Fiddle Fever, a band formed by Ungar, fiddlers Evan Stover and Matt Glaser, and guitarist Russ Barenberg. Since then, Ungar and Mason have recorded half a dozen albums, together and with artists ranging from flutist Sir James Galway to the Nashville Chamber Orchestra.
And then there's that song: Ungar's "Ashokan Farewell," the haunting lament made famous as the theme for Ken Burns' 1990 PBS series, The Civil War, and since covered by everyone from Mark O'Connor to the Band of Her Majesty's Royal Marines. Ungar composed the tune in 1982, after the close of the first summer of the Ashokan Music and Dance Camps, a series of traditional music workshops, camps and concerts that he founded and now runs with Mason in Olivebridge, N.Y. Although Ungar has undoubtedly told the story of "Ashokan Farewell" countless times, he still does so with evident emotion in a phone interview.
"[That summer] was such a deeply moving experience," Ungar says. "Being with like-minded people for weeks. Being away from the terrors of the world and immersed in music and nature. When I went home, I was floating on a euphoric cloud of Utopian idealism. Maybe a couple of weeks later, I started to come back to Earth, and I felt a great sense of loss."
As he worked to channel that emotion into music, Ungar drew on another experience of that summer. He had traveled to Scotland, where he'd heard traditional laments and airs played by native Scots, and played them on his own fiddle, as well. He conjured "Ashokan Farewell" as a Scottish lament, and instantly realized he'd created something special.
"It brought me to tears whenever I started to play it," Ungar says. "At first I was scared by that, but after a while I saw that it affected others the same way."
When Ken Burns heard a recording of the tune, he immediately asked to use it in his documentary, Huey, about notorious Louisiana governor Huey Long. Then came the Civil War series, and the song's rise to fame.
To Ungar, the tune's status as an iconic piece of American music is a bit ironic.
"To me, it was purely Scottish," he says. "But being as it was played by a Jewish guy from the Bronx, others interpreted it differently, and it became very American, as far as they were concerned."
Since the 1990s, the public's taste for the kind of music played by Ungar and Mason has only grown.
"The connection with the past is a big draw," Mason explains. "It's exciting to think, Here's a tune that a guy wrote in his living room or at work 200 years ago, and to play it and sing it."
In addition to the historical novelty of playing centuries-old songs, Mason sees the social aspect of performance as key to the continued interest in traditional music.
"In a world of emails and texting and being so connected with your iPhone and computer, people miss that human contact with others," she says.
Festival director Katie Trautz is excited about the debut of Mason and Ungar at Spice on Snow, not only because of what they bring musically. As acting director of the Summit School, Trautz feels a kinship to the Ashokan Music and Dance Camps.
"The Summit School has been inspired by other programs of its kind, including Ashokan," says Trautz. "We hope to develop a synergy between our program and their program, and we are excited to show Jay and Molly what we are doing here."
Trautz is also thrilled by the continued growth of Spice on Snow. For the first time, the festival is hosting free daytime shows at nearly every venue in Montpelier. She is equally delighted by how the community has embraced the festival. In addition to a successful Kickstarter campaign that raised more than $5,000 for this year's event, more than 20 local businesses signed on as sponsors — double last year's number.
"The response [from the community] reflects a deeper sense of what it means to bring people together," says Trautz. "We can connect over food. We can connect over music and dance. I think people realize that this is a really good thing."
INFO
The Spice on Snow Winter Music Festival, Thursday, January 15, through Sunday, January 18, at various locations in downtown Montpelier. summitschool.wix.com
The original print version of this article was headlined "Ashokan Hello"