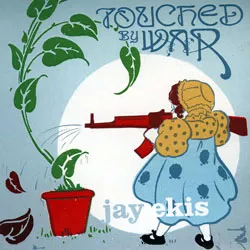 (Self-released, CD)
Central Vermont tunesmith Jay Ekis is back with his first studio offering in three years. While his 2005 debut, The Hidden Jar, presented an artist grappling with the scope of his influences and ultimately failing to rise above them, his latest effort, Touched by War, displays a remarkable leap in both depth and style.
"Fire" leads off and almost serves as a declaration of intent. Unlike his debut, which often tried to corral too many influences — and felt mincingly insecure as a result — the slow burning, mid-tempo ballad builds on a basic but powerful foundation: engaging melody, efficient arrangement and a big, sweeping hook at the chorus. It's a rock song, nothing more. But it's a good one.
The next tune, "Guns and Stone," is a driving four-four rocker. Again, Ekis keeps it simple with similarly pleasing results. Lyrically, the tune might represent his most effective work. A condemnation of war and the lies that lead us there, he sings, with just a hint of Billy Bragg-esque bravado, "You don't have to walk on water to know right from wrong / You don't have to be a DJ to know you're hearing the same old song / Ancient melodies made out of guns and stone / The harps of angels play, but the Devil plays his own."
The title cut is my personal favorite, with mild undertones of Gimme Fiction-era Spoon. Ekis is no Britt Daniel — few are — but he has a similar knack for airtight, minimalist pop hooks. And there is no better example of that than this tune.
"Bleed" is a touching, if chilling, acoustic ballad. Stripped of full accompaniment, Ekis' smooth baritone proves swooning and emotive.
"Ride Free" is a rambling little six-eight country weeper about — what else? —good love gone bad. Alt-country chanteuse Mia Adams adds appropriately woozy backing vocals.
The country vibe continues on "Shannon" with a shuffling train beat courtesy of drummer Phil Carr. Lead guitarist Brian Clark, largely restrained to this point, lets loose with some nifty lines that would make Old 97s Ken Bethea proud. Ekis' own roaring guitar work is a nice touch as well.
After stumbling a bit with "Down" but recovering nicely with "(It's) Just a Fact," Ekis awkwardly closes out the album with "Quiet Voices." Ironically, with only guitar, voice and organ — the latter played by Ron Yost — it's the simplest cut on the album. But Ekis seems to overestimate his range, finishing the song with a series of increasingly bizarre vocal flourishes. It's an unfortunate end to an otherwise fine effort.
Missteps aside, with Touched by War, Jay Ekis has taken great strides toward cementing his place among the state's stoutest songwriters.