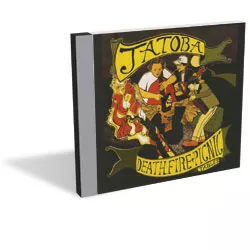 (Self-released, Digital Download)
Jatoba are a trio of talented young stringmen originally from the Keene, N.H., area. The band's first release, Death, Fire and Picnic Tables, sounds polished, a likely result of years spent playing gigs together in local bars. John Jamison (guitar, mandolin and sitar), Jason Scaggs (guitars and banjo) and Jeff Richardson (acoustic bass and percussion) often exhibit something akin to musical "murmuration," that rare and beautiful quality that usually refers to big flocks of starlings, birds that seem to change directions as one thinking mass. Jatoba generate lots of clean energy on every track, and these three musicians drive it home by playing as a team.
The lustrous and colorful South American hardwood that is the band's namesake has a natural versatility that could just as well describe the variety of music on this disc, and the facility with which the band members shift gears. Jatoba describe their music as "groove-grass," but there's much more to it than that. Listen carefully and you'll hear '60s garage rock, swing jazz, Latin rhythms, techno-funk and, on "Midnight to Morning," some credible bossa nova fused with sitar lines. It's impressive to hear all those styles of music so well played, and at the transitions from one to the next, sometimes mid-song.
Jatoba have a lot to say, even if some of it is hard to understand. On many tracks, their lyrics hit like a wave — words coming so fast that it's hard to grasp the meaning. On "Andy's Song" and "Mind Climbed Dream," the words themselves serve like an additional melody line to offset the strings. Luckily, the lyrics are included in the booklet so you can decipher some of the under-enunciated or musically buried words. I have found no songwriting credits on this disc, so it's safe to assume that all three band members collaborated on the lyrics as well as the music. Considering how Death, Fire and Picnic Tables sounds like a unified effort start to finish, that's not a surprise either.
Jatoba celebrate the release of Death, Fire and Picnic Tables with their debut performance at the Higher Ground Showcase Lounge on Saturday, January 21, warming up for headliners Greensky Bluegrass.