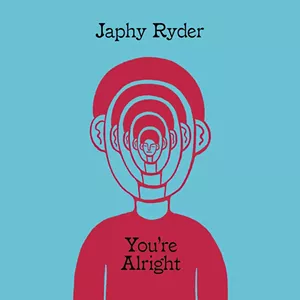 Japhy Ryder, You're Alright
(Self-released, digital download)
After a five-year hiatus, Burlington's groove-meisters Japhy Ryder return with their fifth studio album, You're Alright. If you're familiar with their extensive back catalog, the new effort might sound a little different — not because they've reinvented their musical ethos, but because they've retooled their approach to making a record.
Past efforts were mostly recorded live. But on this outing, JR's trumpeter and newly appointed sonic mastermind Will Andrews (aka Willverine) serves as sole writer and producer. He penned all of the instrumentals, which were then recorded as demos, shared with the group's various instrumentalists and tracked individually. Crystallized with Andrews' unquenchable synth-lust, the album is clean and glossy. It's more in line with current indie-electro aesthetics than vintage porno soundtracks, as this publication so oft stated in the past.
Don't get me wrong — JR's take on instrumental, funked-up hip-hop fusion is still way sexy. But it's sleeker, wilier and more modern than ever.
After a chilly conversation between piano and vibraphone, a wobbling bass line ushers in an overdriven, militaristic snare drumbeat on the opening cut, "You're Alright." As the synth sounds pile on, twin trumpet tones wrap around one another, eventually exploding into a sassy fanfare as a vigorously picked guitar lurks below.
"Dumptruck" is a perpetual-motion machine of nasty, slithering hip-hop. Andrews' trumpet is at its jazziest as wet handclaps punctuate Pat Ormiston's back-bending bass line. After moving quickly through a subdued bridge, the trumpet blasts land squarely on the beat before switching to stuttering triplets. The song bumps and grinds its way into the Champagne room, where it gets stuck in a sensual loop.
The band plays with reggaeton and Afro-pop themes on "Hold Up." A roiling djembe drum rivals the rock kit as Zack DuPont's guitar flirts with a surf riff. Machine-gun snares irreversibly intensify the groove as a shimmering gong unleashes a warbling, reversed melodic sample.
Dub vibes dominate "Brother Silas," a down-tempo cruise through fuzzy synths, metallic jingles and melancholy brass. The beats are stripped away in a dejected breakdown but return to full-force hypnotic bliss as a heaving synth bass dominates the flow.
"Goldrush" is a smack upside the head. Its confrontational wall of organ and synth momentarily dissipates with a rattlesnake vibra-slap. As the bass resettles the foundation under techy gurgles, a grungy guitar reintroduces the song's widespread motif.
You're Alright is truly Andrews' baby. And, as this is an instrumental band, trumpet is the dominant melodic messenger. The album is equally suited to headphones at work, basement dance parties and, well, the bedroom. Given that the group is entering its 15th year, and that it took five years for this record to emerge, we can only speculate about the prospect of future releases. If there's never another JR record, at least they went out with a bang.
You're Alright is available at japhyryder.com.