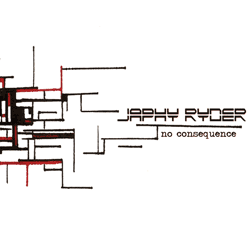 (Fat Cat Music, CD)
It's tempting to assume that a group claiming to blend jazz and rock is really just another aimless jam band. But once upon a time — as far back as the 1960s with Can, or even more recently with post-rock bands of the 1990s — jazz and rock came together in an innovative fashion, and was appreciated by more than stoned college kids.
On their new album, No Consequence, Burlington's Japhy Ryder demonstrate exactly how to blend jazz, rock, funk and electronica without losing sight of the fact that great songs — even instrumentals — are made with memorable melodies. The band incorporates a host of disparate influences without coming across as forced or formless; its songs are short enough to hold interest yet long enough for the players to stretch out and experiment.
For this album, the quartet evolved into a sextet, adding Jon Goneau on Fender Rhodes keyboards and melodica, and Joshua Pfiel on percussion. The extra players give No Consequence a more fleshed-out, well-rounded sound than was heard on Japhy Ryder's debut.
"Abami" is an ode to Fela Kuti and, unsurprisingly, is heavily influenced by Afrobeat. Will Andrews' jazzy, distinctive trumpet — a Japhy Ryder trademark — leads the way against a polyrhythmic backdrop that incorporates hand percussion and Pat Ormiston's funky-yet-subtle bass line.
"Johnny Don't" sets driving percussion against a spacey soundscape before emerging into a memorable melodic theme. This blend of ambience and anthem recalls indie-jammers The Slip or post-rock forefathers Tortoise. "Dolohav" brings a great call-and-response sequence between Andrews' trumpet and Jeremy Kizina's guitar, anchored by Jay Thime's heavy rock drums.
Perhaps the album's most surprising moment is "User58." Though its short running time might suggest a throwaway interlude, the song's blend of trip-hop beats, swaggering melodica and reverbed trumpet give it a lovely, chill-out electronic vibe. It's a welcome change of pace amidst the longer, multi-part songs on the disc.
The unique sound Andrews coaxes from his trumpet is easy to focus on. But the rest of the band is ambitious enough to keep all the songs here fresh and multidimensional. Japhy Ryder exhibit a lot of influences on No Consequence, but they manage to do them all justice.