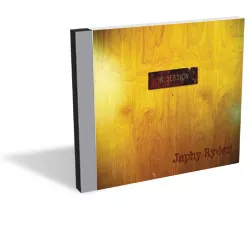 (Self-released, CD, digital download)
For years, Japhy Ryder have traded in a saucy sound often referred to — by this paper, at least — as porn prog. Informed by myriad influences, from prog rock to jazz, funk, art rock and beyond, the Burlington quintet crafts dense arrangements centered on sinewy grooves and flecked with playful attitude. And, yes, at times those compositions bear an uncanny resemblance to the funk-heavy, mustachioed swing of classic porn soundtracks. Picture King Crimson scoring "Debbie Does Burlington" and you're in the ballpark. OK, maybe don't picture it, but … er, let's move on.
While the band's cheeky musical forays are entertaining, focusing on them only tells part of the story. Digging deeper into Japhy Ryder's increasingly impressive catalog reveals a band with determined musical ambition, profound curiosity and the wealth of talent to match. On their latest full length, In Session, Japhy Ryder shed salacious shenanigans in favor of a substantial sonic tapestry that ripples in an airy breeze of meandering melodies and deep, thoughtful grooves. That's not to say JR have abandoned their innate friskiness. They haven't. But wanton wanking aside, In Session is a masterful effort flush with artistic introspection, dynamic performances and compelling compositions.
The songs that make up the album were written over a period of four years by trumpeter, keyboardist and bandleader Will Andrews. Each began life as a simple sketch on a drum machine, before being fleshed out by the rest of the group. The initial intent of the titular session was to record live tracks for an episode of the "Exposure" show on WRUV 90.1 FM. All of those factors converge to inform the record's distinctly hazy style and atmosphere.
"Bjork Feathers" opens the record in blooms of sleepy, reverb-soaked keyboard and guitar that splash over an insistent slow-jam bass and drum groove. "Triste" follows and features Andrews' somnolent brass wailing over a propulsive and spastic trip-hop beat that perfectly transitions into the boom-bap bounce of the next cut, "Corleone."
Andrews is particularly impressive and plays with uncommon restraint and nuance throughout. But In Session is an ensemble piece, particularly evidenced by cuts such as "El Campeón" and the hepcat strut of "Last Night." Beneath Andrews' pure, arcing tone, Japhy Ryder simmer with steamy intensity. Drummer Jason Thime and percussionist Matt Deluca form a slippery rhythmic juggernaut, with Pat Ormiston's rubbery bass line a worthy foil. Meanwhile, Zack duPont's guitar shimmers patiently, lying in wait before exploding to the foreground.
Japhy Ryder claim their latest is a product of several disparate influences — specifically, J Dilla, Miles Davis, D'Angelo, Fela Kuti and Portishead. Indeed, the marks of each can be found throughout the record. But In Session achieves something rare. It is far more than the sum of those parts and highlights the band's unique character and personality.
Japhy Ryder play Red Square on Wednesday, June 6, and again at Radio Bean on Saturday, June 9, both in Burlington.