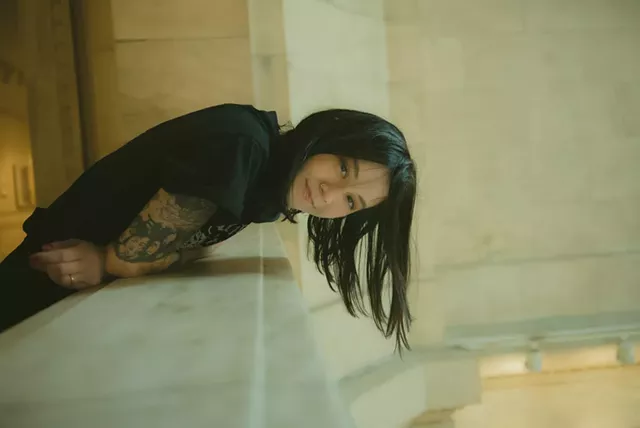 Smell and taste are perhaps the most visceral of human senses and can often evoke strong reactions, emotions and memories. Philadelphia-based singer-songwriter Michelle Zauner details how delving into cooking helped her process the sudden death of her mother in an award-winning essay written for Glamour. Learning to make galbi ssam and various banchan — traditional dishes her mother made before passing — the 29-year-old Korean American artist unlocked forgotten feelings and recollections, an essential part of her grieving process.
Making 2016's Psychopomp, her first album as Japanese Breakfast, was a similarly cathartic experience. By recording bedroom demos and reimagining older material — including some from her defunct emo band Little Big League — Zauner turned her mourning into a heartening collection of sweet, sad lo-fi pop-rock. On her 2017 follow-up, Soft Sounds From Another Planet, she pondered life after grief and expanded her sound with electronic and dream-pop aesthetics.
Beyond writing prose and music, Zauner is also an accomplished music video director, having taken on the role in nearly all of Japanese Breakfast's clips. Dry humor and equanimity permeate her keenly crafted vids, showcasing her confidence despite being relatively new to the director's chair.
Japanese Breakfast plays a free show on Friday, July 13, at ArtsRiot in Burlington. Former Titus Andronicus guitarist Andrew Cedermark and locals Full Walrus open.
Seven Days caught up with Zauner by phone.
SEVEN DAYS: You're playing Burlington on the exact one-year anniversary of Soft Sounds From Another Planet's release. How does it feel to have completed a lap?
MICHELLE ZAUNER: It feels good! I was just thinking about how amazing it's been to have our baby take us around the world for the last year. And it's exciting because, after October, we're pretty much done for the year. I'm really excited to start working on some new stuff. [I'm] also very nervous about it. Trying not to plateau after this.
SD: Do you consciously keep yourself from planning out new ideas and songs until the end of an album cycle?
MZ: I've been kind of weird about the third record and had a bit of an attitude about it. Like, "I'm gonna take my time and I don't even wanna write anything!" With Psychopomp and Soft Sounds, I made a record right after our first one came out. So the cycles really blended in together, and I spent the last two and a half years touring pretty hard on both albums — which is great, because what a great problem to have. So I'm excited to start working on the [new] record but also nervous because I want to take my time and not rush into it — and live my life outside of touring a little bit just to drum up some more stuff to write about.
SD: Musicians often say that a song's meaning changes over time. Do you think that's true for you?
MZ: Yeah, totally. I think that "Boyish" is a really good example. I wrote that song quite a long time ago [for Little Big League] and had it arranged very differently. When I wrote it, it was a song of betrayal from someone I had just started seeing, and I felt very melodramatic about it. Then I ended up marrying that person. Now, it's a reminder of how insecure I was in that time period and how funny that is in retrospect. It reminded me of the feelings of being young and feeling a lot.
SD: Is that why you set its music video in a high school prom?
MZ: Yeah. I think also the [Japanese Breakfast] arrangement changed it so much. In the Little Big League version, there's a bridge that's really volatile, and the arrangement is kind of like that, too. The version I arranged with [Craig Hendrix], who coproduced [Soft Sounds], it's almost classical. There are these girl-group, Phil Spector-y drums and these sweeping choruses with synth strings.
SD: What kind of experience did you have with video before you started directing?
MZ: I was an independent major at Bryn Mawr College. That basically meant that I invented my own major to incorporate creative writing, film studies and video production courses. I studied a lot of film theory, and I also took a couple of not-so-great, pretty outdated video production classes.
But it wasn't until I worked with [director of photography] Adam Kolodny — I just assumed that he would want to direct or was a director because he did film stuff. It wasn't until [the video for] "Everybody Wants to Love You" that he [said], "You're pretty much directing, and I don't really want to direct. I think that you would be good at this." That was what gave me the courage to step up and try it on. We were really happy with that growth in our dynamic. It's become something I really love to do.
SD: What's something you've learned about directing along the way?
MZ: I don't think I really knew what a director was. I thought that a director did everything besides act. What directing actually is — coming up with ideas and organizing people and delegating tasks — is something that I really enjoy and feel confident in. So, I think learning that a lot of what directing is is just relying on the skill sets of other people. [That] was a huge thing for me to learn.
SD: You may or may not realize that you're essentially playing ArtsRiot's food truck after-party, and I read that you might have some food truck aspirations of your own.
MZ: Yeah, once the music industry spits me out and I can't find work as a director and I've written my book [expanded from my Glamour piece], I would like to start a small Korean noodle shop or cart.
SD: What are three dishes that would be on your menu?
MZ: There's this Korean noodle dish called kalguksu. It's basically like Korean chicken noodle soup. If I could ever figure out how to make it well, I would do kimchi pancakes. [And] there's this Chinese-Korean black bean noodle called jajangmyeon.
SD: What's something you're surprised no one ever asks you?
MZ: I'm surprised people don't dig into specific lyrics and try to demand [that I say] what they mean. But I think it's for the best that doesn't happen. If I were a music journalist, I'd be like, "Who is this song about? Tell me!" I just am an instigator, and when I think about my [musician] friends I want to be like, "So, what girl is this [song] about? Is it someone famous? Is it someone I know?"
SD: So, we need to get you in a room with Taylor Swift.
MZ: Or, on the new Drake album, there's this one [song] that's like, "Kiki, do you love me?" I would be like, "Who's Kiki? I need to know!" If I ever get in a room with Drake, I'll be sure to ask him.