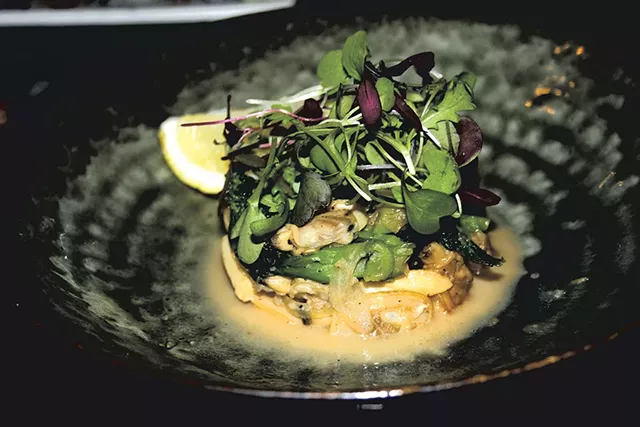 Suzanne Podhaizer
Clams and broccoli
Why did our server drop off a brown paper lunch bag on a plate? I wondered, as I sat in the dark back corner of Montréal's Ichigo Ichie Pub Japonais with my sister. We were exhausted from three nights of dancing into the wee hours and in need of a comforting meal.
As grease began to soak through the paper, I picked it up and peeked in. It was a piping-hot order of fried gobo — known to Americans as burdock or, more commonly, that super-annoying plant whose burrs stick to your clothes and get tangled in your hair.
To the side sat a small dish of red powder (a blend of chile and other spices). "You toss the seasoning with the fries in the bag," the server explained before darting away again. We did, and then dumped the cream-colored sticks out onto an elegant plate. Because they were hot, we devoured them immediately. Only then did we consider directing our chopsticks to a plate of raw hamachi topped with slivers of seaweed and drizzled with a rich sesame sauce.
Although it doesn't conform to all the customs of an izakaya — a casual Japanese restaurant where people go to drink sake and eat snacks — that's essentially what Ichigo Ichie is. It's as if a gastropub replaced poutine with tempura and fish and chips with sashimi. Dishes range in cost from $3 to $18 Canadian, but most are in the $8 to $12 range.
On a previous trip to Montréal, I'd eaten an excellent bowl of ramen at a tiny spot called Yokato Yokabai. I love bowls of noodles with rich, fatty broth and soft-cooked eggs, but this time I wanted to explore something that hewed more closely to tapas and to experience a wide variety of tastes.
So I chose the highly rated, 2-year-old Ichigo Ichie. "I just cannot believe this place exists in Montréal," raves one online review. "We just could not stop ordering." "Arguably the best izakaya in Montréal," raved another.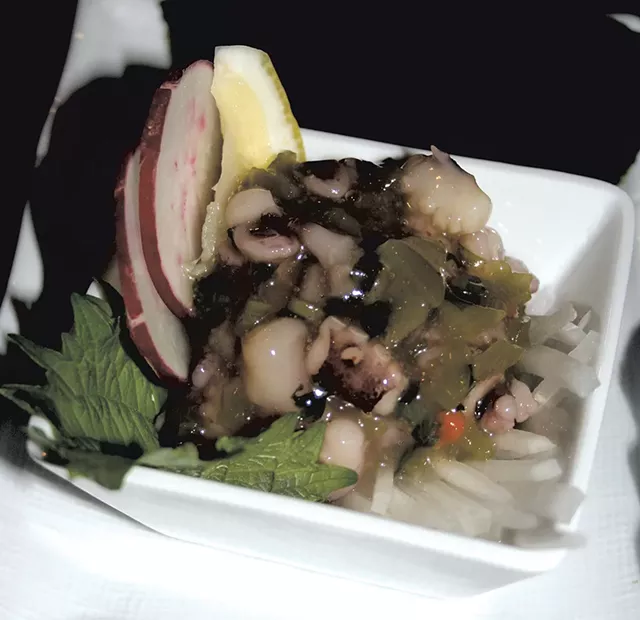 Suzanne Podhaizer
Octopus with wasabi (takowasa)
But I was rather surprised to walk up rue Rachel Est in the Mont-Royal neighborhood and discover that I recognized the ramen house building. I shot a confused look at my sister, who had joined me in slurping up noodles on that previous trip. A quick Google search allayed our confusion. The house and pub are separate businesses in the same building, both owned by the same person. While at the ramen bar, one can only order a few of the elegant small plates from next door, but diners at Ichigo Ichie can have it all.
So that's what we did, sampling a parade of small plates followed by a bowl of porky tonkatsu ramen.
After the gobo fries and the hamachi, which was fresh and saline, out came a plate of karaage — addictive bites of fried chicken — served with wasabi mayo. After all the meat was gone, we unabashedly licked our fingers.
With each dish, I admired the presentation of the food. A small ramekin of takowasa — raw octopus slicked with wasabi dressing — came piled on julienned daikon with rounds of red radish and a whole leaf of shiso (a plant in the mint family with delicate serrated leaves and a distinctive flavor)
A special that night — clams sautéed with Chinese broccoli — was fashioned into a round and topped with a generous pile of microgreens. The petite leaves were all shapes and colors, including striking, slender magenta beet shoots. The dish tasted as good as it looked, all tender brine-y flesh and slightly bitter brassica.
The serving ware was also noteworthy. Some of the dishes were classic white porcelain; others were beautifully glazed stoneware in shades of brown, green and cream. Still others looked like slightly crumpled pieces of paper, with uneven edges, curves, rises and dips. Each course seemed perfectly suited to the plate on which it was served.
The restaurant's décor was pleasing, too. The wooden table in our dark corner overlooked the open kitchen, which was illuminated by hanging lamps. Sake bottles lined a shelf above the bar. On the way to the restrooms, two walls were decorated with murals of classic, erotic Japanese paintings, although the genitals were pixelated with blue and white paint.
Suzanne Podhaizer
Green tea tiramisu
Having devoured our snacks, we awaited the ramen. Diners order the soup by checking desired ingredients on a little slip of paper and handing it to a server. You can select the kind of broth, as well as pork, chicken or vegetables. The garnishes include crisp, lacy slices of lotus, kernels of corn and bamboo shoots. Those sensitive to sodium can request a low-salt variation.
Our bowl — with extra salt, a liberal scattering of scallions and perfectly fatty pork — was just as good as I remembered. The slippery noodles were perfectly cooked. The fat at the top of the bowl gleamed in the light and on our lips.
We barely had room for dessert, but the green-tea tiramisu — sprinkled with shockingly green matcha powder — and an Asian variation on crème caramel were satisfying without being overly sweet.
Roughly translated, ichi go ichi e means something like "a once-in-a-lifetime experience." I've been lucky enough to eat this food twice and eagerly await the third time.