Jan Gorham is not the first Vermonter to note that Canadians do a few things better — including crackers. But she was tired of spending $8 a box on her favorite imports, so in 2011 she started making her own. Gorham's friends raved about her crisps, and one suggested that she sell them. In fact, she was ready to try something different than her job in the financial department at Mt. Mansfield Winter Academy.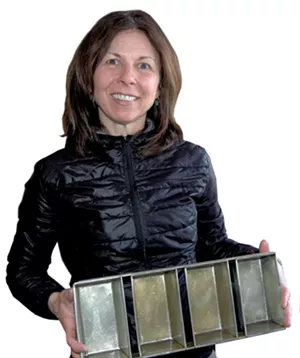 Molly Zapp
Jan Gorham
The Canadian native and mother of three decided to set up a certified home bakery in her home kitchen in Stowe, and Jan's Farmhouse Crisps was soon born.
In the past four years, Gorham has moved production from her home, first to a commercial kitchen in Stowe, and more recently to a larger facility in Bristol. Jan's Farmhouse Crisps are widely distributed throughout the state and the Northeast, particularly in upscale cheese and wine shops. After her crackers were featured in two issues of Martha Stewart Living, Gorham described her next goal of getting product "to the middle of the country."
Slightly lacey and golden brown with flecks of seeds, the variably wavy crisps lack the dull uniformity and overbearing saltiness of most mass-produced crackers. You can happily munch the crisps straight from the package: sans accoutrements, you can taste a hint of rosemary that follows the bright flavor of dried cranberry and the crunch of pistachios, as well as pumpkin, sesame and flax seeds. But Jan's crisps are perhaps best enjoyed as a vehicle for another decadent, Vermont artisanal product — cheese.
On a sunny February morning at Gorham's New England-chic home in Stowe, she served up a platter of her crisps and several Vermont cheeses. The tart creaminess of Vermont Creamery's goat cheese complemented the crackers' cranberry chewiness and hints of salt and honey. A thin slice of Neighborly Farms of Vermont feta worked well as a crisp companion, as did cashew butter, sweet- and-savory chutneys, and cranberry-orange marmalade. These combinations seemed to call for a glass of crisp white wine, such as a vinho verde, but at 10 a.m., ginger tea was a wiser choice.
Jan's Farmhouse Crisps have made their way onto cheese plates at some upscale restaurants. Joseph Wallace, sous-chef at Crop Bistro & Brewery in Stowe, said the restaurant serves the crackers with its cheese and meat platters, noting that they pair especially well with Grafton Village Cheese five-year cheddar and the von Trapp Farmstead's Mad River Blue.
The crisps garner rave reviews. "People will have one of the crisps and think, Wow, those are delicious, and eat them all ... sometimes servers come back to the kitchen numerous times to request more crisps for their table," Wallace said. "People eat them with the cheese or gobble them up on their own. We've definitely had a very positive response from all of our guests."
What is it about Jan's crisps that make them highly addictive? In part, their debit-card thinness. The crackers are just thick enough to hold your favorite schmear and make a satisfying crunch yet are more delicate than hard rye crackers or melba toast.
In her dining room, Gorham showed off the original slicer that she, along with her husband, David, and former assistant, used to slice each cracker by hand, a time-consuming process. "We all have shoulder issues from this slicer," she said, only half joking. Nowadays, workers at the Bristol bakery use a custom commercial slicer that cuts 40 crisps at a time.
From the beginning, Gorham's business has been a family affair: Her son, Maks, drew the farmhouse graphic featured on the bags, and David has personally sold the crisps to wine and cheese shops in Boston, where he works in the construction industry. With distribution that continues to expand, the Bristol bakers are producing upwards of 900 bags of crackers per day.
Like many Vermont-made artisanal products distributed in other states, Jan's Farmhouse Crisps clearly notes the product's origin. "You say 'made in Vermont' — I think that's huge," Gorham said. "We are incredibly lucky to have the good food we do. Certainly in the Northeast, a Vermont-made product is worthwhile." She said she based the crackers' original flavor combination on the cranberry-pumpkin-seed mix in her homemade granola. Next month, her company will release two new flavors: salted almond with raisins and sesame citrus.
Jan's crisps cost about $6 for a four-ounce package. Gorham said she doesn't use organic or Vermont-sourced ingredients in order to keep costs down and supplies consistent, though she does use all non-GMO ingredients. Initially, she used biodegradable packaging, but after her friends complained that the crisps went stale "after two weeks," she switched to No. 5 plastic packaging, which keeps the crisps fresh for up to a year and is recyclable in some areas. Gorham said she tries to reduce waste by using broken pieces as tasting samples in stores.
The production process for the crackers is similar to that of biscotti: Bakers pour the batter into metal loaf pans and bake them like you would banana bread. Then the loaves are slightly dried out, cut into thin slices and baked again.
The browned loaf ends, however, never make it into the package. When production was in Stowe, local farmers would collect them to feed to turkeys and pigs. Brian Raulinaitis, who now taps maple trees, said he used to feed some fortunate hogs those scraps at a farm where he worked. "We'd feed the pigs a bunch of raw milk from a nearby farm, and I would dump the milk on top of the crisps and feed it to the pigs. Kind of like cereal," Raulinaitis said.
Gorham has yet to find a Bristol farmer who wants to collect the loaf ends. But perhaps "crisp-finished" pancetta will soon show up on a cheese and meat platter at a farm-to-table restaurant — served, of course, with a side of Jan's Farmhouse Crisps.