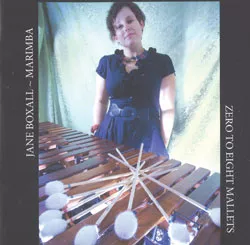 (Intermediate Swing, CD, digital download)
When considering Zero to Eight Mallets, the latest release from local marimbist Jane Boxall, it is difficult to construct a frame of reference through which to explain it. At the risk of violating a cardinal rule of arts criticism — copping to one's own ignorance — solo marimba represents a niche within a niche, and one with precious little to which it can be compared. Boxall's record is a rare work that exists almost as if in a vacuum, because there is simply nothing else quite like it, at least not locally. Put another way, this is some crazy shit.
Boxall is perhaps best known as the former drummer for local riot-grrl punk band, Doll Fight! and is a current member of all-female rocksteady outfit Steady Betty. But those pursuits seem mere hobbies in comparison to her resumé as a marimba player. Born in the UK, Boxall earned bachelor's and master's degrees in music from the University of York and a doctorate of musical arts and literature from the University of Illinois. Boxall currently performs with the Vermont Contemporary Music Ensemble and the Vermont Symphony Orchestra, among numerous other ensembles.
Mallets represents a fascinating, 44-minute exposition of compositional and technical experimentation that stretches the boundaries of what most might think of when considering the marimba. Aside from the opening piece, "Sambai," written by Boxall, the album features works by an array of 20th-century composers ranging from Belgian virtuoso Ludwig Albert to Frank Zappa — yes, really. These highlight the versatility of the marimba as well as Boxall's own fearless curiosity and expert ability.
As the album's title implies, Boxall performs with varying numbers of mallets, from none on "Sambai" — she uses her knuckles and fingers — to eight on the closing track, "Marimba Moods II," by Albert, who is credited with pioneering the eight-mallet technique. Regardless of how many mallets she wields, Boxall's own technique is immaculate. And the multilayered depth of the sounds and patterns she sculpts is marvelous, whether recreating the playful genius of Zappa's "The Black Page"or the progressive electronica of John Psathas' heady "One Study One Summary," or playing it comparatively straight, as on Thomas Pitfield's "Sonata for Xylophone."
Zero to Eight Mallets succeeds as an academic pursuit as Boxall displays the myriad ways in which the marimba can be deployed. But it is an equally potent listen for the layperson, who may not fully understand exactly what they are hearing but will no doubt find its mysteries just as absorbing and satisfying.
Zero to Eight Mallets by Jane Boxall is available at janeboxall.com. Jane Boxall performs at the ArtsRiot Studio in Burlington this Friday, March 8, as part of the Orkestriska's Box duo with Randal Pierce.