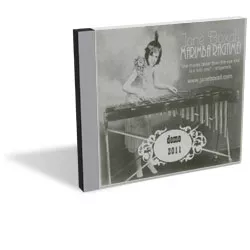 (Self-released, CD)
In Vermont, Jane Boxall is in a genre of one. The British-born marimba player — and drummer for local riot-grrrl punk act Doll Fight! — introduced herself to the Green Mountains in 2008 with a solo debut album, Spherical Music, which showcased not only impressive chops but the stunning range and versatility of her instrument. Boxall's latest effort, a demo entitled Marimba Ragtime!, similarly highlights the percussionist's uncommon skill. And it reveals a playful nature only hinted at on her debut offering.
For the uninitiated, the marimba is something like a xylophone on steroids. Boxall plays the melodic percussion instrument by striking with several different mallets at once, allowing her to simultaneously play melodies and countermelodies, and generally make it seem as though several players are involved, rather than one with two lightning-quick hands. Harry Breuer's sprightly "Temptation Revamp" is a fine introduction both to Boxall's nimble wrists and the unique characteristics of the marimba. Warm, rounded tones plink and ripple like raindrops on a tin roof, making Breuer's jaunty ragtime melody both soothing and titillating.
"Black and White Rag" by George Botsford is next and truly underscores just how dynamic the marimba can be. Boxall coaxes cavernous bass notes with her left hand while her right dances atop the instrument's upper register. On "Dance of the Octopus," that same right hand slithers like a probing tentacle and delivers glittering glissandos that skim the surface of Red Norvo's composition. Meanwhile, cool, deep tones bloom ominously below.
Marimba Ragtime! closes, fittingly, with Breuer's "Joplin on Wood," an ode to the most famous of ragtime composers, Scott Joplin. The tune's familiar, frisky melody is made even livelier by Boxall's plucky performance. If you can listen to this tune and not feel transported to a simpler day — or at least crack a smile — you should seek professional help. Or maybe just catch Jane Boxall live, at the Langdon Street Café in Montpelier on Wednesday, May 18.