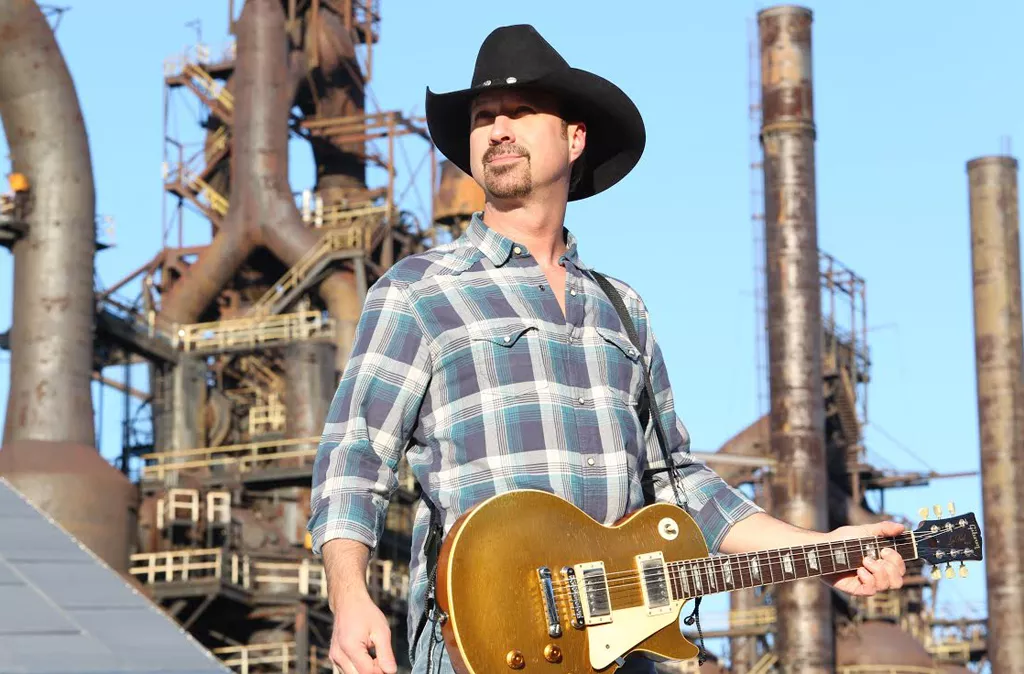 Courtesy of jamie lee thurston
When a young Jamie Lee Thurston left his Vermont home for Los Angeles, and later Nashville, in 1999, local fans believed the singer was bound for country-music glory. But a funny thing happened on the way to the Grand Ole Opry: He didn't get there.
That's not to say that Thurston, a Waterbury native and son of wily rocker Jimmy T. Thurston, has been a failure. Far from it. He's written songs for country stars such as Trace Adkins, Montgomery Gentry and Rodney Atkins — ironically, the last charted on a Thurston tune titled "15 Minutes." He's flirted with major labels, including Warner Bros., with whom he briefly had a record deal in 2003. He has eight full-length albums to his credit and another due out this year, which he believes will be his finest to date.
Armed with a six-string guitar and a distinctive, gravelly growl, Thurston has carved out a modest career in mainstream country. But the stardom many had assumed for him — and which, by his own admission, he still craves — has proved elusive. At least for now.
For more than 15 years, Thurston has clawed his way through an unforgiving music industry at a time when its future has been uncertain. "Leave it to me to get into the music business right when it's going in the tank," he says. Still, despite the ups and downs, Thurston remains resolute in his dream.
This Friday, February 20, Thurston will play a homecoming gig at the Rusty Nail in Stowe, flanked by his dad. In advance of that show, we spoke to the country singer from his home in Nashville.
SEVEN DAYS: How are you, Jamie Lee? How's Nashville?
JAMIE LEE THURSTON: Cold, man. I mean, it's pansy cold, probably in the teens or something. But it's cold.
SD: Dude, it's in the negative teens here right now...
JLT: Jesus. I can't deal with the negative numbers anymore. I'll take pansy cold.
SD: I don't blame you. So, one of the turning points of your career was that you had a deal with Warner Bros. but it fell through. It seemed like it was in the bag, so what happened?
JLT: Well, it was a paper bag and the bag was wet. What happened was that I had a song that had come in as a "Hot Shot" on Billboard, which is a big deal. So they offered me a deal. But right at the same time, Asylum [Records, a WB subsidiary label] closed and they had to absorb all of those artists. So no more deal for me. But the head of A&R told me, "Trust me. You don't want to be here right now." She was probably right.
SD: That must have been cold comfort, though.
JLT: Yeah. It's a much longer story. But that's the gist. I don't know how else to describe it except to say that I was fucking crushed.
SD: But then Rodney Atkins did one of your songs, "15 Minutes."
JLT: Yup. That one raced to, like, No. 16, which was his fastest-rising single to date. And he had just come off four straight No. 1s or something. But it got to 16 and his management decided it wasn't a good song for his image. So they basically dropped it, and then it fell like a brick.
SD: Still, charting that high is pretty cool. But was it bittersweet to have someone else chart with one of your songs?
JLT: I've never really thought about it. It was a no-brainer to do and it is what it is. It kept me around and surviving.
SD: You've certainly been through the ringer. In your darker moments, have you been tempted to just walk away?
JLT: To cut to the chase, I don't know what else I would do. You definitely get tired of it, but it's all I've ever done. What's my fallback plan? I don't have one. But there have been times when I would think, I'm just gonna tell them all to go fuck themselves, move to Florida and play in a tiki bar for the rest of my life. But it's just something I have to do. I have to write songs and sing and play. You can easily get depressed and want to give up. It gets low and can seem so hopeless. But the highs are so high, too. When you're playing a show and everybody is loving it, it doesn't get better than that.
SD: You're working on a new record. What can you tell me about it?
JLT: I think it's the best thing I've ever done. I grew up on '70s pop and AC/DC and Judas Priest and Johnny Cash and Buck Owens. So you kinda sew all that together and that's basically where I've landed with this record. It's over budget and it's cost me a ton of money, but it's what I really wanted to do.
SD: So it's almost as much a rock record as a country record?
JLT: Sort of. I'm a country singer, so anything I do will sound country. But there is some really heavy, hard shit on this record.
SD: Modern country music is in an interesting place, where so much of it is barely distinguishable from Top 40 pop. To quote Waylon, "Are you sure Hank done it this way?"
JLT: Some of it is so fucking bad. It really is. Some people might hear me say that and think, sour grapes. But I want everything to be great. I want to turn on the radio and go "Fuck yeah!" But for the most part, I turn on the radio and go "Fuck. Really?"
SD: Are you sure you really want to be a part of that?
JLT: Well, I look at this way. If you've been a carpenter for 20 years, chances are you can build a pretty damn good house. I know I'm good. And it's not because I'm "cool," because I'm not. But I've logged the time and worked hard. So maybe there is still a place for well-crafted music on the radio.
I had a friend who told me 98 percent of the people who try to become stars don't make it. But that means that somebody has to be part of that 2 percent. So why not me?
SD: Your dad is quite a character. What was it like growing up with Jimmy T. as your dad?
JLT: That's one way to put it. [Laughs.] You have no idea. I don't know how much of that would be printable. But my dad is awesome. He's a great dude. I learned how to be an entertainer from watching him, and I learned so much other stuff from people in his bands, who were just nice to this skinny punk kid. I graduated high school and went on the road with his band. I was a roadie at 15 in the summers. So I experienced every level, from setting up the stage to playing on it. I owe everything I am, whatever I am, to him.