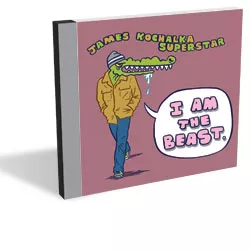 (Self-released, digital download)
Say this about James Kochalka: He rarely fails to surprise. His is an absurd yet reliable unpredictability. But in a way, that actually makes him strangely, well, predictable. Because Kochalka is so capricious, you always know what you're going to get with him, which is to say that you never really know. You following?
Kochalka calls his latest EP, I Am the Beast, a profound departure from his recent work. And he's (mostly) right. Where his last full-length record, 2009's Digital Elf, found the Superstar exploring the outer sonic possibilities of creating pop music using the sound card from a Nintendo Game Boy Advance video-game system, Beast finds Kochalka wading into waters that even the most ardent fan might hesitate to follow. Namely, brostep.
Raise your hand if you saw that coming. Then again, maybe we should have. One of the consistent hallmarks of Kochalka's musical oeuvre is a fascination with — and perhaps disdain for — pop culture. While not a satirist, precisely, he frequently makes a target of pop trends and icons — Britney Spears and Beyoncé, to name a couple. So while the penetrating throb of EP opener "Kochalkalaka Boom" and the reggaeton-ish bounce of "Double Jump" certainly assault unwitting ears, given the rise of Skrillex et al., is it really any wonder Kochalka might have a take on the latest wave of club music crossing into the mainstream? Probably not. Nor is it a wonder he might pointedly tease the genre and its fans, but do so with a gleefulness that somehow suggests a twisted yet genuine affection for it.
On "Down in the Basement," producer Neil Cleary crafts a sinister, grinding beat over which Kochalka implores us at the chorus to get "Down in the basement where the beats are sicker / Down in the basement where the hearts beat quicker." At the verse, however, he adopts a bombastic delivery while playing up the hypersexualized aspects of underground club culture, intoning, "You gotta shake your rump / ba-dump-ba-dump / You gotta let me fill your cup. Ah!"
The EP closes on the title track, and here Kochalka serves up another curveball. Rooted in mid-tempo electronic dance beats, the song bears a chilling quality, as synth strings arc around dark musings on lust and predation. "There was a girl / She taste the best / I eat the flesh right out her dress / I eat the feast / I am the beast," he sings. Then, "Look in the mirror, what do I see? / I am the monster and the monster is me." Surprise, surprise.
I Am the Beast by James Kochalka Superstar is available at kochalka.bandcamp.com.