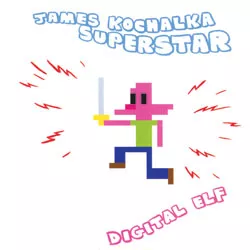 (Self-released, CD)
When James Kochalka files his taxes, what do you suppose he puts down as his job title? Musician? Cartoonist? The all-encompassing artiste? Based on the strength of his latest record, Digital Elf, I would like to propose a more fitting, albeit obvious, title: Superstar.
Burlington's resident bizzarro renaissance man wears many artistic hats, and he wears them all exceedingly well. Granted, his singular weirdness is not for everyone. Much as his long-running comic strip "American Elf" occasionally draws bewildered detractors in the "Letters to the Editor" section of Seven Days, so, too, will some dismiss Kochalka's music as little more than the unhinged ramblings of an adolescent man-child. Which, of course, is absolutely accurate. It is also precisely what makes Kochalka's work, whether on the page or the stage, so uniquely appealing — or, appalling, depending.
Kochalka composed and performed all the music for Digital Elf using an 8-bit sound chip from a Game Boy Advance video game system. No samples were used; each cybernated sound was built from scratch. Ever wonder what a rock band composed of Cylons from the original Battlestar Galactica might sound like? This is your answer — especially on the song "Bacharach Galactica." Ahem.
Digital Elf's, er, "chippy" atmosphere lends a further degree of irreverence to Kochalka's music that might surprise even longtime fans. Taken as a whole, the nanobyte nonsense occasionally borders on willfully obnoxious. But as none of the disc's 15 tracks even sniffs the two-minute mark — the entire album clocks in at a shade under 20 minutes — such moments are fleeting. Moreover, any — OK, most — grating cutesiness is tempered by the songwriter's imaginative comedic wit.
Take the album's second track, the North vs. South (End) anthem, "Old North Ender." Anyone who has ever resided north of Pearl Street in Burlington will appreciate Kochalka's barbs at that 'hood's less savory characteristics and characters. "I've siphoned more gas than I'm ever gonna huff. / When you live in the North End you gotta stay tough," he muses.
Then there is the cyberbully pushback — my personal favorite — "BLOG." Kolchalka sings, "You can diss me in your blog, you can treat me like a dog, you can write whatever you like. / You can diss me in your blog, but I ain't nobody's dog, and I'll beat you down tonight!" This leads to the chorus in which Kochalka and friends raucously spew the title word over and over as if some lyrical expectorant. "Buh-LAAAAAHG!" It's as clever a riposte to the inanity of the blogosphere as any I've encountered.