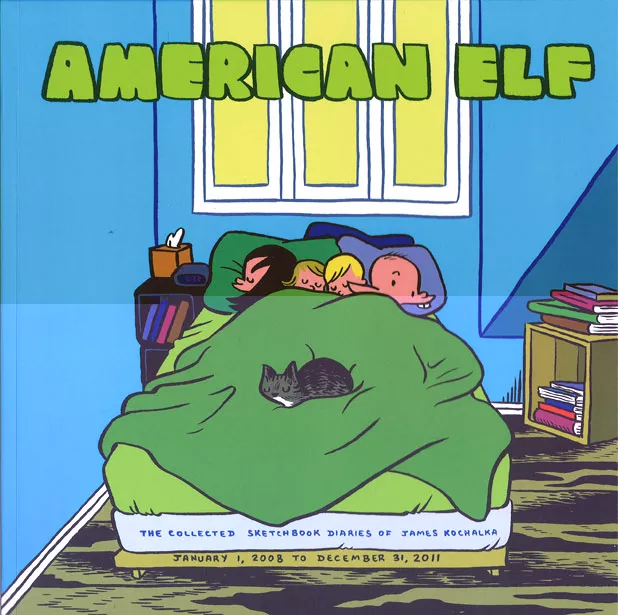 For his fourth collection of "American Elf" comic strips, which covers 2008 through 2011, Burlington cartoonist James Kochalka penned an introduction in nine panels. It reads: "The book collects four years of the diary comic strip that I draw in my sketchbook. But it's more than just a comic strip. It's love. Random despair. Freaking out! The poetry of life. Um… Yeah. I guess it's just me. My life. Four years. Thanks for letting me share it with you. That's all."
Kochalka is a "local" guy, but he's got a worldwide fan base, both for his cartoon works and his quirky rock music as James Kochalka Superstar. So his announcement last week that "American Elf" — think "Family Circus" for the indie set — will come to an end on December 31 produced reactions around the globe.
"I've been getting a lot of emails from all over the world begging me not to stop," Kochalka says. "One fan wrote to say he sat down and read all 14 years." Others, Kochalka adds, simply thanked him for what he has produced.
Yes, 14 years' worth of daily cartoons — actually 15, including 2012. Kochalka gave up the strip for a full year in its early days; since then, he thinks he has only skipped one day, around the time his dad died last September. Most of those strips are compiled in books; all are archived on Kochalka's website. Seven Days has been running one each week for nearly a decade.
Why quit now? "I feel like I created a great work of art, but I felt it maybe wasn't right to include my family without their consent," Kochalka says he has finally decided, referring to his wife, Amy, and their two young sons. Indeed, the diary-style comic documented life with his family, friends and cat, from mundane moments to angsty reflections to lightbulb-going-off epiphanies. Another factor, Kochalka says, is that "'Elf' has so consumed my mind for 14 years, I've hardly thought about anything else."
That's an exaggeration, of course; over that span of time he has produced other print comics, work for Nickelodeon, musical recordings and an animation series titled SuperF*ckers, among other projects. He's also taught at the Center for Cartoon Studies in White River Junction and been named Vermont's first-ever cartoonist laureate. Never mind being a husband and dad. But still, drawing a strip every single day has required a special kind of discipline. Kochalka notes that, when his family goes camping in the summer, "I'm drawing it out in the woods."
Of "American Elf" he says, "These 14 years, it's been the great joy of my life, but it's also been incredibly painful." As he's aged and experienced life's ups and downs — and chronicled many of them in black and white — it's sometimes been emotionally difficult, Kochalka says. But the accolades must be part of the reward — such as his recent selection as one of the best 20 web comics of 2012 by Paste magazine.
Kochalka says he's sad about quitting, but notes, "I felt like I had to make some decision; ['Elf'] wasn't meant to be a life sentence. I just wanted to learn something about what it meant to be a human being."
And did he? "I've been so busy drawing it, I'm not sure," Kochalka admits with a laugh.
He'll get a chance to assess, perhaps, in the New Year. Kochalka says he wants to continue contributing a weekly strip to Seven Days, and he expects he'll "experiment with a couple different things before settling down." He concedes he may eventually decide to return to "American Elf" — "if it's what I want." Stay tuned.
"American Elf, the Collected Sketchbook Diaries of James Kochalka, January 1, 2008 to December 31, 2011," Top Shelf Productions, 384 pages. $24.95.