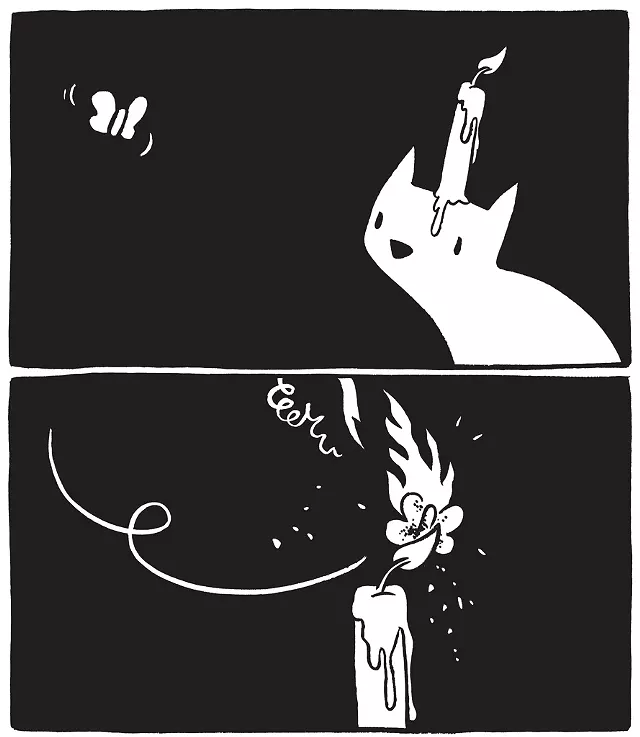 Courtesy of James Kochalka
From The Seagull and the Star
For the past five years, the Vermont Contemporary Music Ensemble has staged a Poetry & Music series that prompts composers to respond to works by area poets. This weekend, VCME presents a fresh twist on that theme of collaboration — poems inspired by music. Not to mention a musical work based on a poem based on a cartoon.
Each of the ensemble's concerts in Montpelier and Burlington will have two parts. First, former Vermont poet laureate Sydney Lea will read original works that respond to musical selections by VCME director and clarinetist Steven Klimowski. Next, the ensemble will premiere The Seagull and the Star, a collaboration of Lea, former Vermont cartoonist laureate James Kochalka and Philadelphia-based composer Joseph Hallman.
Lea, who lives in Newbury, has joined forces with Kochalka before. The poet and the Burlington-based cartoonist cocreated the aptly titled comic "Double Laureate Team-Up," which was published by the Center for Cartoon Studies and the Vermont Arts Council in 2013.
The Seagull and the Star project started with a wordless comic drawn by Kochalka. He's known for more lighthearted material, but this piece has a contemplative bent. It tells the story of a seagull that flies to retrieve a star, and a conniving cat that attaches a candle to its head to attract moths. The gull and the cat seek the unattainable by harebrained and pragmatic means, respectively. The results aren't quite what they anticipated.
From this material, Lea created a poem that follows Kochalka's general story line but adds depth to the images. It plays on the human tendency to place value in fable and asks us not to judge the actions of either animal, just to consider their results.
Lea has collaborated with Hallman previously, as well. The composer drew inspiration from a poem of Lea's called "Suite in Mudtime" for his work of the same name, which was performed in February 2014 at the Vermont College of Fine Arts in Montpelier. For the current concert, Hallman wrote parts for viola, violin, piccolo, clarinet and bass clarinet; Klimowski will pull double duty on the last two.
The Seagull and the Star is only 25 minutes long, hence the additional programming that reverses the pattern of VCME's Poetry & Music concerts (another will be presented this spring). For this, Klimowski says, he chose the music "based on what the musicians could readily play." He pulled three pieces by Bach, French composer Charles Koechlin and avant-garde saxophonist Eric Dolphy out of VCME's repertoire and handed them over to Lea.
The poet says he listened to the music over and over again, waiting for inspiration to strike. Dolphy's piece — improvisations on Billie Holiday's "God Bless the Child" — reminded him of a poem he had already written, "Easy Wonder," which he sent to Klimowski. His responses to the other two pieces are new poems.
Even with previous collaborations under his belt, Lea says the experience of working with other artists still feels new to him. "Each joint effort has taught me, increasingly, about the commonality among the arts," Lea reflects. "Cartooning, if as deftly done as it is in James' case, has everything to do with poetry, poetry with music, music with dance, and infinitely on."