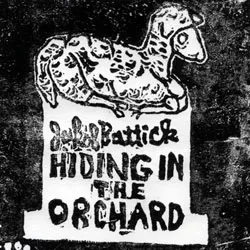 (Self-released, CD)
Sometimes a musician describes his or her work better than most music-crit types ever could. And, sort of like seeing the northern lights, it's always pleasantly surprising when the phenomenon occurs — at least for people like me. Such is the curious case with Maine songwriter Jakob Battick. In a recent email to Seven Days, he offers this acute summation of his work: "I play floaty, dreamy slowcore and shoegaze-influenced music for floating through stars and space in the middle of the night." Well, OK then.
Battick, who is spending the summer in Burlington while on break from the University of Southern Maine, is essentially right on. His latest EP, Hiding in the Orchard is a beautifully flawed and haphazardly elegant novella, combining narcotic elements of The Velvet Underground with narcoleptic elements of The American Analog Set and healthy helpings of good old-fashioned ether.
Appropriately enough, Hiding begins with an astral take on Nico's "Afraid." Throughout the disc there's a sense that this is music made for — and as it turns out, in — the stark clarity of the darkest night. And Battick's version of the Desertshore classic bears that out with nocturnal brilliance.
"Sister Song" is next and likewise drifts in an elegiac haze. Battick's pure baritone is full bodied and dangerously seductive. Even in moments where he lazily slides below pitch, his delivery imparts a fractured charm that feels anything but accidental.
"As Before, If Not More" could not be more aptly titled. If Hiding has a serious flaw, it's that very little, thematically or sonically, distinguishes one tune from the next; they simply bleed languidly into one another. However, given the dreamlike delirium this induces, you could successfully argue that's hardly a flaw at all.
"It's a Grace (Only Bodies Can Impart)" brings the EP to a close with something akin to sonic soma. Somnolent and dully alluring, it's a blissful exhalation, ending this hypnotic ride "through stars and space in the middle of the night."