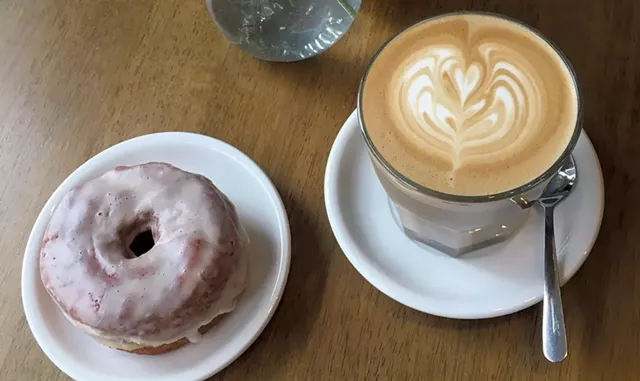 Courtesy Of Carrier Roasting
Latte and doughnut at Carrier Roasting
When Jake's ONE Market opens later this year at 242 North Winooski Avenue in Burlington, it will include a coffee bar run by Carrier Roasting of Northfield. The grab-and-go business will serve coffee and espresso drinks and baked goods, said Ross Evans, co-owner of Carrier.
"It's a really cool space and location and part of some really positive momentum that Carrier has right now," he added.
Occupying a 300-square-foot space to the right of the front door, the coffee bar will be the first thing customers see when they walk into the store, said Jake's ONE Market owner James Kerrigan. "We're excited to partner with a Vermont-based roaster and coffee operator," he said.
Carrier was founded in 2015 as a subscription coffee business in a barn in Northfield. Today it makes wholesale bean shipments to stores and coffee shops in Vermont and beyond.
In January 2018, Carrier relocated to the former IGA building in the center of Northfield, where it opened a roastery and café in a space it shares with Good Measure Brewing. Last month, the business expanded its offerings with the launch of Carrier Specialty Instant Coffee. Produced in partnership with Swift Cup Coffee of Pennsylvania, the instant offerings come in single-serving compostable containers, Evans said.
Carrier's Burlington coffee bar will be open seven days a week, like its host store. The market will offer a full range of groceries, local produce, beer and wine, with a deli counter in the back that serves hot and cold prepared foods.
"It's been really cool to get to know the folks at Jake's Market," Evans said, "and to hear more about their vision for the market and how we fit in."