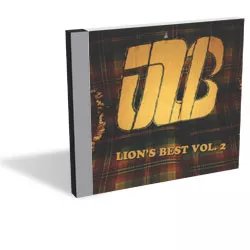 (All Wrongs, CD)
If Captain Beefheart and Dr. Demento joined Devo, then retreated to rural Vermont and recorded a no-fi greatest-hits album — ideally in one of their mother's basements — the result might be something akin to the latest release from Hyde Park-based savant Jake Lion, Lion's Best Vol. 2. Compiling two songs each from five records released over the last three years, the 10-song retrospective is a bizarre collection of electro-pop nerdishness unlike virtually anything else being made in Vermont at the moment. Whether he'll find an audience for his off-kilter musings remains to be seen. But one thing is for certain: Jake Lion is one of a kind.
The disc begins with a medley of sorts, "Findin' Mr. Right/Bridge/Peggy's Abortion." Over minimalist new-wave keyboard runs and rudimentary programmed drum loops, Lion preaches his gospel of geekery. "You can look for Mr. Right, try and find him all your life / No chance in hell that he'd find you, you'd probably just deny him," he sings with a confrontational sneer. "No, you will go for Mr. Wrong, not only for his massive schlong / the one you needed all along. Oh, God. You're so pathetic," he concludes, the faintest trace of a British accent creeping into his caustic, antimelodic ruminations.
"Sonata of Who Gives a Shit" begins with a synth pan-flute melody that becomes increasingly frantic before running headlong into a wall of electro-punk keyboard bombast. The song devolves into fractured noise as its individual segments shatter like a mirror.
"Half a Million Nerds" is a cheeky geek anthem and an album highlight — especially for the clever "Super Mario Brothers" breakdown before the song's conclusion.
"Fred, A Doncha Go" is an oddly touching little tune, curiously suggesting shades of Rejoicing in the Hands-era Devendra Banhart, albeit with an electro vibe.
Lion's songwriting adventurousness is best evidenced by "Street Justice." The dark, synth-driven piece is an exercise in ADD-fueled delirium, switching themes and moods seemingly at random and with little forewarning. Generally, the results are not always this satisfying. But here he keeps the listener guessing right up to the song's sudden conclusion.
Nine-and-a-half-minute opus "Setting Sun (Growing Younger)" is next and, once again, showcases Lion's curious compositional outlook. The song's electro-orchestral bent recalls the stranger moments of Sufjan Stevens' seriously strange Enjoy Your Rabbit, though Lion less resembles the hushed-voice singer than a younger, more imbalanced David Byrne.
"Don't Put the Cat in the Meat Grinder" is the highlight of the disc's latter half. Lion is at his best in irreverent moments, much as Demento was at his — take Demento's "Fish Heads," for example. Here, Lion combines his genuinely offbeat sensibilities with deliberate composition in a way that suggests a more calculated kookiness than do preceding cuts. It's a formula Jake Lion would be wise to continue experimenting with, as it best displays his weirdly unique abilities.