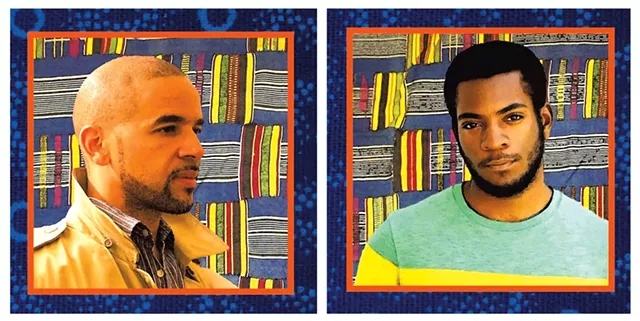 Playwrights in the 2018 JAGfest, from top left: Nathan Yungerberg, Zhailon Levingston
It's been almost two years since JAG Productions came onto the scene in the Upper Valley. This weekend, Jarvis Antonio Green, company founder and namesake, will launch JAGfest 2.0, the second iteration of a new-play festival that develops work by emerging black playwrights.
Green has been part of the theater scene in the White River Junction area for more than six years now, having escaped busy New York City in favor of pastoral Vermont. Over that time he's worked with ArtisTree Community Arts Center & Gallery, BarnArts Center for the Arts and others. Noting a lack of diversity in the region's programming, he decided to take matters into his own hands by forming a production company to feature artists who, like him, are African American.
Last year's JAGFest was billed as a "festival that showcases and celebrates new plays by emerging playwrights of color." The plays were contemporary, but all had been produced before.
JAGfest 2.0 is a slight departure, featuring staged readings of plays that have not yet received full productions; one of them has yet to be titled. Vermont audiences will be the first to see three of the four plays, all authored by African American men and addressing themes relevant to the black community.
Esai's Table, by Nathan Yungerberg, is a mythic tale of the journey of three young black men at sea atop a magical old table. The Hole, by Zhailon Levingston, is a riff on Cat on a Hot Tin Roof that portrays the relationship of two inmates in solitary confinement. Re:Definition, by NSangou Njikam, follows a man's journey to trace his African ancestry.
Finally, an untitled ensemble piece by Korde Arrington Tuttle investigates the relationship between space exploration and the transatlantic slave trade. The piece was devised by a nonhierarchical theater company over a series of workshops, the products of which Tuttle transformed into a story. JAGfest will present the first public viewing of this work.
On Monday, directors, actors and playwrights, primarily from Boston and New York, descended on Briggs Opera House for a meet-and-greet, then began to work. They have about 30 hours to rehearse before performing for an audience.
The festival serves as an incubator for the development of these burgeoning plays. Green said: "Artists need space to develop their work and to be creative." At the same time, he noted, "It's also an opportunity for our community to be a part of the modern theater landscape. These playwrights are adding new and exciting work to the American theater, and our community is going to help shape that."
Green's efforts to elevate black theater artists have not gone unnoticed. In addition to receiving the 2017 New England Theatre Conference Regional Award for Outstanding Achievement in the American Theatre, he recently secured a $15,000 donation match from an anonymous funder. It's one step toward JAG Productions' ambitious fundraising goal of $100,000 this year.
Green's work also sparked a collaboration with Dartmouth College. At this year's JAGfest, each staged reading will be accompanied by a postshow discussion moderated by a Dartmouth scholar. Those moderators are Monica White Ndounou, associate professor of theater; Nathalie Batraville, a postdoctoral fellow with a focus on anticolonialism, black feminist and queer theory, and cultural formations of the Black Atlantic; Chanté Mouton Kinyon, a lecturer with expertise in the social construction of race; and Eng-Beng Lim, associate professor of women's, gender and sexuality studies.
"Folks in the Dartmouth community, particularly the African American community, have really helped me connect to a context for my work," Green says. "I definitely want this relationship to continue."
Indeed, the region has a history of producing African American theater festivals. In 1998, treasured American playwright and then-Dartmouth Montgomery Fellow August Wilson invited black theater leaders across the country to a summit titled "African American Theatre: The Next Stage." Dartmouth scholar Ndounou has plans to resurrect that summit in the near future.
Hosting a second JAGfest is a sizable undertaking, requiring housing for more than 28 artists and donations of rehearsal space from Northern Stage, the Center for Cartoon Studies, ArtisTree and many other local organizations. Before hanging up the phone with Seven Days last week, Green said with a laugh, "I gotta go; I still need to find beds for six actors!"
But, as the old axiom goes, the show must go on, and tenacious JAG Productions is poised to present a weekend of brand-new theater and enlightening discussion.