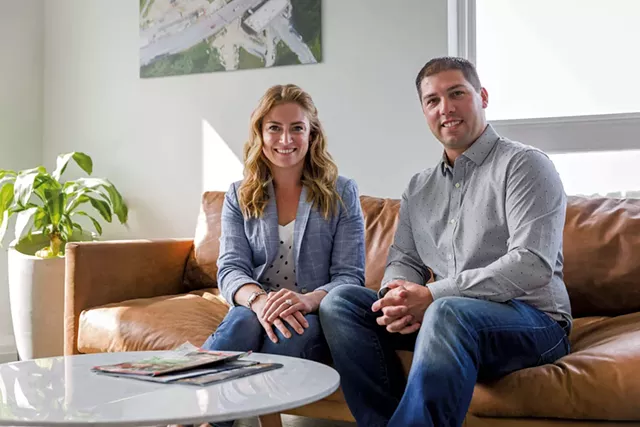 Oliver Parini
Jacqueline and Nathan Dagesse
Never heard of Jacqueline and Nathan Dagesse? If you've been in Vermont for a while, especially Winooski, it's likely you've seen their work — or will soon.
Noticed the recent improvements to the Burlington bike path? The Dagesses' engineering firm, EIV Technical Services of Williston, handled quality assurance and materials testing on that project. The award-winning widening project of the Checkered House Bridge on Route 2 in Richmond several years ago? Jacquie Dagesse was the environmental compliance officer. The new field house at Middlebury College? EIV provided the structural lifting, erecting and bracing drawings for the massive steel structure that supports this state-of-the-art sports facility. The new Interstate 91 overpass bridge in Hartford? Yep, that was their project, too.
In addition to providing civil engineering and environmental services for the Vermont Agency of Transportation, the Dagesses are also general contractors. Last summer, they completed City Lights, a six-story mixed-use apartment building in Winooski's downtown. They're following it up with three similar projects just up the street.
Given these accomplishments, it might come as a surprise to learn that Jacquie and Nate Dagesse (pronounced "de-JESS") are only in their mid-thirties. Their Facebook page includes photos of the couple sporting hard hats on a construction site, and Jacquie is noticeably pregnant with their first child. They now have two preschoolers. How do they manage the demands of family and a burgeoning business?
"A lot of perseverance and self-sacrifice," Jacquie said. And plenty of 14-hour workdays, Nate added.
The pair met with Nest recently in the Dagesse Company's headquarters on the fifth floor of the City Lights building, which offers impressive views of downtown Winooski, the Adirondacks and Winooski River. Although the company and its subsidiaries employ about 30 people, nearly all were out on job sites that day.
Jacquie, a New Jersey native, met Nate, who's from Derby, on their first day of civil engineering class at the University of Vermont. Both earned bachelor's degrees in engineering; Jacquie went on for her master's in business administration.
Nate has family history in the industry. His grandfather was a successful real estate developer in the Northeast Kingdom, and his father has built subdivisions for years. Nate grew up speaking the language of contractors.
The Dagesses, who've been married for nine years, began their development careers by making modest real estate investments in Chittenden County. In 2009, they bought a condo and renovated some rental properties in Winooski. At the time, Jacquie said, she was working for a software development company while Nate worked for a construction inspection firm. Jacquie's work included mergers, acquisitions and meetings with angel investors, while Nate's involved technical aspects of building. All of this experience, she said, "bolstered our confidence to do this ourselves."
The Dagesses' first big break came while they were doing some maintenance work on a triplex they own in Winooski, just across the road from their current offices.
"We saw the owner hammering in the 'For sale by owner' sign, and we ran across the street and said that we were interested in [buying] the house," Jacquie recalled. The Dagesses had long dreamed of putting together an infill development project in downtown Winooski and viewed the site as a prime location.
"We were like, 'We're going to make the numbers work,'" Nate recalled. "It didn't matter how."
So, using some creative financing and a little help from family members, the couple bought the house, then rented it out until they were ready to build. In the meantime, they got involved in the community: Jacquie volunteered with Downtown Winooski, a business-district revitalization effort; and Nate joined the Winooski Planning Commission. In 2011, they purchased EIV from longtime owner Mary O'Leary.
Oliver Parini
The City Lights building in Winooski
By 2015, other Winooski rental properties, such as Redstone's Riverrun Luxury Apartments, were thriving. The Dagesses decided the time was right to build. But because their project was large, complex, and involved relocating a city bus stop and an 1840s-era historic home, they did rigorous due diligence and outreach with neighbors, including the Community College of Vermont.
"I think that really pays dividends," Jacquie said. "Not every developer does that."
"We really want happy neighbors," Nate added. "Obviously, you can't always make everyone happy, but our goal is to deliver projects that, in general, everyone is really excited about."
The Dagesses broke ground in August 2016 and, in July 2017, opened City Lights. The sleek 29-unit apartment building was fully leased even before it was finished. Billed by Burlington Telecom as Vermont's first "gigabit building," it's fully wired with a fiber-optic network providing high-speed internet service to every apartment — a cost included in the lease.
Rents on the one- and two-bedroom apartments start at $1,450 per month and go as high as $2,700 per month. Five units have 18-foot cathedral ceilings.
The building, which received Efficiency Vermont's second-highest efficiency rating, also features soundproofing, air conditioning, a secure parking garage, a fitness center, a rooftop terrace and retail space on the street level. Built nearly flush with the property line on all sides, Nate said, it's considered one of the densest residential developments in Chittenden County.
Because retail space of the kind they created at street level can be hard to fill, Jacquie said, the Dagesse Company put out a request for proposals offering a lessee free rent for one year. They ultimately awarded it to Dobrá Tea.
"Cash flow [for new retail businesses] is hard," Jacquie explained. "We were able to lessen that the first year so they were able to open right away when the building opened."
The Dagesses now have three more projects in the works — two that are fully permitted and one in the design phase. Three blocks from City Lights, they've got a 100-plus-unit mixed-use development, which includes a 39-unit building at 268 East Allen Street called Casavant Overlook. According to Jacquie, their company is "very focused" on creating mixed-use, mixed-income developments, not just high-end apartments and condos.
Erik Heikel, formerly a Winooski city councilor and Development Review Board member, worked with the Dagesses on City Lights and said he's been "blown away" by their thoroughness and professionalism.
"These guys are running their job site better than ... any of the big-name general contractors in town," Heikel said. "They're doing everything. They're designing it; they're financing it; they're doing all of the general contracting. And they have kids! I don't know how they do it."
"We work really, really hard," Nate explained, "and we also are really passionate about what we do."