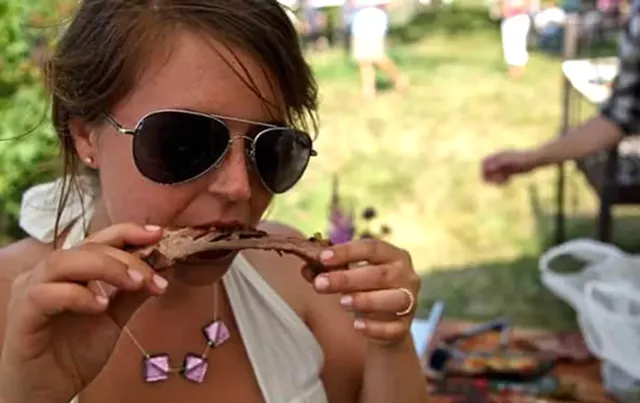 Courtesy of Morgan Kirkham
Jaclyn Major
In 2014, when the team at Butch + Babe's was preparing to open in the Old North End of Burlington, they interviewed Jaclyn Major for the job of sous chef. At the time, Major had a 9-month-old baby, and the job wasn't a good fit for her. But Major was a good fit for the restaurant, so owner Kortnee Bush created a job for her as prep cook and pastry chef.
A year later, Major pioneered the restaurant's brunch offerings. This week, she steps into the role of Butch + Babe's head chef, replacing Narin Phanthakhot, who has held the post since the restaurant opened in 2015.
A grad of the Art Institute of New York City's culinary program, Major worked at now-closed Savoy in New York City, helmed a restaurant off the coast of Maine and learned to make sweets at Barrio Bakery. Her new menu debuted last week.
What's she cooking? Lots of veggies, for one thing. "Even people who aren't vegetarian don't necessarily want meat to be at the center of the plate all the time," Bush said. "It's by no means a vegetarian restaurant, but we feel like that's what people want."
In addition to its famed pork patties, mac-and-cheese pancakes and dressed-up hot dogs, Butch + Babe's now offers Major's creations: a polenta-and-crispy-mushroom bowl, chicken and stuffing, and a poultry-based watercress-and-bok-choy soup.
The restaurant still has weekly ramen nights on Thursday, fried foods on Friday, and weekend hot dog and beer specials. But, with so many veggie foods on the menu, Vegan Tuesday will be replaced by TV Dinner Tuesday, said Bush. On that day, along with the regular menu, diners can get meals served in compartmentalized trays, with protein, starch, veggie and desserts in their proper spots.
"Cooking is fun, and you can feel that in my food," said Major.