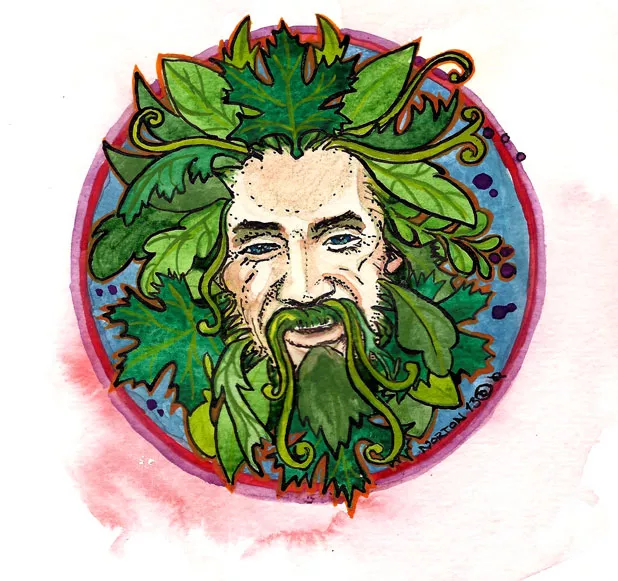 When Jack and Anne Lazor arrived in Westfield in the mid-1970s, growing corn was a fading practice. So was raising wheat, barley and other grains — the pursuits had become agricultural relics as Vermont's landscape shifted from crop cultivation to sheep grazing to dairy.
Jack Lazor likely resembled any of the hundreds of back-to-the-landers who descended on Vermont during that period. When the idealistic 26-year-old Tufts University grad and his wife bought 60 acres in the Northeast Kingdom, they were towing "a truckload of old farm antiques" and were determined to raise grain on their rocky hilltop. During the next four decades, the couple's dairy products — rich, tangy yogurt, buttermilk, cream and kefir — have become wildly popular throughout New England.
But grain remains Lazor's passion, which led him to an unlikely place: an upstairs room in his house, where Lazor spent two years writing a book about his decades-long grain-growing adventures. Vermont's Chelsea Green Publishing will release The Organic Grain Grower: Small-Scale, Holistic Grain Production for the Home and Market Producer on August 19.
Before he sat down to write, "I really didn't know how to use a computer," admits Lazor, now 62. An editor at Chelsea Green, Makenna Goodman, encouraged him to pursue the project after they met at a Northeast Organic Farming Association conference several years ago.
Once he began, though, "It just started flowing," says the new author, noting "some weeks were better than others."
In 448 pages, The Organic Grain Grower covers everything from judging soil fertility and flaking oats to granary design and the merits of various flour mills. And while the book's scope is dizzying, there's no massive list of references at the back. Lazor consulted a few articles and books — particularly when writing about the history of New England agriculture — but most of the material came from years of direct experience, and the knowledge shared by Vermont farmer-mentors such as Francis Angier and Milton Hammond, plus Québec farmers such as Wilhelm and Gudrun Brand. Lazor found a more deeply entrenched grain-growing culture across the border than exists in Vermont.
"There were so many people that were so generous to me with their information over the years," says the suspender-clad Lazor during a recent tour of his farm.
Inside the granary is an assortment of outsize farm equipment: a 75-year-old seed mill; a seed cleaner; an enormous console that turns out to be a paddy table. The cobwebs lacing the ceiling make the scene seem frozen in time, but Lazor and his employees constantly crank up this gear. "Everything I do goes through that machine," he says, pointing to the seed cleaner.
With more than $1 million in annual sales, Butterworks Farm is a star of Vermont organic dairy. Yet for every new product picked up by Whole Foods Market these days, there were dozens of early foibles in the dairy and grain realms. Lazor's earliest efforts at growing corn sputtered. It's a finicky crop. His first attempt "became quite popular with raccoons," he writes, and while he "pampered and babied" a subsequent crop of flint corn, a killing frost ravaged it before it was ready to harvest.
As he became more adept at growing wheat, Lazor was nearly ready to give up on corn, until some hybrid varieties finally flourished on his land in the early '90s. A few years later, he found more success with heirloom Calais Flint seeds from High Mowing Organic Seeds and an open-pollinated variety from North Dakota agronomist Frank Kutka.
Lazor finally conquered corn, and Lazor's dedication to growing it organically is a rejection of both genetically modified grain and his roots: "I'm a Monsanto baby," Lazor quips while standing in the granary. He means it literally. His dad, John Lazor, worked for decades as a chemist at Monsanto, long before it became identified with GMOs.
Jack Lazor doesn't romanticize growing grain, which he says is "a great way to lose money"; he advises younger grain farmers to develop value-added products to stay profitable. Yet he talks about his crops like they're old friends. While corn may be temperamental, he writes that soybeans are "flexible and forgiving." In person, he has choice words for flax, which he calls "a tiny plant and a wimp when it comes to weeds."
Though he has an arsenal of modern farm equipment, Lazor started out by binding and threshing the old-fashioned way, fumbling through early crops as he became acquainted with his land. "The soils here are glacial and stony, hard to work. We're always fighting with the rocks," he observes. And then there is the unpredictable northern Vermont weather. Nonetheless, Lazor now raises grains in a patchwork of rotating and experimental plots around the 200-acre farm. As he leads a visitor into the barn, he notes, "We've sort of built ourselves this little empire."
But with success have come new problems. Once sales passed the $1 million mark, Lazor's farm was subject to more regulations, taxes and scrutiny, and attracted more frequent visits from officials and regulators.
"It doesn't seem right at this point that we should be working so hard," he says with a sigh as he meanders through the sanitized rooms where yogurt is pasteurized and kefir is bottled, then down to the dusty bottom floor where the cows are milked. Pausing by the monstrous wood-fired boiler that fuels the barn, Lazor nonchalantly chucks in a few logs. Then he crosses a muddy cow path to lead his visitor past a field of shoulder-high comfrey and into the gray clapboard house that he and Anne built when they first arrived here.
Inside, the kitchen table is crowded with papers, a bottle of hot sauce and an empty kefir container holding lilacs. Anne is out tending the vegetable garden, but Lazor mentions her frequently. In the acknowledgments section of his book, he thanks his wife, as well as daughter, son-in-law and crew, for covering for him on the farm while he was writing.
Lazor says he wanted to record his accumulated knowledge for many reasons, including that he's had prostate cancer for three years and has eschewed modern medicine as he fights the disease. "I can feel my health slipping a little. My vitality is dimming," he says simply. Yet Lazor doesn't look like a man who's fading; under his iconic Santa Claus beard, he has a tanned, warm, almost youthful face, and eyes that convey intent curiosity.
"Ever had chocolate colostrum pudding?" he asks, apropos of nothing, jumping up to fill two bowls. The cooling, gelatin-like, barely sweet pudding is teeming with antibodies from the first post-partum squirts of a lactating cow.
Just then, two young women knock on the screen door. One of them, Amanda Gervais of North Hero's Savage Gardens, is here to pick up a cow, but she also bears an enormous tray of fresh-picked strawberries. Lazor pops one into his mouth with relish. "Delicious!" he declares.
Lazor loves that young farmers come to him for tips, seeds, animals and guidance. "One of the most important things is sharing what I know with people who are keen," he says. "I get so much pleasure out of it."
Heather Darby, an associate professor of agronomy with University of Vermont Extension, has marveled at Lazor's generosity of spirit since meeting him 10 years ago. "He answers every single phone call that comes to him, and he gives everyone his cellphone number. He never has a moment of privacy," she says. "Jack's one of those people that has so much information in his mind. He's a scholar and a historian and a farmer, and I really don't know anyone else who has the breadth of information that Jack has. When his book comes out, I don't know of any other resource like it."
Writing about barley in The Organic Grain Grower, Lazor points out how a summer thunderstorm might flatten a field of the fragile plant. Farmers need to be prepared for such inevitable moments of loss. "This is part of the big gamble we call farming," Lazor writes. "Beauty can disappear in an instant."
The original print version of this article was headlined "From Thresher to Pen."