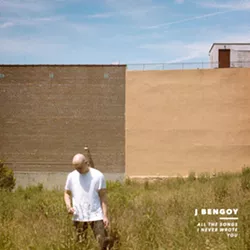 J Bengoy, All the Songs I Never Wrote You
(Self-released, digital download)
All the Songs I Never Wrote You, the debut six-track EP from Burlington rockers J Bengoy, plays like a half-hour sitcom. The scenario is familiar: Guy and girl with an undefined romantic past bump into each other on the street, awkwardness ensues and they proceed to grab coffee. Bookended by dialogue tracks, the heart of the EP deals with post-breakup self-absorption and obsessing over what went wrong.
The first track, "Talking Pt. 1" is simply a 40-second dialogue establishing the two main characters: Justin Barton, guitarist and vocalist for the band, and an unnamed lady. While it would make for an amusing episode of "Friends," this real-life-encounter format can feel a little forced. Sometimes the best way to convey the story is through actual song, not literally telling us.
Up next is "Pet Names," a pleading, spiraling journey of thinking about your ex constantly. The phrase "I still want you" is repeated over and over — but sunny, upbeat guitar riffs keep the confession from sounding desperate. This contrasting arrangement of cheerful instrumentals and emotive lyrics becomes J Bengoy's go-to.
The driving, mid-tempo "All About You" features a nifty little slice of echoed hollow guitar work. Among an otherwise fairly standard indie-rock palette, these metallic moments are the EP's most interesting, instrumentally.
"Turn Me Around" focuses on youthful insecurities and the desire for acceptance. The line "Can't remember when / I didn't have a fear of not being wanted" will hit home with your inner angsty teenage self. Again, J Bengoy infuses the song with enough pep to avoid self-pity.
"Speak" is the final meditative goodbye, offering up a last hope for two people to make it work. While it aims for poignancy, it comes off a little bland and deflated.
The final dialogue, "More Talking," reveals that Justin has spent the entire walk-and-talk droning on about himself and the new album he's recorded — all right, we see what you did there. Fed up, his former lady leaves him with a cutting last line, a pithy "Anyways, it was really great to see you." She then marches off. End scene.
All the Songs I Never Wrote You is catchy and lightly funny, reminding us that we've all been in situations like these. The guys of J Bengoy certainly don't take themselves too seriously. And for the most part, that cheekiness works. As a carefree collection of songs about being selfish, young and in and out of love, the EP will resonate with anyone feeling a little punchy about their latest breakup.
J Bengoy's debut EP, All the Songs I Never Wrote You, is available at jbengoy.com. J Bengoy play Friday, September 9, at Radio Bean in Burlington.