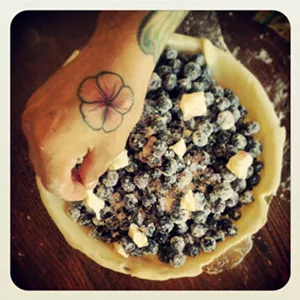 Most of what I know about cooking and baking I learned from my first post-college job. I was living in my hometown, Binghamton, N.Y., with my boyfriend (and future husband) in a downtown apartment building populated largely by other underemployed, creative, twentysomething punks. It seemed like we all worked in restaurants.
Though it had nothing to do with the social work degree I had just spent and borrowed tons of money to attain, I landed a job I'd secretly wanted for years. I was a limited partner at a kooky, hippie, cooperatively run natural-foods restaurant, the Binghamton institution
Whole In The Wall
.
I'd fallen in love with the place as a teenager. I loved the shabby/cool decor, the all-wood interior, the artsy owners, the vegetarian menu and the cooperative ethos. If you worked there, you worked on everything. As a server, I was called upon to master many skills. We repaired broken appliances, covered for the often-absent dishwasher, drew up menus, prepped for the cooks and made the signature soups, salad dressings, sauces and quiches.
But my favorite job was baking. We served raspberry chocolate chip brownies, cheesecakes, cookies, tarts and pies — and they were all amazing. So it was that I learned to make a mean pie crust from scratch, and from some mighty talented cooks.
[jump]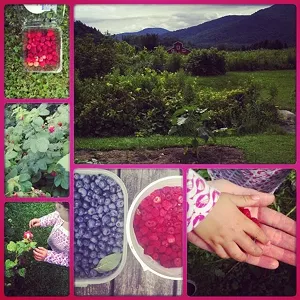 A blueberry patch in Jonesville.
My now-husband, Sam, worked at another downtown restaurant, and during this time our work lives often carried over into our home lives. It wasn't unusual for our building to be enveloped in the aroma of treats — baked by pierced and tattooed hoodlums. We regularly visited each other's apartments for impromptu pie gatherings.
I worked at the Whole for two years. Sam and I packed up a U-Haul and moved to Burlington four days after I baked my last pie for the place. I still sometimes find myself pining for that job.
Pie remains important to me, though now it's most often Sam who does the baking around here. We've developed a few pie traditions over the years as our family has grown. The kids have come to look forward to baking and eating apple pies in the fall after picking at the orchard and blueberry pies in the summer after a visit to our secret patch.
Making pie completely from scratch is a process, but a fun, roll-up-your-sleeves-and-make-a-mess process that's well suited for helping hands of every size. If you've been picking blueberries this summer, or plan to, I encourage you to bake a pie. Even if it comes out less than perfect, I guarantee your family will love it.
The recipe that follows is an adaptation of the crust method I learned at the good old Whole In The Wall, with a little of my husband's magic secret recipe mixed in. Have fun with it! Then please share in a Simon family tradition and have leftover pie for breakfast at least once. Because summer in Vermont may be short, but it is very, very sweet.
Blueberry Pie
(makes one double 8- or 9-inch crust)
Crust recipe adapted from the passed-down instructions at Whole In The Wall, filling recipe by Sam Simon
Crust:
2 1/2 cups unbleached all-purpose flour
1 tablespoon granulated sugar
1/2 teaspoon salt
1/2 pound (2 sticks) cold butter, cut into 1/2" cubes
1 8-ounce container sour cream
1-2 tablespoons cold milk (optional)
Preheat oven to 425 degrees.
At the Whole in the Wall, we used two large stainless steel mixing bowls. We filled one about halfway with ice, then mixed the ingredients in the second as it rested on top of the first. I love this method and still use it whenever I make crust. But if you don't have the right bowls, you can just grab a medium mixing bowl and stir the flour, sugar and salt to combine.
Add the butter to the flour mixture and, using two knives or a pastry cutter, cut through the mixture until it resembles large crumbs. If you're not using the ice method, cover the bowl with a clean towel and put it into the fridge for 10 minutes or so, to make sure the butter doesn't get too melty.
Then fold in the sour cream and, using your hands, start to shape the mixture into a ball. If it isn't moist enough to hold its shape, gradually add a tablespoon or two of milk until it comes together.
When you have a nice dough ball, wrap it with plastic wrap and refrigerate for at least 30 minutes. Then divide the dough in half and turn the balls out onto a clean, dry counter that's been dusted with flour. You can also cut open a paper grocery bag, lay it flat, and dust it with flour if you don't have a good surface for rolling dough.
Now it's time to get out the rolling pin! I usually flatten the balls a little with my hand first, then roll each one out to fit the pie plate.
Set one aside on a floured surface, then situate the other on the pie plate and poke the bottom several times with a fork.
Filling:
3/4 cup sugar
3 tablespoons cornstarch
1/8 teaspoon salt
6 cups fresh blueberries
2 tablespoon butter, cut into tiny cubes
1 tablespoon lemon juice
Mix all ingredients except butter and lemon juice in a large mixing bowl. Tip into the prepared pie crust.
Sprinkle the lemon juice and butter bits over the berry mixture.
Lay the second pie crust on top and seal the edges by crimping with your fingers, then trim off the excess dough. Make sure to make a few slits in the top crust to let the steam and juices escape as it bakes.
Bake for about 30 minutes, then start checking every five minutes or so. The pie is done when the crust is golden brown and the filling is bubbling out.

The hardest part is waiting a few hours for it to cool completely before cutting into it! But you must, because the filling will run if it's too warm. Eat plain or with ice cream or real whipped cream. And don't forget to save some for breakfast.