The end of summer is bittersweet in the best of times. For many Vermonters, the end of summer 2011 brought the worst: the ravages of Tropical Storm Irene. Yet as devastated businesses and homeowners clean up and prepare to rebuild, and the state scrambles to restore the roads and bridges linking our towns, much has been made of the resiliency, generosity and good neighborliness exhibited by the state's residents everywhere.
In the best and worst of times, artists are called upon to help. In fact, what we've seen already — from fundraising T-shirts to the benefit concert put on by Phish — indicates that artists are generally among the first to volunteer their talents. But their donated artworks and performances do more than raise money; they also raise spirits and enhance community — because the collective experience of attending a show is one of the best times we can have.
The post-Irene performing-arts season has an extra job: to help restore a sense of normalcy. As the Weston Playhouse demonstrated this month after a chunk of its theater and all of its costumes were lost to flooding, the show must go on. And is that not a perfect metaphor for living with gusto? It's important to remember, of course, that performers and their presenters need support to survive, too. This year, there are so many opportunities to give — and receive.
The staff picks here represent much more to come. Check the websites of presenting organizations — at the end — for their full season calendars. Tickets, please!
PAMELA POLSTON
---
Trey McIntyre Project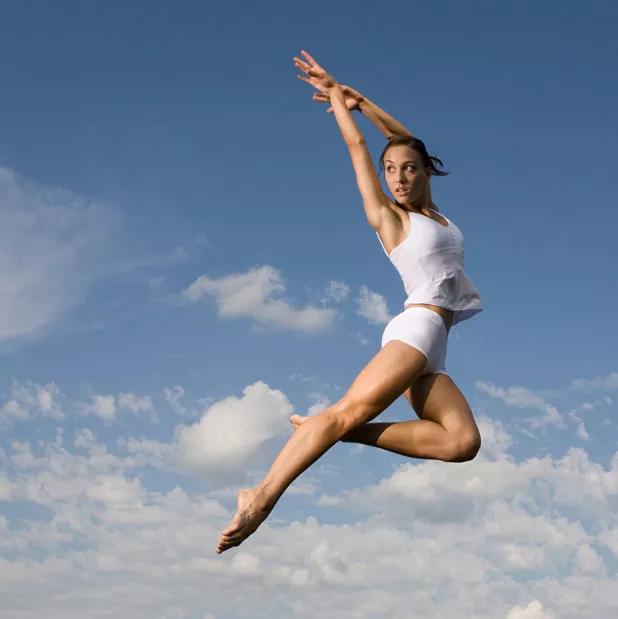 Muscular. Enterprising. Mercurial. These are among the adjectives that critics have used to describe the Trey McIntyre Project, a contemporary ballet company based in Boise, Idaho.
You read that right: Boise. How did one of the most sought-after choreographers working today end up in a far-flung Western town with roughly the same population as the Greater Burlington area?
When he formed his company in 2008, McIntyre conducted a nationwide search for its home. Friends in the dance world tried to persuade him to settle in New York or San Francisco, but McIntyre wanted to be a part of a small community. "San Francisco doesn't need us," he told the New York Times. "Boise needs us and wants us. We can be part of a movement."
He's bringing his movement — and his company — to the Flynn next spring. Be prepared for athletic ballet set to music of all different styles and eras, from Beck to the Beatles to Beethoven.
Trained in classical ballet, McIntyre created more than 80 works for companies such as the American Ballet Theatre, Stuttgart Ballet and New York City Ballet before starting his own company. His accolades are as varied as his taste in music: He's been named the United States Artists Wynn Fellow as well as one of People magazine's "25 Hottest Bachelors."
In 2008, the New Orleans Ballet Association commissioned McIntyre to create a ballet that drew on the city's character. He collaborated with Preservation Hall Jazz Band on a work about death called Ma Maison.
"It seemed that Mardi Gras had come early," wrote the Times-Picayune of the show. "Not the Bourbon Street party for hooting tourists and girls-gone-wild, but the dark revel that only makes sense when you've gone through a hurricane season, buried a few friends and danced in a second-line parade with tears in your eyes."
The reviewer also spoke of "cheering dance fans" in the audience, an odd occurrence at a ballet, to be sure. But for the Trey McIntyre Project, it's not unusual.
At a Boise performance last year, "People whooped and giggled during the ballet and surged to their feet after it," wrote the New York Times. "At intermission tearful viewers thanked company members."
Get ready for a rowdy ballet.
MEGAN JAMES
Flynn MainStage, March 24, 8 p.m. $15-$38.
---
Jungle Joe's Wildlife Adventures
Joseph Fortunato is a man who likes to wear a uniform. At least, it appears that way. Shortly after retiring from the police force, he traded his officer threads for head-to-toe khakis more typically seen on an African safari, and changed his full name to a kid-friendly variation: "Jungle Joe." His new gig is as wild as it sounds — on any given day, you'll find him face to face with tropical birds, large cats and rare reptiles.
These exciting creatures reside within the 5000 square feet of Bucks County Zoo & Conservation Society in Warminster, Penn., but more than a dozen of them fly the coop next spring to visit an unlikely venue: Randolph's Chandler Center for the Arts. In the same vein as "Jungle Jack" Hanna, Fortunato takes families on an eco-adventure with live-animal cameos from his traveling menagerie, which includes a blue-and-gold macaw, a fennec fox, and a Burmese python. A multimedia component draws in video footage from the Galapagos Islands, Indonesia and Africa.
The show is heavy on the "wow" factor — when was the last time you saw a giant tortoise take center stage in a historic music hall? — but there's a reason it's dubbed "edu-tainment." When he's not introducing the next fierce — or fuzzy, or feathered — creature, this king of the jungle offers food for thought on concepts that are decidedly less exotic: recycling, environmental conservation and wildlife preservation. It'll still drive you and the kiddos wild.
CAROLYN FOX
Chandler Center for the Arts, May 5, 3 p.m. $13-$23.
---
The Intergalactic Nemesis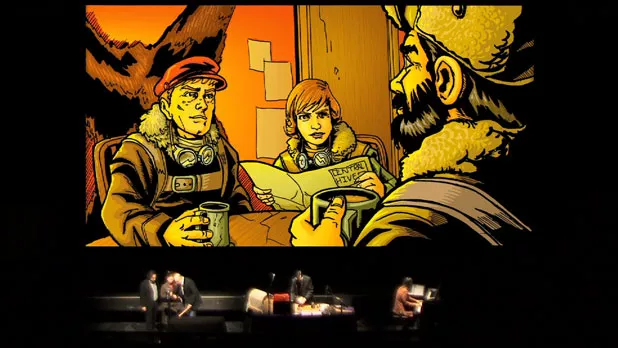 Sludge monsters from the planet Zygon. Heroes overcoming impossible odds. More than 1000 hand-drawn comic-book images on a very large screen. What?
In a performance that has been called "totally nuts and a ton of fun," three actors, a Foley artist, a musician and a period-looking film present a "live-action graphic novel" about "Pulitzer Prize-winning reporter" Molly Sloan, her assistant, Timmy Mendez (reporters have assistants?), and a mysterious librarian named Ben Wilcott. In it, the trio faces the most dangerous threat of all time to our fragile planet. Who knows what will happen?
We don't know, but it sure sounds like fun.
In this radio play-turned graphic novel-turned live show, set in the year 1933, the actors play dozens of characters, the Foley artist makes hundreds of sounds and the keyboardist plays thousands of notes, boasts TIN's website. The Austin-based outfit brings the staged reading to a new, and often very silly, level, and in the process proves that audiences of all ages like someone else to make books come alive with dramatic voices and nifty sound effects. If you're a loner, you can get The Intergalactic Nemesis comic or audio books. The rest of us will enjoy the vintage yet high-resolution images of this "sci-fi/horror/suspense/comedy/romance" on stage, surrounded by hundreds of other Earthlings.
Seriously, who doesn't want to overcome impossible odds … from the security of a theater seat?
PAMELA POLSTON
Flynn MainStage, January 19, 7:30 p.m. $22-$35.
---
"Open Door," India.Arie & Idan Raichel
Sometimes by exploring our differences, we discover just how similar we really are. That's the fundamental principle behind "Open Door," a new collaboration between American R&B star India.Arie and Israeli songwriter Idan Raichel that challenges audiences to question their preconceived notions of music, life and love.
Arie is a Grammy-winning, multi-platinum-selling singer-songwriter renowned for her fearlessly intimate take on acoustic soul and her substantive, forthright songwriting style. And she practices what she preaches: Arie is also a humanitarian who has served as a U.S. ambassador for UNICEF, among many other charitable and socially conscious pursuits.
Raichel exploded onto the Israeli pop scene in 2002 with his band, the Idan Raichel Project. Combining Latin American, Middle Eastern, African and Caribbean styles, he struck a chord in his homeland promoting peace and love amid an increasingly virulent, violent environment. He has since taken that message beyond his country's borders and is a rising star in the world-music scene.
Together, Arie and Raichel combine their musical and social sensitivities. Raichel's provocative, globally inspired arrangements highlight Arie's emotionally bold, folk- and gospel-informed song craft. The result is music that transcends culture and even genre and, well, opens a door.
DAN BOLLES
Flynn MainStage, October 20, 7:30 p.m. $15-$55.
---
Cuarteto Casals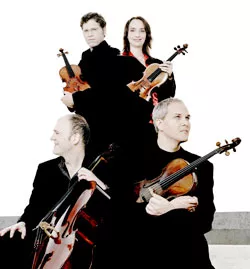 Vermonters still remember Pablo Casals, the Catalan cellist who conducted and gave master classes at the Marlboro Music Festival for 13 summers before he died in 1973. Casals is considered one of the best cellists who ever lived, so it's a good thing that the relatively young Spanish string quartet that named itself for him, Cuarteto Casals, is also deemed top notch.
The quartet, now based in Barcelona, was formed in 1997 by four students at a Madrid conservatory. They went on to win the London International String Quartet Competition three years later, and the Johannes Brahms one in 2002. One of the group's specialties is the Spanish composer Juan Crisóstomo de Arriaga, who died in 1826 at the age of 19 but left behind three quartets that helped earn him the nickname "the Spanish Mozart." Cuarteto Casals recorded all three for its debut disc; the Vermont program will end with the first.
Shostakovich, though, will begin the concert. The String Quartet no. 9 is in the key of E-flat major — not an easy one for stringed instruments; Cuarteto Casals' famed precision will be welcome. The work also came late in the composer's life, when he was experimenting with extreme formal and tonal complexity. But in the right hands, "difficult" can be electrifying and disturbing. A more traditional piece by Schubert follows.
String quartets are the ultimate collective enterprise. Watching a very good one coordinate the execution of a piece of music entirely through body language is one of the great pleasures of live classical music. Last year the Lane Series brought the Alexander String Quartet, with its memorable rendition of a different Shostakovich quartet, and the long-lived Tokyo String Quartet. This year it follows Cuarteto Casals with the St. Petersburg String Quartet.
AMY LILLY
Lane Series, UVM Recital Hall, October 21, 7:30 p.m. $20-$25.
---
69°S
It's 1915. Ernest Shackleton and his crew of 27 are more than a year into the Imperial Trans-Antarctic Expedition, in which they hope to become the first humans to make a land crossing of the hostile continent. They've just watched their ship, Endurance, slowly crunch against a floe, fill with icy water and sink, severing their tie to civilization. Suddenly, the mission isn't exploration; it's survival.
The true story of the crew's battle against the biting elements is harrowing, indeed. New York City's Phantom Limb Company relays the outcome in a brand-new multimedia performance installation — co-commisioned by Dartmouth College's Hopkins Center — entitled 69°S, the latitude at which the vessel sank. You'd think troupe founders Jessica Grindstaff and Erik Sanko, of all people, would be wary of visiting the scene of the crime — but the performance is packed with firsthand field recordings and research from their own trip to the southernmost continent.
"I think we were probably the first puppeteers to apply to go to Antarctica to research for a puppet show," visual artist Grindstaff wrote in an article for independent travel site Fathom.
Three years and a staggering amount of research — a significant portion gathered from Dartmouth Library's Stefansson Collection on Polar Exploration, which included a crew member's diary — make the show as breathtaking in its historical context as it is dazzling in a visual one. White-clad puppeteers on stilts man 3-foot-tall marionettes, and a minimalist, original score by the Kronos Quartet augments the harsh, snowglobe-like atmosphere.
Most importantly, a 21st-century juxtaposition — hello, melting ice caps — symbolizes a different struggle for survival. While Shackleton's crew makes it home relatively unscathed, audience members are left mulling over our own uncertain future.
CAROLYN FOX
Moore Theater, Hopkins Center for the Arts, September 30 and October 1, 8 p.m. $10-$40. Flynn MainStage, October 6, 7:30 p.m. $24-$42.
---
Mike Daisey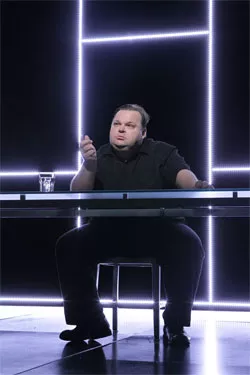 What might you expect from a monologuist presenting a show titled "The Agony and the Ecstasy of Steve Jobs"? Well, the Brooklyn-based Daisey does call the cofounder of the computer company Apple "the Willy Wonka of our time," if that gives you a clue. For sure he's going to explore the obsession we have with our devices, and its human costs. After all, he has traveled to China to see for himself the facilities in which zillions of workers manufacture our iPhones, iPads, etc. But Daisey, 38, does not stand in judgment of technology — after all, he has a blog, which we need a device to read. Rather, he likes to tell stories, ruminate and explore the existences we have wrought on this good Earth.
Daisey is a chipmunk-cheeked raconteur whose previous monologues have delved into such diverse topics as post-Soviet Warsaw, Nikola Tesla, Walmart, unwanted pregnancy, homeland security and theater. As he explores his subjects, he inevitably tells us about himself, but keeps the self-indulgent navel-gazing to a minimum.
Daisey "has the curiosity of a highly literate dilettante and a preoccupation with alternative histories, secrets large and small, and the fuzzy line where truth and fiction blur," wrote the New York Times. In other words, he's a knowledge geek with a 3-year-old's insatiable need to know why. On his website, Daisey calls himself an "actor, author, commentator, playwright and general layabout." And he asks whoever is reading, "What difference could speaking person-to-person make against the scope and scale of the world?" Anyone who attends his shows will know that the answer lies within. And, as Daisey tells it, it's going to be damned entertaining.
PAMELA POLSTON
Lane Series at the FlynnSpace, February 23 and 24, 8 p.m., and February 25, 2 p.m. $30.
---
Moby Dick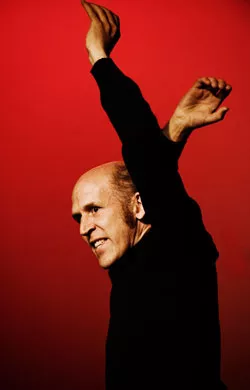 A few years ago, Judy Hegarty Lovett, the co-artistic director of Dublin-based theater company Gare St Lazare Players Ireland, read Moby Dick for the first time. Then she told her husband and creative partner, Conor Lovett, that she wanted to dramatize it.
"I think I gave Conor quite a fright," soft-spoken Judy says in a promotional video for the play that would eventually emerge from that conversation.
"It was very scary," Conor agrees.
No wonder. Herman Melville's novel is a rugged mountain of a book, equally daunting in its allegorical digressions, its operatic rhetoric and its descriptions of whaling minutiae. No star-studded film adaptation has yet managed to capture what makes Moby Dick a classic. Furthermore, 15-year-old Gare St Lazare specializes not in epic productions but in one-person shows, often starring Conor Lovett himself. The actor is renowned as an interpreter of the works of Samuel Beckett — a brilliant wordsmith, but a terser one than Melville.
But, like Ahab taking on the white whale, the theatrical couple took on Moby Dick — and, when it premiered in 2009, the play garnered some raves. In this stripped-down, two-hour compression of the novel (sans intermission), Conor Lovett plays all the parts, starting and ending with the narrator. Ishmael's tale of what happened after he shipped aboard the Pequod is "almost like a confession," Judy says in the video. Live music is its sole accompaniment.
Can an Irish company do justice to a great American novel that's often praised for its Shakespearean language? Find out when Gare St Lazare brings Moby Dick to two Vermont venues this fall.
MARGOT HARRISON
FlynnSpace, November 16-17, 7:30 p.m. $25. St. Johnsbury Academy, November 18, 7 p.m. $12-$35.
---
Jaime Laredo and Sharon Robinson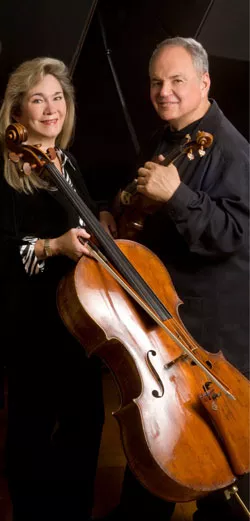 The mover and shaker of Vermont's classical-music scene is undoubtedly Jaime Laredo, Vermont Symphony Orchestra's music director since 1999. The Bolivian-born violinist was a prodigy by age 11 and actually played Stravinsky under the aging composer's own baton. As a teen, Laredo also played Barber's violin concerto for its creator — at a time when Barber was still considered too new for regular concert programming.
Now 70, Laredo continues to champion new compositions, as does his wife of 35 years, cellist Sharon Robinson. The two perform regularly around the world as a duo and in the Kalichstein-Laredo-Robinson Trio, which they founded 35 years ago with pianist Joseph Kalichstein. Both husband and wife maintain working relationships with the country's most celebrated living composers. Recently the couple commissioned one of them, Richard Danielpour, to write a piece celebrating their 35th wedding anniversary. Inventions on a Marriage will be the centerpiece of an intimate concert by the duo — who have never performed together in Burlington before — in November, as part of the Lane Series at the University of Vermont.
Danielpour, who composed an opera with author Toni Morrison as librettist, writes accessible and sweeping romantic works. He isn't new to the job of penning wedding-anniversary tunes for Laredo and Robinson: He wrote In the Arms of the Beloved for the couple's 25th. But the opportunity to see a brand-new piece played by the very people it was written for will be new to many classical-music fans.
The concert is also a relatively rare chance for Vermonters to catch Laredo when he's not conducting — or wearing one of his many other hats, which include artistic director of the 92nd Street Y's chamber-music series in New York City; a faculty position at Indiana University's school of music (where Robinson also teaches); and supporter of protégés such as founder of the Lake Champlain Chamber Music Festival, Soovin Kim, who enrich Vermont's classical scene even more.
AMY LILLY
Lane Series, UVM Recital Hall, November 11, 7:30 p.m. $30-$35.
---
Lewis Black
Lewis Black has it in for certain people, ideas and institutions — at least that's a common perception. And it's not hard to understand why, given the comedian's biting and often vitriolic rants, whether on stage as a standup, as an author or a playwright, or during his "Back in Black" segments on "The Daily Show with Jon Stewart." But the truth is that Lewis Black hates everyone. Equally. Consider one of his famous quips: "Republicans are a party with bad ideas. Democrats are a party with no ideas." Clearly, Fox News hasn't cornered the market on "fair and balanced."
But there is another misperception about Black, the dissassembling of which is crucial to understanding his uniquely confrontational style and worldview. Despite his raving criticisms of politics, religion, American culture and pretty much everything else, his rage doesn't stem from malcontented pessimism. Rather, Black is more of an outraged optimist; he eviscerates society for its collective foibles not because of how bad we are, but because of how good he knows we could be.
His new standup show, "In God We Rust," is classic Lewis Black. Much like comedic greats George Carlin or Bill Hicks before him, Black looks to push buttons. He wants to make his audiences as uncomfortable as possible. Or, as he's fond of saying at his shows, "I'm a different kind of comedian. A lot of what I say isn't funny. And yet people laugh. And so, if during the show I say something that upsets you, don't blame me. I agree with you."
Duly noted.
DAN BOLLES
Paramount Theatre, October 19, 8 p.m. $48.50-$78.50.
---
The Music of Bill Monroe
Anyone who knows and loves bluegrass knows and loves its "father," Bill Monroe. And this year, they can celebrate the 100th year of his birth. Born on September 13, 1911, the Kentucky-born mandolinist and singer created a "high lonesome" sound that took its name from his band, the Blue Grass Boys. Few people have the privilege of inventing a musical genre, never mind being inducted into the International Bluegrass Music Hall of Honor and the Country Music Hall of Fame and the Rock and Roll Hall of Fame. Monroe did.
This fall and next spring, Vermont welcomes a superstar group of current bluegrass players — Peter Rowan and Tony Rice on guitar, Ronnie McCoury on mandolin, Rob McCoury on banjo, Jason Carter on fiddle, and Alan Bartram on bass — to pay homage to the progenitor of the style. Rowan, 69, actually played with Monroe, joining his "boys" in 1965 before moving on two years later to projects with the likes of Jerry Garcia — and a Grammy-winning career in bluegrass. Sixty-year-old Rice is considered today's premier blue-/newgrass guitarist, an innovative flat-picker who rose to prominence with J.D. Crowe and the New South and the David Grisman Quintet in the 1970s.
Bill Monroe himself once claimed, "Bluegrass has brought more people together and made more friends than any music in the world." Whether or not that's true, the music, with its pristine harmonies and lickety-split tempos, retains a "wow" factor that even indie hipsters would have to concede totally rules. Yee-haw!
pamela polston
Chandler Center for the Arts, November 11, 7:30 p.m. $42.50-$47.50. A Tribute to Bill Monroe (same lineup), Flynn Mainstage, April 20, 8 p.m. $22-$35.
---
The Art of Success
Think it's only recently that cartooning and graphic storytelling have been recognized as art? Think again. Back in 18th-century England, painter and printmaker William Hogarth (1697-1764) pioneered the use of pictures — often arranged in sequence — to satirical ends. His cartoon representation of the 1720 South Sea Bubble — stock market shenanigans that led to a historic crash — wouldn't be out of place in a modern newspaper; while his moralizing print series depicting the descent from mere misbehavior to crime and death, such as The Rake's Progress, still holds a lurid fascination.
If Hogarth pioneered an easily reproducible art form, he also pioneered art's commercialization, argues playwright Nick Dear. In his drama The Art of Success, which premiered in 1986 at the Royal Shakespeare Company, Dear presents Hogarth as a not-so-high-minded artist who was more interested in securing a copyright so he could profit from his work than he was in taking on the era's powers that be.
Dear may be playing fast and loose with historical fact in The Art of Success, but in the 1980s, when art censorship and skyrocketing auction prices were topics du jour, the play hit a nerve. In his New York Times review of the Manhattan production, Frank Rich calls Dear's version of Hogarth "the Warhol of the 18th century." He also notes that the play, which takes place on a single eventful (and fictional) night in the artist's life, "encompasses rough sex, scatological language, ribald political satire, urine and excrement."
Sound interesting? Richard Romagnoli, a professor who has a history of taking his student casts to the American College Theatre Festival, is directing Middlebury College's production this fall.
MARGOT HARRISON
Seeler Studio Theatre, Mahaney Center for the Arts, Middlebury College, November 17 and 18, 8 p.m.; and November 19, 2 and 8 p.m. $6-$12.
---
Angel Reapers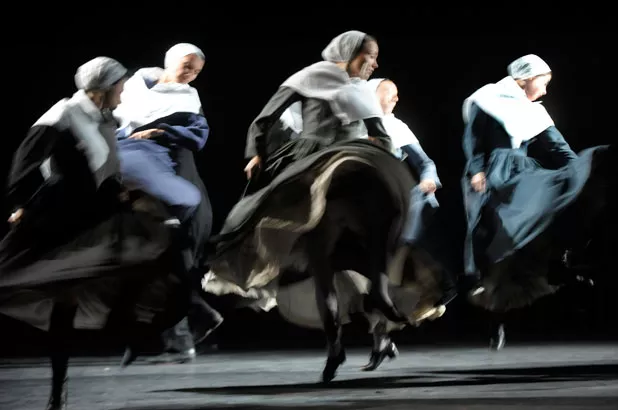 The Shakers are best known for two things: furniture and celibacy. Neither easily lends itself to dance — or so one would think.
Not Alfred Uhry. When the Pulitzer Prize-winning playwright best known for Driving Miss Daisy visited Massachusetts' Hancock Shaker Village with his family, he saw inspiration for expressive movement everywhere.
"The more I read about the Shakers, the more I realized how theatrical the whole culture was," he said in a recent interview for Dartmouth College's Hopkins Center for the Arts. "At the same time, I knew that this wasn't a play because there was so much movement involved and it was so out there at the end of the diving board — such an extreme culture."
So Uhry turned to MacArthur "genius grant" recipient Martha Clarke — who cofounded the renowned dance company Pilobolus at Dartmouth in the 1970s — to tease out a dance-theater piece from this obscure slice of American history. In October, her company will premiere the resulting new work, co-commissioned by the Hop, called Angel Reapers.
Through text, a cappella song and "hypnotic, percussive dance," 11 dancers tell the story of Ann Lee, or Mother Ann, the Shakers' founder and prophet. She preached a utopian lifestyle of communal property, gender equality, devotion to physical labor and handicrafts — hence the distinctive woodwork — and, of course, celibacy.
According to Clarke, Lee had a personal explanation for her fierce denial of sexuality. "She had four babies with her husband and they all died at birth, or soon after, and she had a vision after these deaths that sex was the root of all evil," says the choreographer. "It came out of her own personal experience, her own personal misery." Still, Lee's following grew. At its peak in the mid-19th century, 6000 Shakers were living in communities from Maine to Kentucky. When they worshipped together, according to the Hop, they let out "wild vocalization and physical expression that later settled into a gorgeous body of songs and geometrical, trance-like dance forms."
Perhaps a modern dance about Shakers isn't such a stretch, after all.
MEGAN JAMES
Moore Theater, Hopkins Center for the Arts, October 7 and 8, 8 p.m. $28-$53.
---
PRESENTER INFO & TICKETS
After Dark Music Series, United Methodist Church, Middlebury, www.afterdarkmusicseries.com, 388-0216
Barre Opera House, www.barreoperahouse.org, 476-8188
Cathedral Church of St. Paul, Burlington, www.stpaulscathedralvt.org, 864-0471
Chandler Center for the Arts, Chandler Music Hall, Randolph, www.chandler-arts.org, 728-6464
Flynn Center/FlynnSpace, Burlington, www.flynncenter.org, 863-5966
Higher Ground Presents, South Burlington, www.highergroundmusic.com
Hopkins Center, various venues, Dartmouth College, Hanover, N.H., www.hop.dartmouth.edu, 603-646-2422
Johnson State College, Dibden Center for the Arts, www.jsc.edu, 635-1476
Lane Series, various venues, Burlington, www.uvm.edu/laneseries, 656-4455
Lebanon Opera House, N.H., www.lebanonoperahouse.org, 603-448-0400
Lost Nation Theater, Montpelier, www.lostnationtheater.org, 229-0492
Lyric Theatre Company, Burlington, www.lyrictheatrevt.org, 658-1484
Middlebury College, various venues, www.middlebury.edu, 443-6433
Middlebury Town Hall Theater, www.townhalltheater.org, 382-9222
Northern Stage, Briggs Opera House, White River Junction, www.northernstage.org, 296-7000
Off Center for the Dramatic Arts, Burlington, www.offcentervt.com
Paramount Theatre, Rutland, www.paramountvt.org, 775-0903
Pentangle Arts, Woodstock, www.pentanglearts.org, 457-3981
UVM Theatre, Burlington, www.uvmtheatre.org, 656-2094
Vergennes Opera House, www.vergennesoperahouse.org, 877-6737
Vermont Contemporary Music Ensemble, varioius locations, www.vcme.org, 849-6900
Vermont Mozart Festival, various locations, www.vtmozart.com, 862-7352
Vermont Stage Company, FlynnSpace, Burlington, www.vtstage.org, 862-1497
Vermont Symphony Orchestra, various locations, www.vso.org, 800-876-9293, x10
Vermont Youth Orchestra, various locations, www.vyo.org, 655-5030
Weston Playhouse, www.westonplayhouse.org, 824-5288