Trisha Brown Dance Company
A sour economy has added a note of uncertainty to all aspects of arts funding this year, from stock portfolios to charitable donations to ticket sales. A year ago, we wondered about the effect these conditions would have on performing arts presenters such as Burlington's Flynn Center and the Paramount in Rutland, which were planning a new season even as the markets slid south.
That season is now. But the current crop of brochures and websites sure doesn't seem to indicate much decline, except a notable lack of live opera. Coming to the region is the usual rich assortment of world-class music, dance, Broadway, theater, comedy, circus arts and, yep, even magic.
A different scene is visible, though, just behind the curtain. Margaret Lawrence, programming director for the Hopkins Center at Dartmouth College, concedes her venue is presenting slightly fewer shows this year. But what really vexed her was how much harder it was to get any bookings to stick. "I booked three seasons this year — that's how many things fell apart because of the economy," she says. "It's been exhausting."
Other behind-the-scenes factors include the increased expense of traveling and the declining government support for touring artists, Lawrence notes. Despite the upsets on the income side of the equation, she says, "We took a hard look at ticket prices … and decided not to raise them."
At the Flynn Center, artistic director Arnie Malina points to the difficulty of getting certain acts. "Avenue Q was the only new thing" in the Broadway category, he laments. "But I already know I'll be able to get Spring Awakening next year, and maybe Osage County. They're all in the pipeline." The B'way touring shows that are coming this year are classic favorites: Camelot and Porgy and Bess.
Those with an appetite for riskier theater will have ample fare, including England, put on by UK company news from nowhere in the University of Vermont's Fleming Museum and Dartmouth's Hood Museum. The British underground hit explores, existentially, various concepts of empire. A New York Times reviewer placed it in "that wonderful genre of thoughtful plays that could be discussed for hours without exhausting its ideas."
England also illustrates what Lawrence suggests is an interesting shift in content. "The work about what has recently happened in American history is being created now," she says. "With [Hurricane] Katrina, we see that it broke open something in this country." In the Classical Theatre of Harlem's version of Waiting for Godot, for example, the tramps — African American this time — are stranded in New Orleans after the storm, waiting for a rescue that never comes. The group performed Beckett's retooled masterpiece in the Ninth Ward two years ago, and more recently on Broadway. On September 30 and October 1, it comes to the Hop.
Not all art is grim, of course, or has to make us think deep thoughts. Sometimes we just need a good laugh, a dazzling display of dance, a virtuosic violinist, a silly puppet show or a rock concert cranked to 11. And, whether the entertainment is from the far side of the planet or our own backyard, whether we're the ones in the balcony or the ones on the stage, performance draws on the most vulnerable, intimate, risky, glorious aspects of what it means to be human. Thanks to all the presenters who bring it on.
Pamela Polston
******
Dance Dance Revolution
Grupo de Rua, Thursday, January 7, 7 p.m., and Friday, January 8, 8 p.m., at Moore Theater, Hopkins Center, Dartmouth College, Hanover, N.H. $10-30.
Thursday, February 18, 7:30 p.m., at the Flynn MainStage, Burlington. $25-32.
At first glance, the nine-man dance crew Grupo de Rua may leave you puzzling over what style of movement you're witnessing. With stripped-bare lighting, scenography and music — street sounds, jazzy funk and percussion sporadically supplement the mostly silent performance — the dancers seamlessly meld hip-hop with elements of street dance and contemporary moves.
Proclaimed by O Globo "one of the most creative of the new generation," young Brazilian choreographer Bruno Beltrão has caught worldwide attention leading the troupe in a bold new hip-hop direction. In cross-Atlantic appearances, Beltrão has been gutting the genre to the core since 1996, when he was named upcoming choreographer of the year by Ballettanz magazine. The group's newest performance, "H3," has been called an exploration of the quintessence of hip-hop through minimalism. With sneaker squeaks and scuffs standing out against the stark stage, the dancers constantly form — and just as swiftly dissolve — duets and trios, spinning upside down and running backward. More impressively, they manage to get in each other's space without ever colliding.
Carolyn Fox
******
Pound for Pound
Paula Poundstone, Friday, October 23, Flynn MainStage, Burlington, 8 p.m. $32/27.
Saturday, October 24, Lebanon Opera House, Lebanon, N.H., 7:30 p.m. $25.
You may be familiar with Paula Poundstone from her regular turns on National Public Radio's cheeky news satire/game show "Wait, Wait … Don't Tell Me!" But the Sudbury, Mass., native is more than just a capricious radio pundit. The multifaceted performer is also an accomplished writer and diarist, having published a book of her own memoirs as well as a series of edutainment textbooks aimed at grade schoolers. But her singular wit and unpredictable style are best observed onstage, where she has thrived as a premier standup comic for the better part of 30 years. As the Boston Globe puts it, "Poundstone improvises with a crowd like a jazz musician."
Dan Bolles
******
Lead Players
A Walk in the Woods, produced by Northern Stage, February 17 to March 7, Briggs Opera House, White River Junction, various times. $25-58.
Lee Blessing's play A Walk in the Woods (1988) takes place during a 1983 impasse in nuclear arms talks between Ronald Reagan and Yuri Andropov. While the play's Cold War setting sounds historically remote, maybe even irrelevant (Yuri who?), Northern Stage artistic director Brooke Ciardelli is passionate about how the script's issues resonate today.
The show focuses on two negotiators, one from either side, trying to break the deadlock. (The leaders never appear.) "We eavesdrop on these conversations between two men," Ciardelli explains. "The play is not about arms reduction. It's not about Cold War politics. It's about an American and a Russian trying to develop a sense of trust."
But 20 years after the fall of the Berlin Wall, will audience members relate to long-dead U.S.-Soviet tensions? "We still keep building walls," Ciardelli notes. "We keep trying to solve the problem that way. And it doesn't matter what particular country it is in this particular year."
"Let's say A Walk in the Woods was set in the Middle East right now," she continues. "It would be so current that people would get caught up in the current argument. They wouldn't have any perspective on it. And so the fact that this is about something that seemingly we have resolved gives the audience a bit more freedom to engage in the debates of the play."
Elisabeth Crean
******
Two for the Show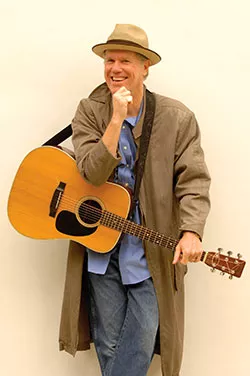 Loud & Rich: Loudon Wainwright III and Richard Thompson, Friday, October 2, Lebanon Opera House, Lebanon, N.H., 7:30 p.m. $25.
Saturday, October 3, Flynn MainStage, Burlington, 8 p.m. $45/35.
The dual appearance of longtime friends and collaborators Richard Thompson and Loudon Wainwright III is a once-in-a-lifetime event. Musical icons in Britain and America, respectively, the two are not only fiercely competent guitarists but witty, emotional songwriters with a dark side. Fairport Convention co-creator Thompson ruled folk-rock territory in the 1960s through '80s, and has turned out remarkable solo albums ever since. Wainwright, a darling of the singer-songwriter circuit since the late '60s, has carved out an acting as well as music-making career, so it's no surprise he's created soundtracks for film and theater productions. Both artists have dozens of albums to their credit.
It's onstage in night clubs, though, that both these performers truly resonate, with intimate, soulful performances that can only be surpassed by … doing it together.
Pamela Polston
******
Old Country, New Venue
England, news from nowhere, November 6, 8:30 p.m., and November 7, 6:30 p.m., presented by the Flynn Center at the Fleming Museum. $28.
November 10 & 11, Hood Museum of Art, Dartmouth College, Hanover, N.H., 6 & 8 p.m. $20.
The words "thrilling" and "exciting" come up several times when one talks with Flynn Center artistic director Arnie Malina about the UK theater company news from nowhere and its edgy show, England. Malina saw it recently in New York City at the Under the Radar festival. "It was one of the most compelling, thrilling pieces of theater I have seen," he recalls. Malina's enthusiasm led him to organize a New England tour — even helping the troupe coordinate visas — to bring the "news" to Burlington.
The site-specific piece unfolds in a museum, so the show's local performances take place at the University of Vermont's Fleming Museum and at Dartmouth's Hood Museum. Audience size is kept small (about 60), because the two actors lead attendees through exhibits during the first half hour, incorporating art into the story. Themes weave and build: culture, empire, health, boundaries. The impact? England is "a very provocative and thoughtful piece — the kind you want to talk about," Malina reflects.
Even though the show's format is avant-garde, he sees great storytelling at its heart. "It actually is a mystery, in the old-fashioned sense," Malina explains. "It's very suspenseful, because of the way it's done ... There aren't really that many things that can surprise you anymore." England, he believes, can.
Elisabeth Crean
******
Life During Wartime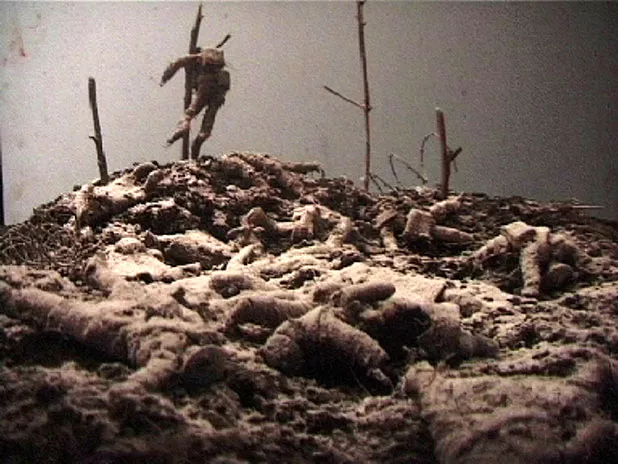 The Great War, Hotel Modern, January 15 & 16, Hopkins Center, Dartmouth College, Hanover, N.H., 8 p.m. $26.
How does an outré Dutch troupe use parsley, potting soil and plastic toy soldiers to make an absorbing live theater piece about World War I? A written description makes Hotel Modern's The Great War sound like a high-concept mash-up of text, music, film and, well, playing with stuff on stage.
According to Margaret Lawrence, programming director of Dartmouth's Hopkins Center, however, the company's "completely unique" technique is both powerful and poignant. "Their approach to creating a live experience in the theater is absolutely ingenious, sometimes quite funny, and then incredibly profound at the same time," she notes.
What the audience sees at a Hotel Modern show: at center stage, a large movie screen; on one side, a musician, surrounded by dozens of instruments to create live music and sound effects; on the other, tables and a handful of actors, who read actual letters sent home from the front. They also manipulate "all kinds of stuff kids would play with," Lawrence explains, which they film "using tiny little video cameras, some ... the size of a pencil."
For example, as the voice of a long-dead soldier describes hellish conditions in the trenches, a watering can creates rain to turn the potting soil into mud. "The minute they start making this live drama using these objects, and you're seeing it simultaneously on this big screen, you are absolutely riveted," Lawrence recounts. "You completely leave behind the part of you that knows these are just people playing with objects. You are in this scene. It is so magical."
Elisabeth Crean
******
Bach to the Future
Alina Ibragimova, November 12, Mahaney Center for the Arts, Middlebury College, 7:30 p.m. $6-24.
Russian violinist Alina Ibragimova will have just turned 24 when she comes to play at Middlebury College this fall. The young musician is a relative unknown in the United States. But Midd political science professor Paul Nelson has become an old hand at finding new talent in his 25th year as director of the college's performing arts series.
Ibragimova has a "big career growing in England and Europe," notes Nelson. He looks for rising stars in multiple ways, such as tracking competition winners and watching the concert schedule at London's Wigmore Hall, a prominent chamber-music venue. Ibragimova's route to Middlebury was somewhat circuitous. Nelson initially slated her for an ambitious Beethoven project that never materialized. He later jumped at the chance to book her for a solo Bach recital.
Earlier this year, Ibragimova recorded all six Bach sonatas and partitas for unaccompanied violin. "Alina plays this stuff like she was born to do it," Nelson says. Her technique is "lean rather than voluptuous. It's string playing probably closer to what Bach knew than much of the string playing we hear today, which is very rich and full of vibrato."
These Bach works have been a popular choice for violinists performing at Midd, and with local audiences, says Nelson. "There's a poem by Emily Dickinson in which she writes the line, 'Euclid alone has looked on beauty bare.' And I like to think that Bach's solo violin music gives us the opportunity ... to hear 'beauty bare.'"
Elisabeth Crean
******
Border Crossings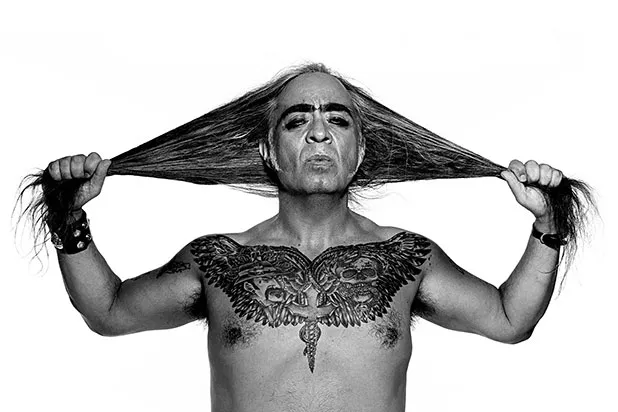 Strange Democracy: An Evening with Guillermo Gómez-Peña, Thursday, March 11, McCullough Social Space, Middlebury College, 7:30 p.m. $24/18/6.
Guillermo Gómez-Peña's performances have variously been called "Chicano cyber-punk" and "ethno-techno art," not to mention "magnificent," "melodramatic" and "witty." Theater impresario Peter Sellars declares the California-based MacArthur fellow one of the greatest performance artists in America. Gómez-Peña's own website reveals that the "post-Mexican" performer is in fact a nonprofit collective — that is, a "loose association of rebel artists thinking together" — that aspires to erase boundaries, both cultural and geographical. "If we learn to cross borders on stage," he suggests, "we may learn how to do so in larger social spheres."
Gómez-Peña achieves this "radical act" using hybrid literary genres, multilingualism and activist theory. And, oh, yeah, this creator of books and videos as well as performances has a sense of humor, too.
Pamela Polston
******
Key Players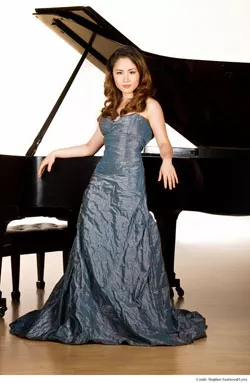 Van Cliburn Winners: Silver Medalist Yeol Eum Son, October 2, 7:30 p.m. $30/25. Finalist Di Wu, solo, November 6, 7:30 p.m., $30/25; and with the Burlington Chamber Orchestra, November 7, 7:30 p.m., $25/20. Gold Medalist Haochen Zhang, March 5, 7:30 p.m. $37/32. All at the University of Vermont Recital Hall, Burlington.
Ties for the gold medal in the quadrennial Van Cliburn International Piano Competition aren't as rare as shared Olympic golds in the 100-meter dash. But this year's deadlock marks just the second time in the contest's 47-year history that judges awarded two top prizes, which is "pretty stunning," says Lane Series director Jane Ambrose. 2009 also produced the first winners from Asia (all three medalists), including the youngest ever, China's Haochen Zhang, 19. His co-champion from Japan is 20 — and blind.
For the fourth time, the Lane Series is bringing Van Cliburn pianists to Burlington. Part of the Lane's mission is "to give the audience a chance to hear people that they've not heard before," states Ambrose. With this elite competition, where the age limit is 30, "you know you've got three of the best young pianists in the world," she continues. "You have the chance to hear them right at the beginning of their careers, when they are maybe at their most exciting and they are working on the hardest repertory that there is for piano."
Zhang and South Korea's silver medalist Yeol Eum Son, 23, are playing solo recitals. In addition, Ambrose selected Chinese finalist — and overwhelming audience favorite — Di Wu, 24, for two performances. She presents an individual program, and on the following evening joins the Burlington Chamber Orchestra for a Mozart concerto.
Elisabeth Crean
******
The Reign of Jane
Jane Monheit, Saturday, February 13, Lane Series at the UVM Recital Hall, Burlington, 7:30 p.m. $30/25.
Nothing says "romance" quite like the honeyed voice of American jazz songstress Jane Monheit. The Lane Series continues its tradition of hosting a special Valentine's Day concert, and this year Monheit was a perfect choice to usher in the sweetest holiday. After all, her latest album is titled The Lovers, the Dreamers, and Me.
Monheit was born into the jazz universe fully formed in 1998, the winner of a Thelonious Monk Institute vocal competition at the tender age of 20. She already sounded like the incarnation of a 1950s crooner: sultry, languid and utterly in control. Since then, she's released seven studio albums, toured worldwide, collaborated with a number of other jazz luminaries and been nominated for a couple of Grammy awards. Somehow she found time to marry her drummer, Rick Montalbano, and have a baby. Not bad for a woman barely into her thirties.
Monheit's visit to Burlington next February is a sweetheart deal, indeed.
Pamela Polston
******
So What?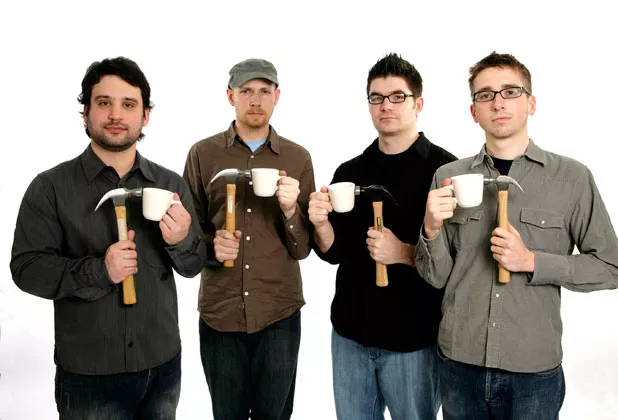 Imaginary City, So Percussion, Friday & Saturday, December 4 & 5, FlynnSpace, Burlington, 8 p.m. $25.
Just about anything can be something to shake, rattle or bang in the hands — and minds — of So Percussion, a quartet of guys that turns the words "chamber music" upside down. And it's not just sound that's found: So also incorporate visuals into their act — filmed in cities across America, including Burlington, says the Flynn's artistic director Arnie Malina. Collectively the images compose the titular "imaginary city," and the sounds … well, they must be heard to be appreciated.
They are "wonderful musicians," says Malina, noting that they get some of their instruments from the trash. In addition, expect the relatively standard glockenspiel, toy piano, marimba, vibraphone, melodica, pipes and, uh, stuff made of metal. The resulting concert is a meditation on urban soundscapes that is sure to disturb the peace.
Pamela Polston
******
Good Golly, Miss Mali
Rokia Traoré, Thursday, April 15, Spaulding Auditorium, Hopkins Center, Dartmouth College, Hanover, N.H., 7 p.m. $30/10. hop.dartmouth.edu
Sunday, April 18, Flynn MainStage, Burlington, 7 p.m. $38/28.
Rokia Traoré is one of those international superstars you've probably never heard of. But you will most likely hear plenty before she arrives in Vermont next spring. The Gretsch-wielding singer-songwriter from Mali is unusual first for being female, and second for forging a modern hybrid of American blues and traditional African sounds. The African beat is supported by instruments such as the balafon, n'goni and kora; the blues by electric guitar and bass. All that plus a distinctive, ululating voice and percolating rhythms make for a palpably exciting musical performance.
"She's simply incredible," declares Flynn artistic director Arnie Malina. "Without a doubt she's one of the world's greatest touring artists." Born in 1974, the daughter of a diplomat, Traoré had the benefit of living and traveling in multiple countries. That no doubt shaped her worldview and musical versatility; accordingly, she's garnered accolades around the globe. In May, she won the inaugural Best Artist award from the UK-based world-music magazine Songlines. Traoré sings mainly in the Malian tongue of Bambara, though her delivery transcends language. "I don't know what style I am," she says on her website. "But I just love music."
Pamela Polston
******
Presidential Suite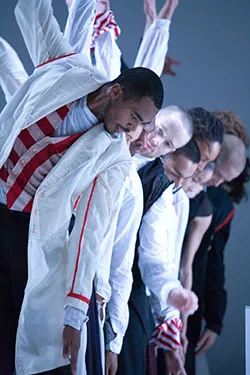 "Serenade/The Proposition," Bill T. Jones/Arnie Zane, Tuesday, January 26, Flynn MainStage, Burlington, 7:30 p.m. $45/35.
"Fondly Do We Hope … Fervently Do We Pray," Bill T. Jones/Arnie Zane, Tuesday through Thursday, April 6-8, Moore Theater, Hopkins Center, Dartmouth College, Hanover, N.H., 7 p.m. $40/10.
In a recent New York Times article, choreographer Bill T. Jones tells the reporter that, when he was growing up, the only white man he was allowed to love unconditionally was Abraham Lincoln. Little did he know that decades later he'd be commissioned to create a dance-theater work celebrating the bicentennial of Lincoln's birth. But a piece of such challenge and import is not new to Jones; born to migrant workers in the South, he has become one of the best known and most provocative choreographers of his generation, for good reason. His Broadway musical about an African icon, Fela Kuti, opens later this fall in New York. Jones took home a 2007 Tony Award for his work on the hit production Spring Awakening.
"Fondly Do We Hope … Fervently Do We Pray" goes on tour this fall and will appear at the Hopkins Center next spring. In January, the Jones/Zane company brings "Serenade/The Proposition" to the Flynn as something of a prelude. A "rumination on the nature of history" that leads up to the Lincoln commemoration, the piece evokes period architecture with a set of movable columns and uses video projections to enhance an original score that draws from Mozart's Requiem, "The Battle Hymn of the Republic" and "Dixie." And the choreography? The Wall Street Journal says it "leaves you with indelible, graceful images of young people scarcely bound by gravity."
The Flynn's artistic director, Arnie Malina, sums it up in three simpler words: "really great dance!"
Pamela Polston
******
The Godfather
Ravi and Anoushka Shankar, Tuesday, October 20, Spaulding Auditorium, Hopkins Center, Dartmouth College, Hanover, N.H., 7 p.m. $50. hop.dartmouth.edu
Few musicians are as close to synonymous with their chosen instrument as Ravi Shankar is with the sitar. The Indian composer is singlehandedly responsible for bringing the lute descendant into the collective consciousness of Western music, and his contributions to the modern canon are too numerous to mention.
But perhaps his greatest gift to the world comes in the form of his daughter, fellow sitarist Anoushka Shankar, who is regarded as virtually without peer on the instrument. Well, except for the man who taught her to play, of course. As his most famous protégé, late Beatles guitarist George Harrison, once said, "Ravi Shankar is the godfather of world music."
Dan Bolles