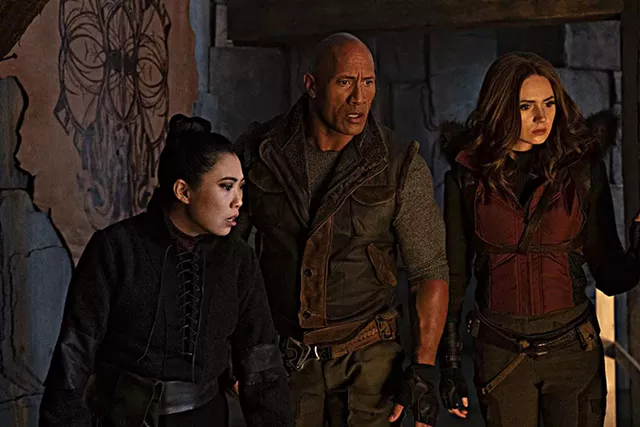 LEVELING UP Awkwafina gets in on the game with Johnson and Gillan in the new installment of the adventure-comedy franchise.
Any movie that features Awkwafina impersonating a cantankerous Danny DeVito can't be all bad. The young comedian with the crusty old voice is a perfect match for the veteran. And the body-swapping conceit of the Jumanji 2.0 movies gives her a chance to do her best old coot, her mouth tugging into a sour upside-down "V" as she demands to know what she's doing inside a video game.
What are we doing inside a video game? Jumanji (1995) was a kids' adventure film about a board game that unleashed jungle-themed havoc on its players. By 2017, the magic had mutated to keep up with the times, sort of. In Jumanji: Welcome to the Jungle, teens found themselves sucked into an old-school video game where they played out a jungle-themed quest in the bodies of avatars straight from an Indiana Jones knockoff.
But the real raison d'être of the holiday hit was comedy — specifically, stars playing comically against type. In the Jumanji world, the high school dweeb, Spencer (Alex Wolff), finds himself in the body of two-fisted adventurer Dr. Smolder Bravestone (Dwayne Johnson). The football star (Ser'Darius Blain) becomes a diminutive sidekick (Kevin Hart); the beauty queen (Madison Iseman) must wear the physique of Jack Black; and the wallflower (Morgan Turner) is a kick-ass stunner (Karen Gillan) specializing in "dance fighting." Wackiness ensues and, by the end, everybody's learned a little lesson about exploring their potential.
The Next Level follows the same template, with one exception: This time around, director Jake Kasdan and his cowriters, Jeff Pinkner and Scott Rosenberg, add a grumpy-old-men subplot. Home from college for the holidays, Spencer has to put up with his invalid grandpa (DeVito), whose favorite pastime is grousing at his best frenemy (Danny Glover). When Spencer flees into the world of Jumanji, his friends go in search of him, and the battling boomers get sucked in, too.
This setup occasions some reshuffling of real-world characters and their in-game avatars, plus patient explanations of the game's mechanics to seniors (actually aimed at audience members who missed the first installment). Otherwise, the story proceeds in familiar fashion. Once again, the characters must complete a generic quest in a series of generic settings enlivened by ferocious digital beasts (ostriches, mandrills, a toothy hippo). Once again, each player has just three lives to lose in various gross ways. Once again, adult viewers may find their minds wandering during the boilerplate action sequences.
And once again, the comedy of actors acting absurd is the movie's high point. Only Johnson and Awkwafina (as a thief avatar called Ming Fleetfoot) get really juicy bits this time, but they savor them, and the snarking on clichés of the action-adventure genre keeps the time passing enjoyably enough. If the lessons learned aren't quite as poignant this time around, at least they're a reminder that people can evolve at any age.
The Next Level enticed a record number of holiday shoppers into theaters last weekend, rendering further levels of Jumanji inevitable. Will we ever learn what sort of sadist designed this magical, morphing game (which survived being smashed at the end of the previous film) to trap unwary youngsters and oldsters? Will we ever see anyone perma-die, or must that be reserved for the R-rated gritty Jumanji reboot? Just how intensely can Dr. Bravestone (whose official skill list includes "intense smoldering") smolder before he explodes? For this franchise, it's clearly not game over, even if the replayability leaves something to be desired.