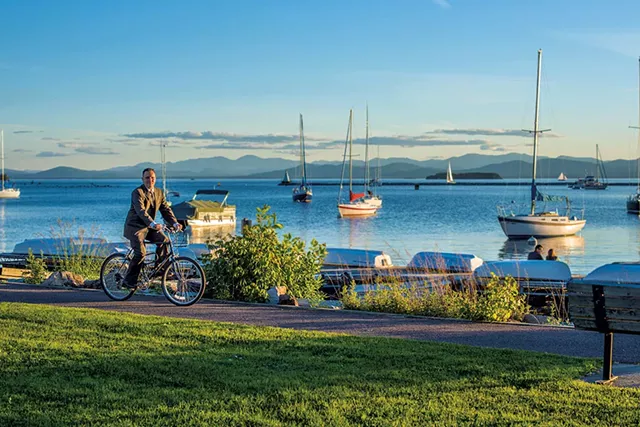 Courtesy Of Matthew Binginot
Brian Cina
When Judy Rosenstreich first won election to the Vermont House in 1972, she ran as a Republican and saw the party as one for liberals in the mold of Nelson Rockefeller and Jacob Javits. Rosenstreich championed integration and cheered in 1973 when the Roe v. Wade Supreme Court ruling legalized abortion.
Then, as she viewed it, the party shifted to the right. "The Republican Party went in a completely different direction," Rosenstreich, 72, told Seven Days. So she joined the Democrats and has been firmly allied with the "Ds" for decades.
She's set on one party, but that can't be said for her opponents in the race for two open House seats in central Burlington.
Selene Colburn and Brian Cina will also be on the Democratic ballot in the August 9 primary, though Colburn is a Progressive and Cina has Progressive leanings.
Colburn, who serves on the Burlington City Council, sees herself as a "fusion" candidate and plans to caucus with the Progressives if elected to the House.
Cina calls himself a "hybrid" candidate. He's seeking Progressive endorsements and says that, if elected, he wants to caucus with both the Progs and the Dems — even though they often meet at the same time, which would make double-duty impossible. "I'm getting a lot of flak around this choice," Cina admitted.
Other Progressive candidates around the state are also using the fusion strategy, including newbies inspired to run by Sen. Bernie Sanders (I-Vt.). Independent Sanders has managed to attract millions of supporters in his run for the Democratic presidential nomination.
Call it fusion or hybrid, the Vermont Democratic Party is not a big fan of the approach in state races.
"When we're able to caucus together, that's the moment where we can be as effective as possible and really make sure that we support our platform and the values that we care about as Democrats," said Christina Amestoy, communications director for the party.
The party will dedicate its campaign resources to affiliated Democrats and won't support Colburn or Cina — but will back Rosenstreich.
The Chittenden 6-4 district where they are running encompasses a northeastern swath of Burlington. It includes some Old North End streets, student dorms and off-campus rentals, subsidized housing, carefully restored high-end homes and the sprawling University of Vermont and University of Vermont Medical Center campuses.
Incumbent Reps. Kesha Ram, a Democrat, and Chris Pearson, a Progressive, are giving up their seats, but not politics. Ram is running for lieutenant governor, while Pearson is seeking the Democratic nomination for a state Senate seat. (Pearson is treasurer of Cina's campaign.)
All three candidates vying to replace them — Cina, Colburn and Rosenstreich — say they support universal health care and fossil fuel reduction. Cina is a "maybe" for now on marijuana legalization, while Colburn and Rosenstreich are for it. Rosenstreich wants to push for a public retirement system that covers all Vermonters and grow businesses that are member-owned cooperatives. Colburn stresses affordable housing and renewable energy; Cina wants to promote economic opportunity and reform public education funding.
Colburn and Cina are more like teammates than opponents: They strategize together and meet up for door-knocking sessions.
Cina, 40, is a clinical social worker and psychotherapist who lives on Isham Street. He grew up in New Jersey and moved to Burlington in 1998 after graduating from Dartmouth College with a music degree. He worked as an AmeriCorps volunteer at Spectrum Youth & Family Services, then took a staff job there. He earned a master's in social work from the University of Vermont in 2005 and works in private practice in Burlington.
Many of his clients are children and parents. That contributed to his decision to run for a spot on the Burlington School Board in 2014, his first-ever run for elected office. (School board elections are nonpartisan.)
Cina, who is single and has no children, joined the board amid public ire over deficits and double-digit tax increases. He quickly earned a reputation for candor. As an auditor droned on during a ponderous public presentation about chronic deficits, Cina dismissed the jargon and said what many people were thinking: "It sounds like a mess." Fixing the mess became a catchphrase in the local debate on school woes.
He was also outspoken as cochair of Pride Vermont from 2000-2003, when debate swirled around civil unions. He recalled Pride events around the state, especially in rural areas, "where 14 people" attended and were "scared" to be seen at a gay-rights event. "It was the whole 'Take Back Vermont' era," he said, referring to the movement that cropped up to protest civil unions.
Cina said he doesn't currently identify as gay but considers himself "multi-spirited."
"I feel like I have a masculine-feminine spirit," he explained to Seven Days.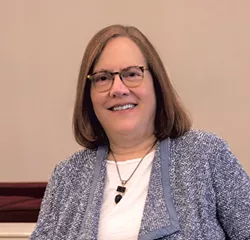 Like Cina, Rosenstreich grew up in New Jersey. She is the daughter of a Polish immigrant homemaker and a self-educated father who helped design the first automatic pinsetters for bowling alleys. She moved to Vermont as a young mother in the late 1960s after graduating from the University of Connecticut with a political science degree. She later earned a master's degree at Saint Michael's College.
Rosenstreich has lived on Henry Street for almost 20 years and works as a senior policy adviser at the Vermont Department of Mental Health. She also worked as executive director for the Vermont State Employees' Association, and in leadership roles for a variety of nonprofits. She is divorced and has three grown children.
When Rosenstreich first ran for the House back in the 1970s, she faced subtle and not-so-subtle sexism. One of her opponents questioned whether she would be able to hold office and take care of her children; others saw a woman candidate as a curiosity. But she persevered and in an upset became the first woman elected to represent the town of Waterbury in the legislature. "I was a trailblazer," she said.
At a Statehouse orientation for new lawmakers, a committee chairman greeted the newcomer with this remark: "My, you'll add to the scenery around here."
Rosenstreich responded: "I hope I do more than add to the scenery."
Over time, Rosenstreich said, she made many friends and was taken seriously as a lawmaker, in spite of the fact that she stood out as much for her youth as her gender.
At just 28, "I was the youngest woman in the history of the Vermont General Assembly," Rosenstreich said.
During her second term, in 1976, Rosenstreich was appointed as a White House Fellow in Washington, D.C., where she focused on energy policy. Back in Vermont, she worked in a variety of jobs and switched to the Democratic Party.
After moving to Burlington, Rosenstreich sought to restore the front porch on her 19th-century brick house. Initially, she was told the porch rebuild would be too close to a neighbor's property under city rules. She argued that the rules discouraged restoration in the historic neighborhood — and helped secure a preservation-friendly zoning change. Preservation Burlington gave Rosenstreich an award, and she scored political points.
Rosenstreich said she will be a problem-solver in the Statehouse. "I've spent many years working at the legislature representing different organizations," Rosenstreich said. "I come to this with a full understanding of how the process works, how to be effective."
She emphasized that she'll caucus with the Democrats and that voters can be confident in who she says she is politically. That's a contrast from Colburn, Rosenstreich said. "She's known as a Progressive," Rosenstreich said. "I don't know why she's running as a Democrat."
Colburn defended her decision, saying it would be tough to run as a "straight-up Progressive" in a presidential election year. Some voters will be casting a ballot for the first time and might "never have experienced a third party," she said.
Democrats might not like her approach, Colburn acknowledged, but she vowed to work closely with all parties if elected. And she does not apologize for going the fusion route. "I think you have to think about the most successful strategy to get elected," she said.
There are some Progressives, too, who don't "love" the fusion strategy, Colburn added, declining to name names. "It cuts both ways."
She was born in Burlington and has deep roots in the city and its institutions. Her late grandfather founded the art department at the University of Vermont, while her late grandmother was an English teacher at Burlington High School. Colburn, 46, grew up on Willard Street and graduated from BHS in 1987. She studied dance at Bennington College and then went west, where she worked in San Francisco. She earned a master's in library and information science at Simmons College in Boston in 1999. She works as an assistant library professor at UVM and lives on Latham Court with her husband and two children.
As a city councilor, Colburn pushed for a policy to require Burlington Police to carry Narcan, the drug that can reverse heroin overdoses. Since police began carrying the antidote in January, they have used it at least once a month and saved lives, Colburn said.
It's this kind of change that makes politics worth it, she said. "I cried when I learned about their first reversal," she said. "I learned that you can make real differences in real people's lives by doing this work."
The primary will likely decide which two candidates will go on to represent the district. No one has filed as a Republican or as a Progressive, and those ballots are blank. Absent a write-in campaign, two of three contenders on the Democratic ballot will show up at the Statehouse come January.