Jay Ericson
Stone bowl of bi-bim-bap
In restaurant kitchens, the French phrase mise en place ("setting in place") describes prepared ingredients set out to facilitate efficient dish assembly during service. When orders come in, the well-prepared cook quickly puts things together, then sends the finished plate out the door.
In Korea, similar arrangements play out on the dinner table. Meals revolve around a main dish, maybe grilled meat or a hearty stew. Along with rice — always rice — come several banchan, or side dishes. These might include fermented vegetable kimchis, sautéed greens or mushrooms, soy-dressed starchy salads, pickled eggs, or fried pancakes, all usually cut into bite-size pieces. They act as condiments and complements, rounding out the meal and making it whole.
Banchan, which opened at 41 Elm Street in Montpelier in March, is named for these supporting but essential nibbles. The 21-seat spot is a project of sisters An Na and Jin An, and their mother, Jin Suk.
After immigrating from South Korea to California to be near family in the 1970s, the sisters and their mother (who now prefers to go by Hal Moni, or "Grandma," An Na said) spent most of their lives in San Diego. Jin Suk worked as a cook in Asian and American restaurants; more recently, she oversaw the busy catering kitchen at Daly City's Kukje Supermarket and other major San Francisco Bay Area Korean grocers.
An Na writes novels. Her 2001 young-adult debut, A Step From Heaven, was a National Book Award finalist; her fourth book, The Place Between Breaths, was released last month on the day the restaurant opened. She completed an MFA at Vermont College of Fine Arts in 1999 but returned to California before moving to the Green Mountains permanently in 2004, when her then-partner took a job at Saint Michael's College. Her sister and mother followed this past winter.
When Jin Suk decided to move to Vermont — two years away from retirement, and speaking minimal English — it was unclear how she'd make a living. In California, she worked high-level cooking and management jobs but carried on business in her native language. An Na said it was hard to imagine a position for her mother in Vermont, where English speaking, reading and writing skills are essential, even for beginning cooks.
So the three women did what new Vermonters often do upon discovering a wan market for their specialized skills: They decided to build something new so Jin Suk could do her thing.
They looked into leasing a food truck and brainstormed a prepared-foods stand for the farmers market. Then An Na noticed a "Space Available" sign in the window of the former Philamena's restaurant, and Jin An — a numbers and systems whiz, her sister said — ran the math. With a maximum capacity of 21, running a full-service restaurant there seemed manageable for "Grandma."
Expectations were modest: "We didn't know how many people would want Korean food," An Na said "The business plan was, if we can fill the restaurant once [a day] with 21 people, and they order at least $10 each," things would work out.
They'd serve simple Korean dishes during breakfast and lunch, and gah-chi — plates for sharing — in the evening. When dinner service debuts in May, the restaurant will be Vermont's first to offer soju (similar to vodka, but 20 to 30 percent alcohol), which Koreans drink socially, like wine or sake, as part of a meal.
But for now, they serve breakfast and lunch. In the morning, guests wake with wide bowls of jook — savory rice porridge similar to Chinese congee — or bone broth with noodles and rice. A dish An Na dubbed "Old Boy" is a cheesy, gratin-style mélange of chorizo fried rice with kimchi and eggs. The dish is pure fusion, she said, but that's fairly common in Korean dining these days.
"Koreans have been starting to mix it up," An Na said. "A lot of restaurants are not super traditional [anymore] — they've been using European technique but keeping Korean elements in there."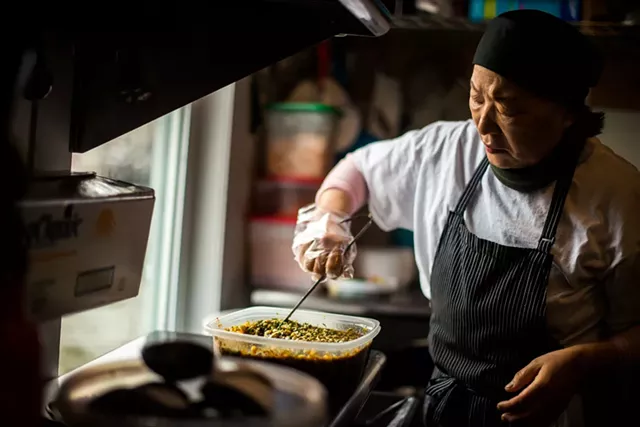 Jay Ericson
Jin Suk
In Montpelier, the approach seems to be working. During lunch last week, every seat was full, and multiple parties lingered near the entry waiting for a table. Perhaps that's because the restaurant is the new kid in town. More importantly, Jin Suk's cooking is outstanding.
Of course, it's easy to love Korean food, even for Vermonters to whom kimchi is totally new. The flavors are bright and intense, the textures varied and layered; visually, the colors pop.
And at Banchan, as at any good restaurant, there are surprises.
Based on its menu description, I probably wouldn't have ordered the soon-du-bu, or silken tofu stew. But my table of three was hungry, so we dove right in and ordered one of everything on the five-item menu.
Served in a wide but shallow stoneware bowl, the stew nearly glowed, stained an opaque, atomic orange-red by Korean chiles. Scallions on top glimmered lime-green in contrast; a spray of enoki mushrooms and milky-white cuts of tofu bobbed near the surface.
This is gonna be hot, I assumed. Not so: Korean chiles tend to offer lots of color and penetrating flavor, but less heat than other pepper varieties. So the soup was more saline than spicy — probably a four on the one-to-10 heat scale — but saturated with piquant chile smoke. (The kitchen can make it even milder on request.) The tofu melted easily with each bite, skittering across the tongue in jiggling bits. The mushrooms and marinated beef strips gave chew; napa cabbage contributed crunch.
We passed the bowl around the table, sinking spoons full of rice into the thick red broth. We interspersed them with nibbles of the three banchan that Jin An had delivered at the meal's outset: just-sweet soy-marinated potato, garlicky slivers of scallion pancake, and crisp kimchi, which was more briny-clean than funky-sour.
Of all the plates on the table, the strange tofu stew was an unlikely favorite. Then again, it would be hard to compete with a steaming bowl of kal-guk-soo, with its pale, cloudy bone broth, petite pork dumplings, and wobbly hand-cut noodles that practically squeaked with freshness.
Also excellent was the bi-bim-bap, a heap of rice served in a hot stone bowl and loaded with savory goodies. We ordered it with spicy, sesame-scented pork, steeped in garlic and ginger, but beef, chicken or seitan are also options. Singing backup — along with the banchan — were julienned carrots, winter-sweet chopped kale, thin-sliced omelette egg, bean sprouts, soy-dressed mushrooms and papery nori that tasted of the sea.
To assemble the ssam-bap jun-shim (lettuce wraps), we spread nutty miso curd onto boats of romaine, then added hunks of pork and clumped sticky rice. The banchan potato gave creamy depth to one bite; scallion pancake lent a touch of toasty sesame to another. We applied dots of gochujang (red chile paste, medium hot) and dragon sauce (very hot), ratcheting up the spice bite by bite, only to wash it all away with sips of warm, palate-soothing corn tea. The traditional Korean cold-weather drink tastes corny and a little creamy, just as the name implies.
As we ate, people gathered at the door, hoping to squeeze in before the restaurant's 2 p.m. closing time. Jin An and another server, an American woman, dashed about, pausing to welcome each party and introduce the menu, then delivering banchan and tea once orders were in. The room was full, abuzz with excitement as the Capital City lunch crowd got to know its new restaurant. Even so, the atmosphere was serene and warm, and lunch unfolded smoothly, as things do when everything's in its place.
It felt exactly like eating lunch prepared by a seasoned Korean grandmother who, after 40 years of working for other people, is finally — through some miracle — left alone to do her own thing in the kitchen.