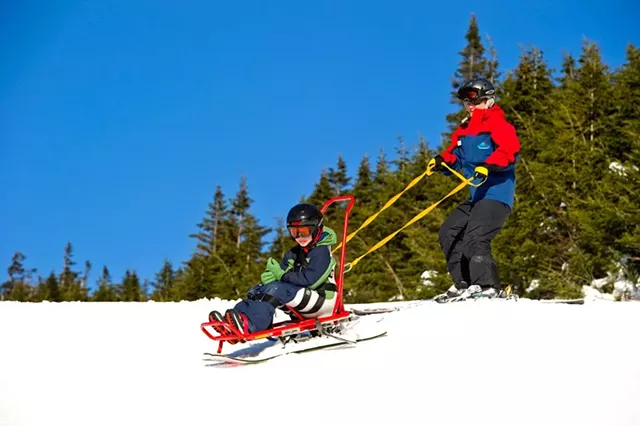 courtesy of smugglers' notch
Adaptive skiing at Smugglers' Notch
Seven years ago, Emily Cogan couldn't have imagined her foster son, Devin, being a confident, independent skier. "We had tried a couple of times to go with him, at age 11 and again at age 15," said the Jeffersonville resident, "and it was really just too much to manage." Devin, who is autistic, "didn't have the coordination, and we didn't have the training or physical capacity to support him," Cogan said.
Then she discovered the Smugglers' Notch Adaptive Program, or SNAP, which brings Vermont's outdoor sports to people of all abilities.
Initially attracted to SNAP's summer camps, the Cogans soon learned about the school's Special Olympics winter program, which prepares participants to compete in the Special Olympics Winter Games. Devin decided to give it a try. Now 18, he's skiing weekly without his parents and has earned a coveted slot on the Special Olympics team. "When we started our Special Olympics team, we only had four athletes," said SNAP program manager Shawna Fatigate. "Now we have 16, and a wait list of five people."
In the last 10 years, participation in the Special Olympics Vermont Winter Games — which happens each March at Suicide Six ski resort in South Pomfret — has nearly quadrupled, to more than 400 competitors. The increase is due in part to adaptive efforts that focus on kids. "Special Olympics Vermont has seen significant growth in annual numbers at our athlete Winter Games, particularly from school-based programs," said Liza Reed, marketing and partnerships director for Special Olympics Vermont.
SNAP isn't the only program that caters to people with disabilities. Vermont Adaptive Ski & Sports organization runs them at Bolton Valley, Sugarbush and Pico Mountain/Killington (see Sports for Everybody). But Smugglers' Notch has been operating SNAP independently since the late 1990s, first offering winter sports and then folding in summer activities.
courtesy of smugglers' notch
Adaptive skiing at Smugglers' Notch
"Many guests don't participate in sports on a regular basis, and this gets them outside, away from television and cellphones, and active," said Fatigate, who helps oversee a full-time staff of five to eight in the winter, along with 16 to 20 part-time employees and more than 20 volunteers. "The way they benefit is infinite. We're giving them a skill set they didn't think they could get."
Alongside individuals with physical disabilities, said Fatigate, SNAP has seen a rise in kids with cognitive differences, like Devin. "The majority of our guests today fall into that category," she said. "With developmental delays, chances are they can be a bit more physical and be on a bi-ski with hand outriggers, or no [special] equipment at all."
SNAP has tapped into a decades-long phenomenon: the appeal of winter sports among athletes with disabilities, and the programs available to them. According to a 2015 report on national trends in adaptive sports, written by disability specialist Lisa McNiven, "Outdoor winter sports have the highest concentration of programs, with alpine downhill skiing at 49 and Nordic cross-country following close behind at 21." McNiven suggests this may be because these programs were established early in the disability civil rights movement, and therefore gained a foothold over other areas.
And while the Green Mountain State ranks behind states such as Colorado in the number of adaptive winter-sports programs it offers, more and more mono-skis, tandem skis and other specialized equipment are appearing alongside traditional skis and snowboards at Vermont resorts.
This is a promising development for families like the Sliwka/Johnson family of Essex Junction.
Katrina Sliwka and her husband, Ben Johnson, met in a wilderness program, so they expected their firstborn would enjoy the outdoors. But when their daughter, Delaney, took her first steps at 27 months and was eventually diagnosed with a rare neurological disorder called alternating hemiplegia of childhood, skiing seemed increasingly unlikely.
"My husband and I snowboard, so it's something I wanted to explore," said Sliwka "but we didn't know what it would be like," explaining that low muscle tone, leg braces, intense cramping and balance issues make participating in sports a challenge for Delaney.
Then, three years ago, the family stumbled upon SNAP during a Burton event at Burlington's ECHO Leahy Center for Lake Champlain. Delaney, then 5, was elated when she realized she might be able to give winter sports a try.
"Del was really into the idea of skiing, and we love to be outside as a family, so it was a no-brainer," said Sliwka, who explained that while Del mountain bikes in warmer seasons (the family hosts a fundraiser called Del's Ride each fall), she can feel cooped up in cold weather. "There are no times in the winter where Del will be outside all day," said Sliwka, "except when she goes skiing."
courtesy of smugglers' notch
Garrett Richardson with instructor Andy Cook at Bolton Valley
Like all SNAP participants, Del was paired with an instructor who provides customized lessons and assists with adaptive equipment. Del uses a slider, which has four skis for added stability and tethers to an instructor, who can control speed and direction. She also uses a harness attached to an adult when she skis on the bunny hill. Her coach, Mark, "was so positive and into Delaney skiing," recalled Sliwka of their first days at Smuggs, "that any worries we had about her ability were immediately eased.
"They promote independence in a nurturing manner and ensure that everyone is having fun. They listen to their students and encourage them to push themselves," she added. Since Del's first lesson with Mark, she's continued to ski with the coach, along with a volunteer named Dave. "A great pair of humans!" said Sliwka.
Meanwhile, Devin worked closely with a coach through a challenging first season to become a regular part of the Smuggs mountain scene. "I'm convinced that having one consistent coach every weekend allowed our son to grow immensely as a skier and with his other interactive skills," Emily Cogan said.
Along with the possibility of joining the Special Olympics team, SNAP participants can merge into Mitey Mites and other traditional group lessons and camps. The goals are inclusion, independence and the opportunity to socialize with peers.
Thanks to SNAP, the Cogan family was able to take a family vacation to Mont-Tremblant last winter. "Devin was able to ski with us and enjoy exploring the mountain — that was huge," said Cogan. "It's pretty amazing that our child has this opportunity to be part of a sport that he wouldn't normally be able to participate in.
"Devin used to dread winter, and now he really looks forward to it," she continued.
Along with her days on the mountain, Del looks forward to what, for many, is the best part of the adventure: après-ski. For the Sliwka family, that means stopping at the Jeffersonville gas station for Del's favorite treat — a hot dog — before cozying up by the fire back in Essex Junction.
"It's a content fatigue," said Sliwka. "She feels so tired so often, and it's frustrating, but when everybody goes skiing ... We're all tired. It's communal. We've all exerted lots of energy, and we deserve to be tired."
Sports For Every Body
courtesy of valerie richardson
Garrett Richardson with instructor Andy Cook at Bolton Valley
Founded in 1987, Killington-based Vermont Adaptive Ski & Sports recruits nearly 400 volunteers to serve kids and athletes with disabilities in a variety of activities ranging from kayaking and standup paddleboarding to sailing and cycling. In the winter, Vermont Adaptive offers alpine skiing, snowboarding, cross-country skiing, snowshoeing and group activities from late December through early April at Pico Mountain/Killington, Bolton Valley and Sugarbush.
Shelburne's Valerie Richardson enrolled her now 15-year-old son, Garrett, in the Bolton program eight years ago after a UPS driver saw Garrett on an adaptive bike and told the family about Vermont Adaptive. "He doesn't like winter gear, and doesn't have the language to tell us if he's cold, so everyone must be careful that he doesn't get too cold or even frostbit," said Richardson of the challenges. The reward, however, is seeing Garrett "go as fast as possible" in a "fantastic winter activity," said Richardson. "The volunteers know his favorite songs and can tell when it's time to come in for a warm-up. Vermont Adaptive makes it an amazing place to give kids the opportunity to enjoy the snow."
A half-day SNAP lesson, which includes rental equipment, is $85; full day is $125. Five-week lesson packages range from $375 to $994. New this season is an all-day February vacation camp that includes skiing, snowboarding, snowshoeing and swimming for $350 (not including equipment). Find more information at smuggs.com/pages/winter/kids/adaptive-programs.php.