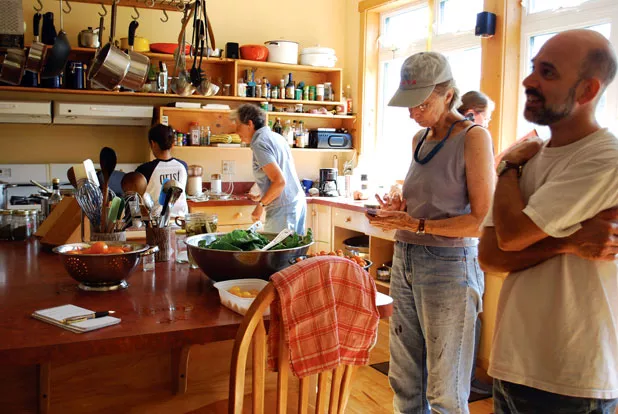 A group gathers for lunch in the Cobb Hill community center
Vermont has inspired its fair share of alternative lifestyles. Take the case of Helen and Scott Nearing, radical homesteaders who moved to a farm at the foot of Stratton Mountain in 1932 seeking what they later called "the good life." The Nearings were followed by a generation of back-to-the-landers in the 1960s and '70s, clutching their copies of the Whole Earth Catalog and looking for a connection to Vermont's rolling green fields and mountains.
Today, idealists continue to found and maintain "intentional communities" in Vermont. Some communities are decades old, others still just plans on paper, but all are imbued with a sense of optimism. The idea is both simple and almost staggeringly ambitious: Looking for more authentic communities and neighborhoods, and ready to test alternative ways of living on the landscape, a small number of Vermonters are building from the ground up.
Asked to describe Ten Stones Community in Charlotte, architect and founder Ted Montgomery calls it a "subdivision with a soul" — a phrase that helps a lot in defining the broad category that is "intentional community." Most share at least some characteristics with the cohousing movement born in Denmark in the 1960s and active in the United States since the '80s. Under the cohousing model, residents live in clusters of typically smaller homes that share some space, such as a village green or community center. Such communities appeal to residents who feel single-family dwellings are too isolating, lacking the intimate connections of smaller, interdependent groups. Some have religious missions, while others are founded on principles of sustainability, but nearly all are, in a sense, manufactured villages.
"We're more than just neighbors. We're here because we all serve some kind of ideal," says Phil Rice, a founding resident of Cobb Hill Cohousing in Hartland.
But no, these aren't communes — a misinterpretation against which several intentional communities in Vermont have butted. When participants in Cobb Hill Cohousing approached the town of Hartland with their plan, they faced questions such as "Do you wear robes?" and concerns about potential secret ceremonies in the woods. (For the record, they don't appear to engage in either practice.) When the group of idealistic young people behind Blue Moon Cooperative approached the town of Strafford in the 1980s, they had to convince town officials they wouldn't be a repeat of an actual commune that preceded them there in the 1960s.
These communities seek to strike a balance between individual privacy and group engagement. Is the result a "Kumbaya"-singing utopia, or an overcrowded hell? The answer, of course, depends on the resident. Intentional communities aren't for everyone, their advocates say, and even the most picturesque ones demand that members shoulder a heavy share of hard work and pragmatic responsibility.
Seven Days spoke with residents of three of the 26 intentional communities listed on a statewide directory of established and forming groups.
Cobb Hill Cohousing, Hartland
Once a month, residents of Cobb Hill gather on a Saturday morning to divvy up the work of maintaining their community. On this particular September day, the chicken coop needs cleaning and the water-filtration system needs a checkup, but the biggest task is the construction of an addition to the community's wood-fired furnace room.
The 40 or so adults in this community share responsibility for stoking the wood-fired furnace, which heats all 22 residences at the cohousing community. This year they've added a second GARN brand furnace, which calls for extra space for the village's substantial woodpile. As the head builder scrambles over the stick-framed addition, some half dozen painters get to work staining boards.
The workday provides hints of both the challenges and joys of living at Cobb Hill, a community devoted to sustainable-living practices and the preservation of farmland. The privately operated farm and dairy, run by two Cobb Hill residents, unfolds over the fields below. As the painters work, horses in the stables down the hill whinny and nicker, and a child in the nearest residence chatters noisily.
At the painting station, there's some bickering over the "right" way to proceed with the job. When someone voices a concern that the stain is a shade or two off, another resident jumps in with "Don't even start!" The perfect is sometimes the enemy of the good with this many cooks in the kitchen.
"I think it's impossible to do anything at Cobb Hill without many opinions about how to do things right," quips resident Angela Park. But the day doesn't bring just bickering; with many hands, the work goes quickly.
When the group settles on a technique, someone chimes in, "There's a consensus here!"
Another adds, "For once."
It's a nod to the community's decision-making structure. If push came to shove, Cobb Hill residents could vote on major decisions — a provision that Rice says the group needed to add to its bylaws to borrow money from financial institutions. But residents have never resorted to using that provision, and instead reach decisions through a mixture of committee-based governance and consensus.
Those decisions aren't always quick in coming, Rice says. But, he adds, "once forged, any agreement that we all come to is better" because of the extra time and consideration it has received.
Cobb Hill owes its start to visionary Donella Meadows, a Dartmouth College professor of systems dynamics who imagined building a community around sustainable-living practices. Meadows passed away before Cobb Hill came to fruition, but meetings in her living room first inspired residents to build the village. The group bought the 260-acre former Hunt farm in Hartland in 1997, broke ground in 2001 and finished construction of the common house in 2003. In the process, they crafted a modern eco-village. All of the homes have composting toilets and solar panels on their roofs. While the cohousing group doesn't own any businesses itself, it encourages residents to set up "enterprises" on the farmland and does not charge them rent. Two residents own the sprawling farm at the base of the village. Others run an award-winning cheese operation.
In many regards, Cobb Hill functions like a "mini-town," says Judith Bush. Residents contribute dues that go into a communal pot, but it's much more complicated than the word "pot" implies. For instance, there are reserve funds for special projects and deferred maintenance.
Ask longtime residents how Cobb Hill differs from the community of which they dreamed 15 years ago, and the answers vary. Phil Rice pauses thoughtfully, paint roller in hand, and admits that Cobb Hill falls "far short" of what he envisioned.
"I imagined lots of magic," Rice says. The reality is that the community is "more individualistic than communal." Weekly shared meals and gatherings turned out to be difficult to schedule in a neighborhood where the pressures of the outside world — such as 9-to-5 jobs and after-school soccer practice — never disappeared.
But the picturesque village, perched on a hillside above the farm, engenders the amazement and envy of some visitors. Julianne Harden remembers a couple who visited Cobb Hill a few years ago. "She kept saying, 'It's utopia!'" recalls Harden, who is chopping green beans in the community center kitchen as she and a few other women prepare lunch for the workers. "I didn't know how to burst her bubble."
It's no paradise, Harden says. Neighbors squabble from time to time. "We don't always get along," she adds, "but I trust everyone." Life at Cobb Hill is almost like belonging to a large, extended family, says Bush, with all of its accompanying joys and frustrations.
"There's a huge amount of sharing on every level," Bush goes on. In her duplex, that means sharing a washer and dryer with her neighbors. Tools and equipment are passed around. Bush doesn't think twice about lending her car if a neighbor asks. The community also engenders a certain generosity; when the fan broke on Park's composting toilet, she called a handy neighbor — he dashed over, and 10 minutes later the problem was fixed.
That interdependence is part of what sets Cobb Hill and other intentional communities apart from a neighborhood that just happens to "click." Bush thinks the difference has something to do with self-reliance; because everyone owns the communal property, everyone shares in the responsibility of maintaining it.
"There's not a building super who's going to come in and solve Problem X or Problem Y," Bush says.
Blue Moon Cooperative, South Strafford
Resident Jim Schley says Blue Moon got its name in part from the audacity of its residents. Only "once in a blue moon" would they succeed at the undertaking they envisioned. "We were very enamored of the idea of living off the grid," Schley says, "and we thought that would be easier to do together [than alone]."
Schley and a group of 12 friends dreamed up Blue Moon when they were in their twenties. Some had met in college; others came into the fold after working together in the antinuclear Clamshell Alliance. Together, they fostered a fairly "amorphous idea," as Schley remembers it: They wanted to find a piece of land, purchase it and share ownership. Once building got under way, the group would try ideas that were "pretty fringy" nearly 30 years ago but seem mainstream today, such as putting up photovoltaic cells and residential-scale wind turbines.
Fortunately, Schley says in retrospect, those plans took a long time to pan out; the group spent three years looking for land, and hashed out the structure of the collective in the meantime.
"In our idealism, we could underestimate the need for some structures that over time would become even more important," Schley says. The group recruited Randolph lawyer Laddie Lushin, who advised members to incorporate as a cooperative and helped them draft detailed bylaws and paperwork that are still used today by cooperatives around the country.
"We have good fences," says Schley, invoking the Robert Frost line "Good fences make good neighbors." "Laddie helped us build them. They don't divide us, but they do demarcate our responsibilities to each other and ourselves."
Remarkably, the same group has remained intact for 26 years. Twice it has expanded to welcome a new member to the cooperative — a decision that, just like purchasing a new truck or cutting down a tree, had to be reached by consensus. Schley, who says he knows of intentional communities where tensions flared and residents no longer speak to one another, credits Blue Moon's success to its clear structure and balance of privacy and communal living. This summer, the eldest of the children who grew up at Blue Moon got married on the property — just the latest example, Schley says, of how the group pulls together for celebrations and sorrows.
"We were pretty young, and very idealistic," he says, looking back at Blue Moon's evolution. "There's a big element of luck, that nobody has just changed completely their values." But the gamble paid off, and more than two decades later, the idealistic dreamers behind Blue Moon are older, wiser — and every bit as committed to their intentional community.
Ten Stones Community, West Charlotte
Ten Stones began as architect Ted Montgomery's 1972 senior thesis, morphed into a collective daydream of a new housing development, and ended up a cozy and compact neighborhood, tucked among the rolling hills of West Charlotte.
On a crisp morning in mid-September, Rebecca Foster is feeding the 50 or so chickens that cluck and prance around a pen near the Ten Stones community center. Her family shares caretaking duties of the boisterous hens with five others; in return, the six households divide the bounty of fresh eggs.
It's in keeping with the modus operandi at Ten Stones, where projects such as the sprawling community garden, a new array of solar panels and, yes, the chickens are all voluntary.
It almost didn't happen. Montgomery and a group of about 20 residents in and around Charlotte spent years dreaming of Ten Stones. "There was a lot of emotion in this," Montgomery says. "People brought their dreams to the table." That didn't always make for easy agreements, and just days before signing on 84 acres of land in Charlotte in 1992, about half the group walked away from the undertaking.
From there, the cohousing group still faced an uphill battle: Members had to convince the town of Charlotte to let them cluster development in a way that looked unusual to the town zoning board, rather than build individual homes on five-acre lots. They chose an overgrown ash meadow, devised a "green" and began divvying up lots; in 1994, the first house went up. The rest — for a total of 16 buildings housing 17 families — were built over the next nine years.
Surprisingly, Montgomery waited several years before building his own home at Ten Stones — and, in fact, he admits he almost didn't join. The neighborhood today isn't the compound he dreamed up in his college thesis. He imagined designing all the homes, he recalls, using radical, trend-setting approaches. In the end, most homeowners just hired builders, and today the community looks more like a quiet country neighborhood than an architect's experiment.
But what exceeded Montgomery's expectations, he says, was the sense of neighborliness that blossomed in Ten Stones. When Montgomery's late wife, Sarah, was diagnosed with a brain tumor, he watched as neighbors crowded into the couple's garden on two separate occasions to sing to her.
"That's the priceless thing," says Montgomery. "Everybody in the community was supportive."
There's been turnover in the years since; Foster is one of the newer residents (she and her family moved to Ten Stones two years ago). A "For Sale by Owner" sign in Ten Stones' driveway advertises the one property for sale in the community.
Foster moved to Ten Stones from New York City, where the concept of a co-op is familiar in the world of apartment complexes. She thinks Ten Stones strikes a "really nice balance" between independence and community. Foster's two children tear around on the green, playing with neighborhood kids, and she and her husband dabble in farming and energy crops.
While she knows about the tumult of the early days, Foster says she bought into a mature community where the kinks are mostly worked out. She was elected a "steer" of the organizing committee, and knows from experience, she says, that the system works incredibly smoothly.
"It's very touching to see people help each other," Foster remarks, strolling the winding dirt road around Ten Stones. "There's sort of this predisposition, when you live here, to cooperating."