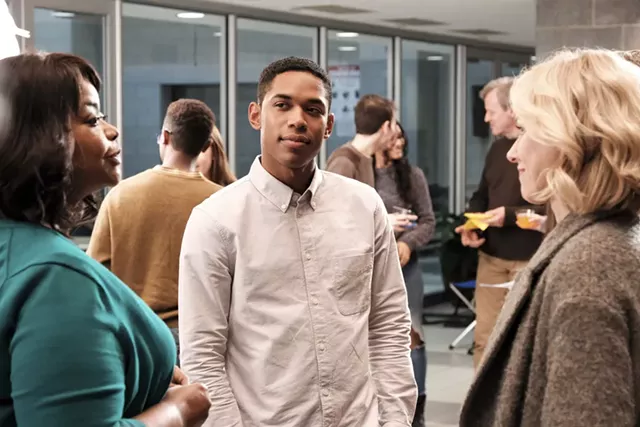 STUDENT DEBT Onah borrows from a long line offilms about teens living salacious secret lives.
You know what's not helping with global warming? Director Julius Onah's latest. It's so overloaded with hot-button topics that it threatens arctic ice, tropical rainforests and the viewing pleasure of anyone who thinks message movies should be clear about what they mean to say.
Luce is played by Kelvin Harrison Jr. He's a valedictorian, track team captain and champion debater at an Arlington, Va., high school. This is a far cry from who he was 10 years earlier. Before Amy (Naomi Watts) and Peter (Tim Roth) Edgar adopted him, Luce was a child soldier in Eritrea. Years of intensive treatment have transformed him into a model student. Or have they?
One person who has doubts is his history teacher, Harriet Wilson (Octavia Spencer). She gets it into her head that Luce isn't the picture of perfection he projects and decides to snoop around in his locker. What she finds is the sort of plot device that will (a) turn Luce's world upside down; (b) change his life forever; or (c) raise questions about who he really is behind all the friendly, solicitous smiles.
The answer, unfortunately, turns out to be all three and then some. Wilson's concerns stem from an essay Luce has written espousing the controversial views of philosopher Frantz Fanon, infamous for his advocacy of political violence. The thing is, Wilson tasked Luce's class with writing an essay in the voice of a controversial historical figure. So her concerns stem from his having successfully completed the assignment.
Not exactly probable cause. The teacher searches anyway and stumbles on a bag of fireworks. Citing heightened concerns for student safety "in the current climate," she does the only sensible thing for an educator to do. She turns the evidence over to Luce's mother for safekeeping.
The Edgars might as well walk around in T-shirts with "Liberal Guilt" printed on the front. Amy is a doctor and super-protective of her son. Peter's occupations appear to be day drinking and regretting they didn't keep life simple by having a kid of their own. When Luce explains that he and his teammates share lockers, Mom believes the fireworks belong to someone else. Dad's not so sure, so he starts drinking even earlier.
Onah and cowriter J.C. Lee apparently want viewers to examine their assumptions about Luce. Is he what he claims, or is that an act? To what extent are audience perceptions based on racial stereotypes or prejudice? Certainly, there are filmmakers capable of doing something fascinating with this concept. I wish they'd been invited to.
As it is, we find ourselves repeatedly led in one direction only to be spun around and pointed in another. The script piles subplot on questionable subplot. A young woman suggests Luce may have sexually assaulted her with his jock buds, but the two seem on friendly terms. A bag of fireworks sets Wilson's classroom ablaze, but Luce conveniently produces a video of him at a party that night. The teacher has a sister with mental health issues. One day she shows up at school and does a striptease.
All of which left me examining assumptions, though none about Luce. The stripping incident was gratuitous and didn't involve him even tangentially. Other narrative threads dangled just as amateurishly. My attention was directed to a personal prejudice: the conviction that a director whose previous credit is an industry punchline like The Cloverfield Paradox is ill advised to issue a serious statement on race relations. The neophyte filmmaker's presumption proves this picture's most telling paradox.