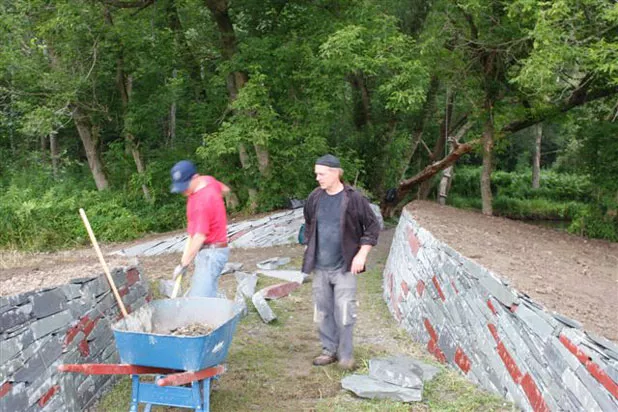 For four years, the Rudolf Steiner Institute has held its summer symposium on the campus of Green Mountain College in Poultney. This is the first year it left behind a permanent memento: three elegant stone-wall sculptures by Israel-based environmental artist Axel Ewald. The undulating walls were constructed - in just 10 days - from indigenous slate, and are sited along a foot-worn path to a popular swimming spot along a riverbank.
When GMC Communications Director Kevin Coburn saw the finished works, he says, "I was blown away . . . The rock was all local red and blue slate donated by a Poultney quarry. Each 'wall' appears to grow out of the ground, serving as sort of a gateway to the river." Ewald observed something that locals had become oblivious to from familiarity, Coburn notes: an "unofficial" but natural corridor in the landscape.
"Axel explained that he likes to do environmental sculpture using local materials - he has worked mostly in the U.K. and Israel," says Coburn, "but I'm impressed at how, in a few days' time, using unfamiliar materials and a few willing hands, he could make such a beautiful and lasting thing."
The untitled work - each wall about 3.5 feet high and 22 feet long, backed by a sloping berm - is an apt souvenir from a symposium whose theme was "The Art of the Earth."
Based on the anthroposophical teachings of its namesake - the foundation of the Waldorf School, among other things - the Rudolf Steiner Institute gives itself the goal of furthering "spiritual inquiry and inner development." And part of the consciousness-raising experience is exposure to the creativity of its artists-in-residence. This summer's conclave also treated its 300 participants to concerts by an emerging operatic soprano, Shana Blake Hill, and Israeli-New York pianist Gili Melamed-Lev.
The German-born Ewald, 52, has been invited twice before to the Institute, says RSI Executive Director John Greene. "He gives courses on environmental sculpture; all the people who came are returning next year." Greene adds that, this summer, they asked the artist to create a site-specific piece on campus. "After we got the green light from the college, Axel found about four locations. This one worked out the best." Greene calls the sculpture "phenomenal" and says he hopes to "do a joint project with Axel and the students and faculty" next year.
Reached by email at home in Kibbutz Harduf in northern Israel, Ewald modestly calls his work "a kind of 'community sculpture,'" noting that many RSI participants lent a hand, using borrowed stone-mason's hammers, shovels and wheelbarrows. This was Ewald's first project in the United States, and his debut with slate. "I very much enjoyed working with [it] in the somewhat unconventional manner (building curved walls with layers at varying angles)," he writes. "It reminded me of how sometimes one finds layers of rock in nature. I also like the many different shades of the local slate."
Before leaving last week, the RSI folks hosted an informal "dedication" of Ewald's sculpture. Now, like hundreds of Vermont stone walls before it, the piece will endure for generations of passersby, a marker of human connection to a beloved place.