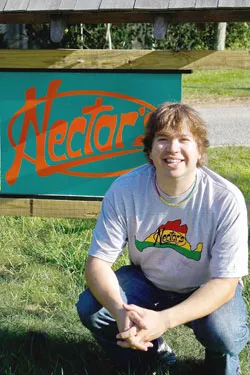 Ah, Martha's Vineyard! The (occasionally) sun-soaked island off the coast of Cape Cod is a playground of presidents, the rich and famous, and fanny-pack-clad day tourists. Mobbed in the summer months and all but deserted in the winter, it is New England's quintessential vacation spot. But for all its many wonders — sandy beaches, windblown bluffs, fresh seafood — one aspect of island life has long been incredibly dull: live music.
In fairness, destinations such as the Vineyard, Nantucket or Rhode Island's Block Island are hardly rock 'n' roll paradises. What typically passes for nightly entertainment consists of your average bar band playing familiar rock covers. But that hasn't always been the case, at least not on the Vineyard — which counts James Taylor among its most famous residents.
In the late 1970s, two Vineyard locals opened a club in Edgartown called the Hot Tin Roof. Over the years, the nightclub achieved near legendary status nationwide, due to the big-name acts who frequently graced the stage (Peter Tosh, Mick Jagger, et al.), the celebrities who sweated on its dance floor, and the fact that songwriter Carly Simon was one of the club's principal backers.
Hot Tin Roof changed hands and names several times over the ensuing years. Most recently, it was a nightclub called the Outerland, which closed its doors last summer. But original live music has made a return to the island this summer, and its new home boasts a distinctive Green Mountain flair.
The owners of iconic Burlington nightclub Nectar's have leased the Hot Tin Roof building through November and brought their booking know-how — not to mention gravy fries — to the new venue, now called Nectar's MV. Though the weather hasn't fully cooperated, general manager Alex Budney — who worked in a similar capacity at the original Burlington club — claims this first season has been a success. He says the island's residents have embraced the new 830-person-capacity club and its homegrown booking philosophy.
Because the high tourist season on the island is so short — Budney estimates six to eight weeks — Nectar's MV focuses on bringing in well-known, big-ticket artists on a weekly basis to get the most bang for their buck. But he has also employed similar, locally focused strategies in booking the club, as he did in Burlington. Specifically, Budney has instituted a Vineyard version of his Monday "Family Night Jam" at Club Metronome, which is sort of a cross between an open mic and a local showcase.
"The response from locals has been amazing," he claims, speaking to Seven Days by phone from Martha's Vineyard. Budney concedes, though, that the Vineyard's music scene is perhaps not as vibrant as Burlington's.
"To call it a 'scene' might be a bit of a stretch," he says. "I mean, it's a little bubble. People here are into stuff that was hip years ago."
Perhaps predictably, reggae reigns supreme on Martha's Vineyard. "You could tell people there is a chicken playing reggae and they'd show up," jokes Budney.
Irie birds aside, he notes the scene that does exist seems to relish finally having a place to call home.
"There aren't really any venues here that do original music, or that foster original local music. What couple of venues they have in the small towns are strictly for cover bands," Budney says, adding, "Every town here has a Grateful Dead cover band."
He points to bands such as long-running jam outfit Entrain and now-defunct jam-pop natives — and briefly, Burlington residents — Lucy Vincent as some of the more popular groups. But for the most part, he says the Martha's Vineyard scene centers on singer-songwriters.
"There is the whole James Taylor family, for starters," he says, adding that songwriters such as Willy Mason also call the island home.
"Really, there are hundreds of musicians here," he says. "But you really kind of have to go look for them, because these folks are not always playing in obvious places."
Beyond locals, the Nectar's MV calendar has been stocked with a bounty of bigger-name acts. Between now and Labor Day weekend — when the club will scale back to opening only one or two nights per week — artists such as the Rebirth Brass Band, Martin Sexton, the Wailers and Leo Kottke are all scheduled to appear. There's some notable symmetry between the MV calendar and that of the flagship Nectar's as well. Songwriter Zach Deputy has August residencies at both clubs. And Boston's Spiritual Rez — a Nectar's VT staple — will play next month.
Budney says he's not sure if Nectar's will continue the Vineyard experiment beyond this summer, though he sounds hopeful.
"This really is the month to tell," he says, referring to the rapidly closing tourist-season window. "But I have been feeling a sense of optimism based on how we've been doing so far, what the expectations are and how the club has done in the past."
He goes on to say that the Nectar's cachet has gone a long way towards buoying that optimism.
"It's overwhelming how supportive people are," he says. "And, kind of surprisingly, the Vermont and Burlington connections have brought in a lot of positivity about what we're doing down here."