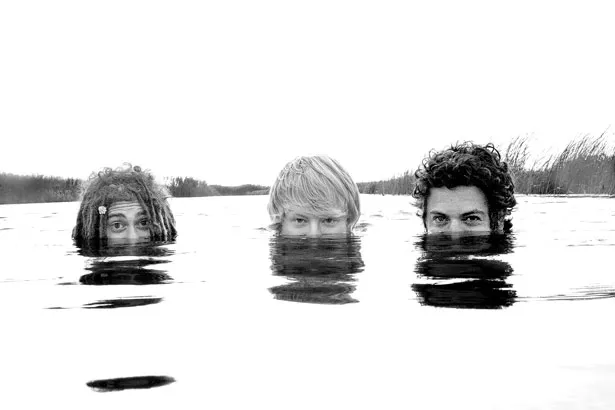 As Rod Stewart once sang, "Some guys have all the luck." He could have been singing about Burlington/Martha's Vineyard-based jam-pop road warriors Lucy Vincent. To be frank, I want their lives. At this point, so does Stewart, I imagine.
Relocating to the Burlington area - a lake house on Malletts Bay, to be precise - a mere month and a half after forming on "the Vin-yahd," the solar-power trio has earned a solid regional reputation through relentless touring, tight pop craftsmanship and downright plucky perkitude. It's enough to make you sick . . . if only they weren't such genuinely good guys. And awfully talented, to boot.
Seven Days recently caught up with LV bassist/band manager and Berklee grad Jordan Lee Berger - at home in Philadelphia for the holiday - in advance of the group's upcoming "hometown" gig at Nectar's.
SEVEN DAYS: You guys have been crazy busy lately. Where have your travels taken you recently?
JORDAN LEE BERGER: Actually, we've been in a lull for the last couple of weeks. We were supposed to do a two-and-a-half-week Southern tour, which got cancelled, unfortunately.
SD: Oh, man . . . bummer.
JLB: Yeah. It was due to some unfortunate planning by our agent, and the fact that we could potentially go in the hole, like, a lot. A couple grand. And we had, like, three- and four-day holes on the road. It just wasn't looking like a good business move. So we've just been hangin' out for the last couple weeks.
SD: Sweet. What's next?
JLB: We've been gearing up for the first couple weeks of December. We've got a few regional dates for the first week and a half, then we're going down to the U.S. Virgin Islands to do a tour down there.
SD: Son of a bitch. How'd you land that?
JLB: Well, I've been going to St. John for years with my family, like, vacation-style. So I've made a bunch of friends down there, and when Lucy Vincent got together I was like, "This sound would be perfect for the islands." So I was down there last year and just took a bunch of CDs down and talked to a bunch of bar owners and stayed in touch. They were interested in us, on our own accord, just coming down and doing like a three- or four-night run on St. John.
And then this dude who runs a production company out of Albany, New York, saw us play at Snow Down last year with moe. and all those guys at Lake Placid. He apparently has been running these tours down in the Caribbean for U.S. bands for, like, the last five years. He basically puts together a three-island tour, flies 'em down there, takes care of all the backline, all the hotels, everything. Basically, I'm getting on a plane with my guitar and going.
SD: That's sick!
JLB: I know. We played in Vieques, Puerto Rico, last year. So this is our second time going to the Caribbean as a band.
SD: And you guys claim double residency in Vermont and Martha's Vineyard?
JLB: Yeah . . . Well, I sort of kept the Vineyard thing for marketing purposes. We do spend a lot of time there in the summer, and we're talking about maybe pulling up residency there this summer and hangin' out playing on the island.
SD: I'm jealous.
JLB: We've gained a lot of positive stuff from our association with Martha's Vineyard, in many different ways. There aren't a lot of bands that come from there. And there's a pretty high-profile clientele that hangs out there in the summertime that has seen us and helped us along the way . . . This dude from the Vineyard saw us play a couple times last summer. He used to be the president of Rykodisc.
SD: Jesus. You're kidding.
JLB: He just emailed me the other day and he was, like, "I saw you guys this summer . . . blah blah blah . . . I wanna work with the band." So the thing is . . . we don't really live on Martha's Vineyard. Our drummer is from [there] originally. And we all met there.
SD: You guys are working in the studio right now, correct?
JLB: We're not recording for an album right now. We're basically demoing a bunch of tunes that will be on the third record, eventually. My whole thing is that we've been a real grassroots touring band for the last couple of years, and that's all well and good. But being a business-educated guy, I know there's a whole other side to the music business and I'm starting to kind of take us more in that direction. So we're demoing a bunch of tunes that are pretty radio-friendly-ish tunes, and we're gonna start finding a lawyer and shopping it and trying to secure a deal to get the band out on the road in 2008 - in support for a national act, as opposed to us being a headliner and playing menu venues.
SD: Menu venues?
JLB: Like, a big restaurant that moves tables out of the way to have a band in there. I'm way over it.
SD: Gotcha.
JLB: They're really cool and they love the music. But I see LV being much more of a "hard ticket" band. Like Higher Ground or Paradise in Boston over the course of the next year, if everything goes according to my master plan. Which it has so far. We've done basically everything that I thought we would, and more.