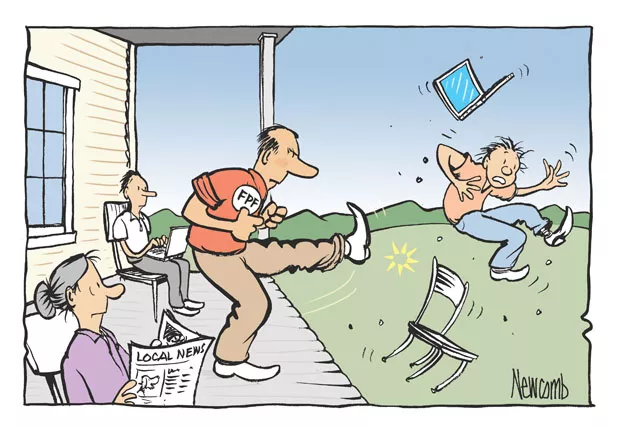 Imagine this: A South Burlington resident posts an offhand remark on his neighborhood Front Porch Forum about killing "some useless right-wing radio talk show host." A handful of neighbors object, calling the message disturbing and inappropriate; others defend what they say was simply a joke.
Then, a few days later, without warning or explanation, FPF boots one of these posters from the site.
Here's the twist: The person FPF ejected wasn't the original poster. It was Robert Rich, a South Burlington accountant who objected, repeatedly, to remarks he calls "hate speech."
Now Rich — along with some of his neighbors — is raising concerns about possible censorship at FPF, the privately owned company that got its start as a free email newsletter in Burlington's Five Sisters neighborhood. Since then, founder Michael Wood-Lewis's rapidly growing online empire of hyper-local discussion forums has become an essential part of civic dialogue for 60,000 households in roughly half of the state.
Earlier this year the company secured a $361,500 grant from the Vermont Council on Rural Development, composed of federal disaster relief funds, to set up forums in every community in Vermont — essentially doubling FPF's service area. Vermonters are jumping on the bandwagon at the rate of 100 households a day.
"When you consider the fact that it's my taxpayer dollars that are going to expand his business, and yet I'm not truly allowed to participate, there's a problem with that," says Allen Roberts, another South Burlington resident frustrated by FPF's moderation. FPF refused to publish a post of his earlier this year.
But FPF and VCRD maintain that FPF's disgruntled members are a tiny minority of a thriving, growing social network. The site won't be a "good fit" for everyone, says Wood-Lewis, but the success stories far outweigh the failures.
"If we're going to work together in our community, we need to have vehicles like this," Paul Costello, VCRD's executive director, says of Front Porch Forum. "I get to see some of the forums because of our role here, and it's beautiful, some of what happens on there."
Of FPF's nine employees, seven are directly involved in managing the online communities. Wood-Lewis says that closing a member's account is "very rare and seldom done" and is ultimately up to him. He declined to comment on the specifics of the Rich or Roberts complaints, and says FPF looks to its terms of use — which gives FPF "sole discretion" to refuse or delete content — to guide those decisions.
"Someone once compared FPF to a neighborhood pub," Wood-Lewis says. "Hey, you can go in and talk about whatever you like, and enjoy yourself and learn something. You can even have debates and argue with folks. But if you start ranting, if you start hollering at the barkeep, it's not going to be a fit."
Rich agrees that FPF likely requires some level of moderation; in fact, he maintains the comment that sparked this whole debacle should never have been posted in the first place. Free speech, he says, is not the same as "hate speech."
The exchange that sparked Rich's eventual ejection from the forum started with an innocuous warning about skunks in South Burlington. In response, neighbor Tom Grocki wrote:
"I guess what I'm trying to say is Skunks are like crab grass, fight 'em, poison 'em, yell at 'em, but they'll keep coming back … As for poisons, I'd prefer you don't use any on our planet, unless you're killing some useless right-wing radio talk show host. Now they REALLY SMELL!"
"What I felt like … was that someone invaded my home and assaulted me for my core beliefs," says Rich, recalling his first reaction to the original post. "It felt extremely invasive and offensive, and I was shocked."
Rich wasn't the only neighbor to chime in; others took his side, and another defended the jokester. Wood-Lewis entered the discussion, agreeing that he found Grocki's post "tasteless" but adding that FPF "generally does not police Vermonters' tastes." He went on to write that neighbors should feel free to speak up when they think postings veer out of bounds, and described the challenge of hosting online conversations between neighbors as a "tough balancing act. One person's clever remark is the next person's snarky slap in the face."
Rich says his beef wasn't with the poster, but rather with FPF for disseminating what Grocki wrote. In a series of posts — the third of which FPF declined to publish — Rich called on Wood-Lewis to apologize to neighbors for publishing a "hateful epithet."
"This statement, Front Porch Forum's publication of it, and the lack of a tangible resolution is causing anguish for people in our community, especially those with conservative viewpoints," wrote Rich in the polite but insistent message which was eventually rejected. "We cannot understand how Mr. Wood-Lewis could think this hateful comment promotes community, or even complies with his terms of use."
The irony of Rich's case — that, in arguing for FPF to curtail another member's speech, he found himself ejected instead — isn't lost on Rob Skiff, a fellow South Burlington neighbor and the head of an online global education website. Skiff says that both Grocki and Rich should be allowed to have their say — and if not, FPF owes its community an explanation.
"FPF portrays itself as a community forum all over Vermont, and that means free speech needs to be protected, no matter how much we might find someone annoying," says Skiff. "Free speech is messy. Democracy is a messy thing. But we're not going to make any progress if we have any groups censoring everybody."
Keeping online discourse civil requires intervention, Wood-Lewis and Costello both argue. In fact, Costello singles out FPF's moderation track record as one of the reasons FPF secured VCRD funds.
The center chose FPF from among five bids to build online forums throughout the state. VCRD's call for proposals envisioned forums in which residents could welcome newcomers to town, post about lost pets and "consider questions of common civic interest." The proposal also stipulated that, like existing FPFs, these communities would be moderated to prevent "recurrent negativity" and encourage "positive discussion."
Having already worked with FPF in other rural community development efforts, Costello speaks glowingly of the business. He points to the town of Moretown as an example: After flooding from Tropical Storm Irene, Costello says, Moretown residents flocked to FPF with offers of spare bedrooms and help clearing downed trees, and to organize volunteer efforts through the storm-ravaged town.
According to FPF's bid for the VCRD grant, the company is profitable. Last year, FPF brought in $400,000 from advertising sales, custom subscriptions, expansion partnerships and supporting memberships. The company encourages users to join that last category by asking for donations online; Wood-Lewis likens it to the equivalent of a virtual tip jar.
The company's for-profit mission may be one of the reasons it prevailed in the VCRD grant. Costello says that FPF, unlike some of the other applicants, wasn't just proposing to provide software or build the online infrastructure. Because FPF profits from its forums, it's invested in maintaining — and moderating — them.
"Like VCRD's going to do that for the next 10 years?" says Costello. "We don't have staff or experience in managing a local forum."
"Lightly moderated" is how Wood-Lewis describes the extent to which Front Porch Forum staff weighs in on the discussions it facilitates among members.
That means: When Roberts submitted several posts earlier this year voicing concerns about tax hikes in Montpelier, FPF published five, but drew the line at the sixth. Wood-Lewis said the problem was the "repetition and tone" of Roberts' messages.
But if repetition is grounds for rejecting a post, Rich and Roberts wonder why other neighbors are allowed, for instance, to post repeated, lengthy complaints about the possible stationing of the F-35 fighter jets in South Burlington.
"My concern is not necessarily the specific issue," says Rich. "What is most important is that it looks like the free speech of some is being stifled while the free speech of others is being encouraged. There's an appearance that Mr. Wood-Lewis gives the bully pulpit to the people he agrees with and censors the people he does not. That is outrageous."
Two months after the original spat over a poorly received political joke, Rich's account is still deactivated. Now he relies on neighbors to forward him copies of FPF digests when pertinent news crops up.
"Break-ins in our neighborhood," noted his neighbor, Kathy O'Brien, in an email comment she added while forwarding Rich the FPF newsletter dated October 16. "Something no one should be excluded from hearing about, dontcha think?"