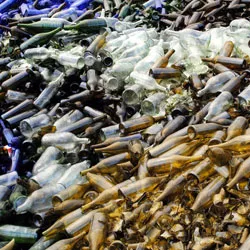 The 2011 legislative session only just started, and already lawmakers are talking trash — not about each other, but about Vermont's solid-waste stream and what can be done to reduce it. Environmentalists and representatives of the beverage and bottling industries claim they share the same goal: increasing statewide recycling. But they're at odds over whether, in pursuit of that objective, the legislature should repeal Vermont's 39-year-old beverage-deposit law, aka the "bottle bill."
Two bills in the pipeline would expand the scope of the current redemption system to include other beverages, such as wine, juice and bottled water. Sister bills introduced last week, S.21 and H.74, would also require manufacturers and distributors to remit their unclaimed deposits to a "clean environment jobs fund" to support recycling and waste-management programs.
Different legislation proposed last session would repeal and replace the bottle bill to create a new, "single-stream" recycling program throughout the state. H.696 — a newer version is in the works — would hold manufacturers accountable for the cost of recycling their products when they reach the end of their useful life, much the way Vermont's electronic-waste law will do when it takes effect later this year.
Charity Carbine-March is an environmental health advocate for the Vermont Public Interest Research Group. VPIRG strongly opposes the repeal of Vermont's bottle bill, which she calls "the oldest and most successful recycling program" in the state's history.
"No curbside or drop-off program has ever effectively captured beverage containers because so many of them are used at work, at school and on the road," she argues. "That's the benefit of the deposit. It creates a financial incentive to return those containers, even when they're found outside residential spaces."
According to Carbine-March, about 40 percent of the glass that comes into single-stream recycling programs, such as curbside-collection cans, actually gets landfilled. Another 20 percent is "down-cycled," or put to use as something that won't be recycled again, such as construction aggregate or landfill cover.
In contrast, 98 percent of the glass collected by bottle-deposit programs gets remade into bottles or other high-end uses, she notes.
Much of the pressure to repeal bottle bills is coming from the beverage and bottling industries, which bear most of the cost associated with bottle-redemption programs.
Clare Buckley, a lobbyist who represents the Vermont Wholesale Beverage Association, calls the bottle bill "a dinosaur." She says it's costly and inefficient, has a large carbon footprint, and focuses on just a small fraction of the entire waste stream.
"Why do we have one system for a mayonnaise jar and another for a Coke can? It just doesn't make sense to single out one product and spend so much money on it," says Buckley, who represents nearly all the beer and wine distributors in the state. "People have an emotional connection to the bottle bill, and it's hard to get them to look at this from a rational perspective."
The Beverage Association of Vermont, which represents regional soft-drink bottlers of Coca-Cola, Pepsi, Snapple and Polar Beverages, was the chief backer of H.696, a 2010 bill that would have replaced the bottle bill with an "expanded producer responsibility," or EPR, program. The EPR approach, sometimes called "product stewardship," would put the financial burden for recycling on the manufacturers of packaging and printed material, not just of beverage containers. Vermont has endorsed EPR requirements for other types of waste, such as electronics that contain mercury.
Here's how EPR works: Manufacturers pay a fee that's based on the volume of their product packaging, as well as how easily it can be recycled. That fee goes into a pool that's used to cover the cost of reclaiming and reusing or disposing of the product.
Around the world, EPR mandates take a variety of forms, depending upon the products and materials being recovered. Some industries are required to take back their entire product from consumers once it reaches the end of its useful life. Other industries delegate that duty to a third party, known as a producer-responsibility organization, which is funded by the industry itself.
The advantages of EPR or product-stewardship programs are obvious: When manufacturers are forced to think about the entire life cycle of their products, and foot the bill for their disposal, it spurs innovation, reduces packaging and promotes cheaper, less toxic and more reusable and recyclable products.
Representatives of the beverage and bottling industries say such an approach is good for business and the environment.
Andrew MacLean, a lobbyist for the Beverage Association of Vermont, also acknowledges that his clients have a financial interest in replacing the bottle-deposit system, which imposes a 3.5- to 4-cent handling fee on every container, in addition to the 5- to 15-cent deposit paid by consumers.
"The bottle bill in Vermont is killing these guys," he says. "It's the most expensive bottle bill in the country."
"These guys" includes the state of Vermont. Because the state runs its own liquor stores, it loses between $180,000 and $200,000 a year on the cost of recycling used liquor bottles, according to Mike Hogan, commissioner of the Department of Liquor Control.
Vermont's bottle bill was initially adopted in the 1970s as a litter-control campaign. It still serves that function, but environmentalists say it's now much more complicated than that.
Last week, Carbine-March was in the Statehouse introducing lawmakers to Michael Smaha, the government-affairs manager for Owens-Illinois, the world's largest glass-container manufacturer. O-I provides bottles to four Vermont beverage companies: Green Mountain Beverage, Long Trail Brewing, Magic Hat Brewing and Otter Creek Brewing.
"When we heard rumblings about efforts to repeal the container-deposit law, that was a big concern of ours," Smaha explains. "Owens-Illinois is very much reliant on bottle-bill states to provide us with clean, uncontaminated glass."
According to Smaha, 80 percent of the glass his company reclaims and uses to make new containers comes from the 10 states, including Vermont, that have bottle bills. Although O-I also accepts glass from curbside-recycling programs, he says it's more likely to be broken or contaminated with paper, metal or food, making it unusable.
Repealing the bottle bill wouldn't only harm the local environment, Smaha adds. Manufacturing bottles out of raw materials versus recycled glass costs more, increases energy consumption and boosts the carbon output of the entire process. Currently, O-I's average recycled content is 36 percent, which is actually lower than the company's goal of 60 percent. Why doesn't O-I use more more recycled glass? Lack of high-quality, available recycled bottles, he says.
Several states, including Maine and California, are considering legislation this year to repeal their bottle bills — as Delaware did last year. But Smaha says that at least three other states — Oklahoma, Texas and Florida — are mulling new container-deposit laws.
"Vermont was the original bottle-bill state, so I could see industry attempts to repeal that law here being especially attractive," he adds. "We see this being a bellwether state."
Buckley's Vermont Wholesale Beverage Association hasn't endorsed specific legislation to repeal the bottle bill yet, but it doesn't support its expansion, either.
Where do Vermont's waste handlers and solid-waste districts fall on efforts to tinker with the nearly 40-year-old law?
"We're agnostic on the issue," says Joe Fusco, vice president of Casella Waste Management, the state's largest trash hauler. "The real question is, how do you keep materials in the resource stream? The goal is always the same: Keep it from becoming litter."
Jennifer Holliday, who handles legislative matters for the Chittenden Solid Waste District, is also open to considering new approaches. She points out that Vermont's overall recycling rate has remained stagnant in recent years, hovering at about 32 percent — well below the state's goal of 60 percent or more.
There's no single explanation for why the rate has not climbed higher, Holliday says; rather, it's a combination of factors. Among them: inadequate recycling infrastructure in many parts of the state, the public's unwillingness to recycle if it's costly or time-consuming, and the inability of consumers to control how much packaging is produced "upstream" by manufacturers.
"We see the bottle bill as a good thing right now in terms of helping us achieve higher rates of recycling," Holliday says, "but we also know there are inefficiencies in that system," and it's not addressing the bulk of what's ending up in the waste stream.
Representative Tony Klein (D-East Montpelier), who chairs the House Committee on Natural Resources and Energy, says it's time Vermont adopted a more holistic approach to managing its solid waste. But doing so will require abandoning the idea that the bottle bill is a sacred cow.
"I don't know whether I'm getting incensed, irritated or humored by the fact that any mention of changing what we have right now immediately goes to, 'You're attacking the bottle bill,'" Klein says. "Nothing could be further from the truth."
Klein, who sponsored last year's H.696 — an updated version of which is currently being drafted by members of his committee — says the ultimate goal of any legislation debated this year must be to boost the state's recycling rate. Whether the bottle bill stays in place or gets tossed must be part of that conversation.
But Klein also admits he's not sure if it's "worth the political capital" necessary to abandon such a popular program. He says he'd be "delighted" to end the session with a commitment to enact 100 percent mandatory recycling statewide within five years.
For her part, VPIRG's Carbine-March says Vermont's environmental community would welcome the opportunity to have a larger discussion about EPR and boosting recycling rates, provided it doesn't automatically presuppose the bottle bill's demise.
"This is not an either-or option: Either you have the bottle bill or you have curbside recycling," she says. "There's no silver bullet that's going to get you where you want to go."