Jeb Wallace-brodeur
Susan and Ryan Hayes with Bella
On a sunny Saturday in mid-July, a would-be customer approaches a farmstand at the Barre Farmers Market. He pauses and peruses the table spread with jars of honey and pamphlets about another product: raw milk. "Is this a co-op or something?" he asks, looking up, milk pamphlet in hand. "I think I wanna get into raw milk."
Susan and Ryan Hayes, owners of the Farm of Milk and Honey in Washington, stand with coolers at their feet holding jars of unprocessed milk, kept just above freezing in ice-water baths. These are not for sale.
But the Hayeses are on-site taking advantage of a new law that went into effect on July 1; it permits farmers trafficking in raw, straight-from-the-cow milk to deliver their product to farmers markets for customer pickup. Previously, Tier II producers of raw milk (those hoping to sell more than 87.5 gallons per week) had to sell straight from the farm or deliver directly to customers' homes.
Before he can purchase any milk, Susan tells the man, he must visit the farm, according to state law. If he can make the trip this week, she explains, she can bring milk to next Saturday's market for him. Or he can just buy it on the farm.
"Huh," he says, unconvinced. "I don't know if I'll be back next week."
Susan offers to deliver the milk to his house, once he completes the requisite visit.
"My problem," he says, "is that I'm in and out all the time." The man adds that he's trying to eat a diet suited to the local environment. And in Vermont, the environment is very much about dairy.
As Susan wraps up the conversation, Ryan chats with another potential buyer, again explaining the state-mandated appointment during which consumers can judge the safety of the milk for themselves. "If all products were sold that way," the woman tells Ryan, "I'd never buy anything."
Despite these difficulties, the Hayeses say they're "choosing to celebrate the new legislation" allowing them market access. "We'll take whatever we can get," Susan says.
The Farm of Milk and Honey is one of just four Tier II producers in the state. According to Andrea Stander, director of the farm advocacy group Rural Vermont, a handful of other dairies are working toward Tier II certification now that they're allowed farmers market presence. Stander says the market-delivery law is a step in the right direction: "It's putting raw milk out into the marketplace in a more regular way," she says. "More people have the opportunity to know that raw milk is out there. It's not easy [to get]," she adds, "but it is available."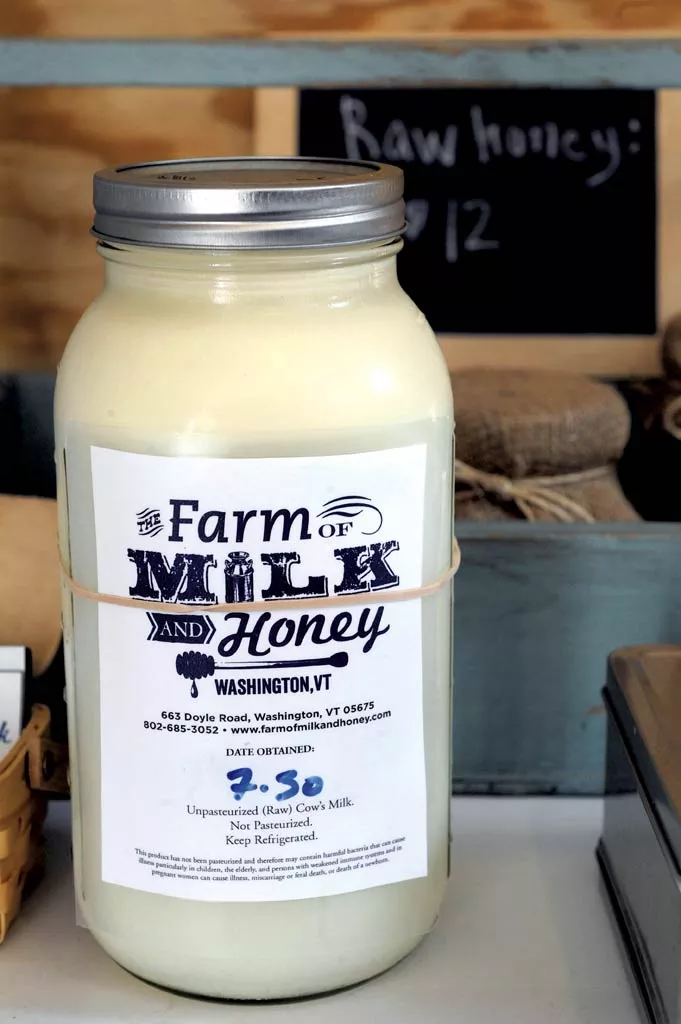 A few days later, I meet Ryan Hayes in his barn. He's readying to milk the first of his three cows.
He cleans each of her teats with a sterile solution before attaching a suction milker and can. "Our milk only travels eight inches [from cow to cooler]," he says, rather than through tubing and into a holding tank, as at a conventional dairy. This procedure, Ryan says, minimizes contamination potential. After each milking, he cleans the milker with a scrub brush and resanitizes everything.
"We've been told that our milk is some of the cleanest around," Ryan says, readying the next cow. The cow drops a well-timed cow-patty, splattering Ryan and everything else in range. "Some raw-milk farmers prefer to milk by hand," he says, scooping poo into the gutter. "But that's why we don't. It happens."
A neighboring farmer saunters into a the barn. He's come up the hill to borrow the hay elevator, which is upstairs in the loft. "What, you've got three cows you're milking now?" he asks.
"Yep," Ryan replies, kneeling to wipe the cow's udder with a clean rag. He dunks her teat in a sterile solution, then wipes her down again. A month ago, he explains, he bought two new Jerseys from a farm up north.
"Getting big," the neighbor says, watching Ryan with a dubious look. He wanders back out to the barnyard.
At conventional dairies, Ryan says, the extra cleaning he's doing is unnecessary. "The difference between conventional milking and raw milk is that they'll just put the milker on [right after a cow poops]. Because if you're going to pasteurize it anyway..." But the cow he's milking, a little Jersey named Papillon (nicknamed "Papi"), is short, so her udder hangs low to the ground — definitely in the splatter zone. "Some probably got on the teat," Ryan says.
After milking each cow, Ryan takes the can to the milk room and empties it into glass jars, then drops them into an ice-water bath to cool.
Milk stowed away, he walks to the field and cordons off an area for the day's grazing. The cows eat an all-grass diet, and the Hayeses rotate them through various pastures to keep the grass healthy and strong, which in turn keeps the cows healthy and strong. "That's the foundation for clean milk: healthy animals," Ryan says.
The Hayeses are new to full-time farming; they lived until recently in Williston, while Ryan worked in Burlington as a graphic designer. He also apprenticed for a year at the Family Cow Farmstand — Vermont's first state-certified raw milk dairy, which has been operating in Hinesburg since 2008. When bringing a cow home proved more difficult than expected, the couple wondered if they could apply the Family Cow model outside Chittenden County. They leased a farm in Washington.
At the Family Cow — where Kalyn Campbell says her 10 milking cows serve about 300 regular customers — business is profitable largely because the customers live nearby in Chittenden County. Campbell can deliver 60 percent of her milk with comparative ease, though she says her success also depends on farmstand sales.
The farmstand is not far from the main road. It's open 24 hours a day, seven days a week and operates on an honor system: Customers swing by, grab milk, meat, eggs and vegetables, and leave cash in the box. Campbell says she stocks more than just milk to make the stand a destination, "so people can come in and buy everything they need." In effect, she's bringing the grocery store to the farm, since she can't sell her milk in stores.
On the last Wednesday in July, Campbell makes her first appearance at the Slow Food Vermont Farmers Market in Burlington. Sandwiched between vendors offering samples of berries and cheese, she stands before a table with photos of the farm and literature on raw milk, drawing sidelong glances from passersby. "I probably won't be back," she says.
Campbell acknowledges that the Family Cow's success is rare in Vermont. When she bought the business in 2013, another farmer had been building the brand — and its loyal clientele — for more than five years. "I bought this business for quite a bit of money for that customer base," she says.
Lindsay Harris, who founded the Family Cow in 2008, moved to Tunbridge about a year ago. When she left Chittenden County, she says, she abandoned the idea of selling unprocessed milk, knowing it would be too difficult to reach customers in a rural area. Instead, Harris says, she refocused her business on making butter, bottled buttermilk and fresh ricotta cheese; she pasteurizes her milk on-farm in small batches. (For more details of Harris' micro-pasteurization practice, see Kathryn Flagg's story in Local Matters, this issue.)
"For years we tried to figure out how to make raw milk work in a different location," Harris says. "But we wanted to live in a more rural area. Any place that was good for the raw-milk business was near a larger population center."
The Hayeses struggle, high on a hill, miles from the nearest paved road.
On a recent afternoon, Susan Hayes is driving her delivery truck. To deliver $72 worth of product, she makes a 75-mile loop. It takes several hours and about half a tank of gas, which she estimates rings up at about $30.
Susan pulls up to a house in a quiet neighborhood near Vermont College of Fine Arts in Montpelier and stops the engine. She pulls three jars of cold milk from ice-laden coolers and heads for the front door. No one home.
"This is always the sketchy part," she says, wandering into the carport. "I have no idea if this is the right house." Ryan usually handles delivery, and it's Susan's first time at this residence. She passes into a breezeway, then through a mudroom. A third door opens into the kitchen where, spying three empty jars on the counter, she heaves a sigh of relief.
"Phew! Here I am leaving raw milk in someone's fridge, and I don't even know whose house it is," Susan says.
She opens the fridge, which is plastered with photos and magnets, places the milk on a rack, takes the empties from the counter and leaves. Back in the truck, Susan says, "Delivering milk is romantic and charming, and I love interacting with the customers, but they don't need to see us every week ... It's just so inefficient."
So why do it?
The Hayeses say they're following the law to the letter as an experiment. "Until we try it this way," Ryan says, "we won't know if it's viable." Susan says she hopes that playing by the rules now — even if it means losing money — will give them a leg up when the raw milk issue comes up again in the legislature.
"Then we can say, 'Look, we did it just the way you told us to do it,'" and be able to offer real suggestions on improving the process, Susan explains.
Meanwhile, Susan keeps her day job as an educational consultant in Williston and commutes three or four days a week. Ryan stays home and works the farm with their 4-year-old son.
Harris admires their fortitude. "I applaud the Hayeses," she says. "They are pretty ambitious. All that delivery is crazy. It's so labor-intensive. Unless you're delivering to somewhere in Burlington, it just doesn't make sense; the burdens really add up."
"This is not profitable," Ryan concedes. "That's the crummy part." But, he adds, "I'd say the benefits far outweigh the downfalls."
INFO
Farm of Milk and Honey, Washington, 685-3052. farmofmilkandhoney.com
The original print version of this article was headlined "Milk Test"