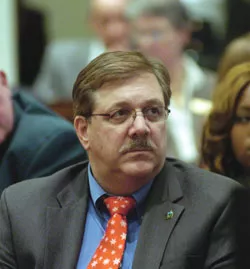 Secretary of State Jim Condos
Vermont isn't facing the allegations of voter suppression and election fraud that some other parts of the country are this year, but that doesn't mean it's been smooth sailing at the secretary of state's office. Since the August primary, a series of screwups have plagued the division that oversees elections.
First came the botched vote count for an unexpected write-in campaign during the primary: Tallying errors showed upstart gubernatorial candidate Annette Smith 17 votes behind Prog party chair Martha Abbott before a second count closed that gap to just a single vote. The confusion triggered a statewide recount, which ended with Abbott as the winner by 41 votes.
That, in turn, delayed the final primary election results until mid-September. The secretary of state's office hustled to get completed gerneral election ballots out to town clerks, and did so on time — but some clerks' spotty hours meant roughly 20 percent of absentee ballots didn't ship out to Vermonters overseas within a 45-day window mandated by federal law.
The Department of Justice slapped Vermont with a lawsuit for missing the deadline, forcing Secretary of State Jim Condos to agree to accept 196 ballots through November 16, 10 days after the general election.
Exacerbating it all is a transition within the secretary of state's office to online election reporting. Earlier this year, it debuted a pilot program that asks town clerks to send in election results electronically. Town clerks were cautiously optimistic about the change — especially if it meant shortening the long list of phone calls they have to make to get results out to local newspapers and candidates.
But almost from the start, technical glitches plagued the system. Condos' office quickly fell behind local news outlets in reporting results. Several days later, Condos called for legislation that would require all towns to report results on election night, leading one town clerk to propose a radical alternative: scrapping primary elections instead.
"I think we're all receptive to [election night reporting]," says Sandy Pinsonault, the town clerk in Dorset and the president of the Vermont Municipal Clerks' and Treasurers' Association. "We just want to make sure the system is working before we do it."
Despite all these problems, the man at the top — Condos, who was first elected two years ago — hasn't really had to defend his record. That's in large part because the Democratic incumbent is the only statewide official running unopposed by a major party candidate.
"My worst fears are coming true — that we have a need for competition for that office, and it's just very unfortunate that we weren't able to garner an individual to run for that office so we could have an open and honest conversation," says Jack Lindley, the chair of the Vermont GOP, who publicly bashed Condos after the primary.
In an interview with VTDigger.org, Lindley insinuated that the primary "cast doubt on the validity, accuracy and accountability of the secretary of state's office and the whole election process." Last week, Lindley told Seven Days that the mistakes "certainly demonstrate that there is a skill level or skill set that's not there that might be necessary for the office."
But does the elected secretary of state have that much direct impact on Vermont elections?
"It absolutely changes as to who's there and who's not there," says Pinsonault.
Brattleboro clerk Annette Cappy provides a more targeted analysis: She points out that the primary election was the first for four of the five employees working in the Elections Division. The fifth employee — experienced and well-respected Elections Division Director Kathy Scheele — is planning her retirement.
Alberta Miller, the town clerk in Hardwick, is willing to give Condos the benefit of the doubt. "I'm sure he's doing the best that he can," she says. Her town was one of those pinpointed as a problem in the Progressive recount, after an Elections Division employee apparently misread the return from Hardwick. "Apparently they thought that my nine was a zero," says Miller. "I don't really understand why. We pulled the form back out, and it was very, very clearly a nine."
But, she acknowledges, mistakes happen. More frustrating to her was the fact that she only heard about the mistake when a reporter called her about it; no one from the secretary of state's office ever let her know about the error, which was theirs, not hers.
"It was a little surprising," says Miller. "We were relieved that it was nothing wrong on our end."
According to Pinsonault, Condos has been fairly "quiet" in his dealings with clerks during his administration, only working to get "better lines of communication" going in the past six weeks or so.
Prior to that, "It was very frustrating," she says. "We didn't hear from him at all. Asked to compare him to former secretary of state Deb Markowitz, she says "it's hard, but it's even harder to compare him to Jim Douglas, who was phenomenal."
For his part, Condos says the mistakes made after the primary were a "perfect storm," and had everything to do with timing, human error and what he says is an unrealistically tight schedule for certifying election results. He says that when the legislature in 2009 moved the primary date to the fourth Tuesday in August, they didn't imagine the possibility of a recount — and the time it would require.
"We've now had two general election cycles under the new format. We've had two recounts, and in both cases, it's put us really under the gun," Condos says, referencing the 2010 gubernatorial primary race between Doug Racine and Peter Shumlin.
This year's schedule was made even tighter by Labor Day weekend, which fell directly after the primary. Facing the statutory requirement to certify votes by 10 a.m. on Tuesday, Condos says his staff worked late Friday and all day Saturday until nearly 10 p.m. Some came back in on Sunday. Condos says that come January, he'll be asking the legislature to move the primary date again — at the latest, to the first Tuesday in August.
"It's just too much crunch time, and it creates too many opportunities for mistakes when you start rushing," he says.
He says he'll also be asking for additional time to confirm the vote, as well as changes to the audit system.
"I have tremendous faith in the system that we have," says Condos. "I think we just need to clean up a few things."
Jenny Flanagan, the director of voting and elections at the nonprofit watchdog Common Cause, agrees. She says she's used Vermont's election websites has a model for other states for how to effectively reach out to voters. A report this summer from Common Cause and Rutgers University ranked Vermont as "excellent" for its ballot return procedures and pointed out room for improvement in post-election audits.
"Elections are complicated. They're increasingly complex. They're costly," she says. "I'd love to say this is unusual, but it's not."
Ultimately, Condos says, Vermonters need to be realistic about how quickly they can get election results. In a rural state — where some town clerks still don't have internet access, and others are counting ballots by hand — "instant gratification" just isn't possible.
Would Condos be lowering the bar thus if he had a Republican challenger? Had his vulnerabilities emerged earlier, Lindley speculates, it would have been a lot easier to get someone to run against him, "because people really do get upset about their vote not being counted properly."
Former governor Jim Douglas, a Republican who served as secretary of state from 1981 until 1993, calls the office a big and diverse operation — "and obviously attention to detail is important," he says. He stops short of criticizing Condos, though, saying there's a longstanding tradition of civility in politics in Vermont.
But like Lindley, he is unhappy that Condos is running unopposed.
"The process really works better when offices are contested," says Douglas. "Even if an incumbent is strong and likely to win again, his or her feet are held to the fire. Issues are raised and policies are debated. An officeholder is forced to tend to details and work harder."
Of course, there are plenty of onlookers who say the election hiccups have little to do with Condos, and everything to do with Vermont's labor intensive, localized approach to elections. That includes David Grayck, a Montpelier lawyer who served as deputy secretary of state in 1999 and 2000. When everything runs smoothly, he says, it doesn't matter if some smaller towns are slow to certify results or turn around absentee ballots. It's only when a few mistakes happen that the schedule gets tight.
"How is it that Vermont is getting sued by the DOJ?" he asks. "The reason why … is not because of some maliciousness or because of gross incompetence. It's getting sued because, when they formulated the election laws and set the primary date, the legislature didn't anticipate that a recount could create such a delay that ballots couldn't be printed on time."
As for Condos, Grayck says he perhaps could have exhibited more "hands-on management and control," but suspects that anyone in that position would have found himself between a rock and a hard place. Take a hands-on approach, he speculates, and some candidates will accuse the secretary of state of overstepping his bounds. Step back, and other critics will say he's "asleep at the switch."
The good news is that Condos says the general election should run more smoothly — there's less room for human error with one ballot versus the three in the August primary.
The bad news? No one is forgetting about those earlier blunders quite yet.
"When it comes to elections, you need to worry about every mistake," says Miller of Hardwick, "because this is probably the most important thing that we do."