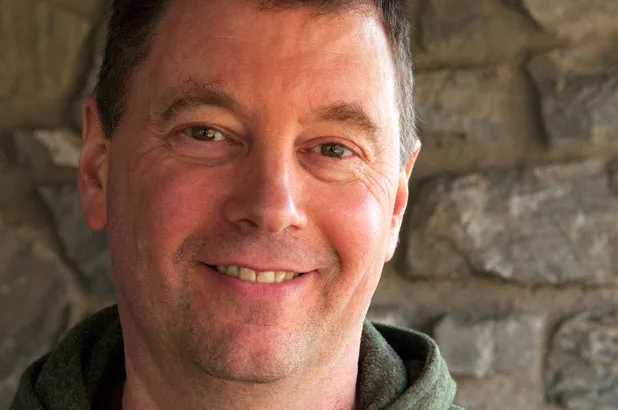 Any director worth his weight in popcorn knows film audiences love a good plot twist.
That's what storyteller Malcolm "Mac" Parker recently delivered, adding to the off-camera drama surrounding his $10 million movie-making adventure, which could end up making better screenplay material than the film itself.
Parker's movie, Birth of Innocence, remains incomplete, with only a five-minute trailer available online. The trailer consists of a New Age-style monologue delivered by Parker as images of idyllic natural scenes slowly fade into smiling, peaceful faces.
Of the $10 million raised for the film, Parker estimates $3 million went to his co-creator, silent partner and "mentor": Connecticut-based chiropractor Dr. Louis James Soteriou.
"He was explicit with me, and his commitment to the lenders was as unequivocal as mine," said Parker.
That commitment proved fickle, however, as soon as the state Department of Banking, Insurance, Securities and Health Care Administration opened an investigation into Parker's contracts with his lenders, calling them "unregistered securities." At that time, Soteriou went incommunicado.
Before his disappearance, few people knew Soteriou was a driving force behind the film. He refused to put his name on any of the film's "investor agreements" or meet with financial backers, said Parker.
"He insisted on his privacy and wanted to be a silent partner and take no public credit because he wanted to focus on his own spiritual and intellectual development," Parker continued.
Soteriou was last known to be living with his parents in Connecticut, but Parker said every time he calls the house, he gets stonewalled. "Either there's no answer," said Parker, "or, if they do answer and realize it's me, they hang up."
Attempts by Seven Days to track down Soteriou also proved unsuccessful.
Parker's attorney, Wanda Otero-Ziegler, claims Soteriou held sway over both the project and Parker personally. "It's a classic case of undue influence," said Otero-Ziegler.
Parker said his family came to know Soteriou when Parker's wife struggled with chronic fatigue syndrome 20 years ago. Regular treatments were not working, but after meeting Soteriou and following his treatment regimen, she showed remarkable progress, said Parker.
About 10 years into their relationship, Soteriou and Parker hatched the idea of making a movie. After three years of grassroots fundraising and filming, things were looking up. Thereafter, every time Parker tried to wrap the movie, Soteriou would make changes, forcing Parker to raise more money to complete the project, Parker said.
"The overriding theme of what I now see as intimidation was that [Soteriou] had a consciousness that I did not have, and he made it clear to me that if I were to break the connection with him, I would also break the connection to that consciousness, and there would be serious repercussions up to and including my health, my life itself and my family's life that I would incur by breaking that connection," Parker recalled. "And, in my experience, there was enough truth to what he said to believe him."
Parker likened achieving this "consciousness" to tapping the "God within all of us."
Regardless of who was holding the reins, Parker's fundraising was prodigious for a local independent filmmaker. Investments ranged from a low of $100 to a maximum of $500,000.
By way of comparison with Parker's total $10 million raised, two Vermont filmmakers contacted by Seven Days — Jay Craven and David Giancola — said the budgets of their most expensive films topped out at $2 million.
Despite the large sums involved, Parker's fundraising didn't catch the state's attention until last fall, when one of his financiers approached state regulators after attending a seminar on fraudulent investments. Most Vermonters, including fellow filmmakers, first heard of the film only when news of the state-led investigation broke earlier this year.
In short, BISHCA claims the "loans" hundreds of people made to Parker should be considered "securities" under Vermont law, and if they are securities, Parker needs a license to sell them.
"Vermont law broadly defines what are considered securities, and they can include notes and notes of indebted investments, and we need to determine the status of these investment agreements," said Tom Candon, BISHCA's deputy commissioner.
Otero-Ziegler said the film's "investor agreements" were crafted by Parker without the aid of an attorney. The agreements do not provide the investors with any stake in, claim on or creative control over the film itself; they only offer fixed rates of return — ranging from 5 to 30 percent.
The higher rates of return were assigned to short-term "bridge" loans, Parker said. In some cases, new investors were found to repay previous investors who needed to cash out, or ones whose loans had expired.
When the court froze his assets on the state's request in December, however, Parker had only $10,300 in the bank.
Parker estimates that completing the film editing will cost another $30,000 to $50,000 — money he would have to raise from investors. The film is being edited at Little Castle Studio in Starksboro.
Investors are urging the state to allow Parker to proceed, saying the completed project will accelerate the repayment of his debts. "All I want is to bring this situation to an honorable and successful resolution," said Parker. "I am respectfully and sincerely asking the state to join me in an approach in which no one will lose, and everyone will win."
The state has no problem with Parker completing his film, said Candon. But if he raises more money to do so, the state will ask the courts to ensure it is properly used to finish Birth of Innocence.
If the court determines that loans made to Parker are, in fact, securities, then the question will become: Who is liable for those securities? Given Soteriou's relationship with Parker and his influence on the project, Parker's verbal agreement to repay lenders could put Soteriou on the hook, said Otero-Ziegler.
Some of Parker's more ardent investors and supporters bristle at the notion that they are being somehow defrauded or were scammed into investing in his film.
"These were not securities: Securities are something I can buy and sell and see the value rise and fall," said Christopher White, one of Parker's investors. White has also helped raise roughly $15,000 to defray Parker's legal expenses.
He and other investors are standing by Parker, their support unchanged by the news that he is placing some of the blame for the lack of repayment, and the film's unfinished state, on a person most investors never knew existed.
"Once people see the film, I think they'll understand," said White. "It's an extraordinarily beautiful film that was put together masterfully, and Mac's artistry clearly shows. The world needs more films like this."
Other investors say they loaned Parker money knowing a movie might never materialize.
"Mac's my friend, and I wanted to help my friend, and in this regard I had that ability to help a friend," said Sharon Gutwin, who owns the Rehab Gym. "I knew there were no promises, and I gave the money not based on an outcome."